Reports and Campaigns
---

About the Socialist Party

Anti-capitalism

Anti-privatisation

Anti-war

Election campaigns

Environment

Health

Socialist women

Workplace

Youth and Students
---
Anti-fascist tags:
---
Reports and campaigns:
Stop the slaughter of Tamils (55)
Workplace and TU campaigns (5133)
Related websites
Trade Unionist and Socialist Coalition
National Shop Stewards Network
---
21 April 2010

1936 - A play about the Olympics
Attic Theatre Co: ROUND THE corner from the London 2012 Olympics site, the play "1936" opened at the Arcola Theatre, Dalston...
1 April 2009

Sweden: Socialist councillor viciously assaulted by Nazis
ON SUNDAY 22 March, Mattias Bernhardsson, who is a city councillor for Rättvisepartiet Socialisterna (RS - CWI, Sweden) was the victim of a brutal, planned assault by a group of Nazis, writes socialisterna.org, (CWI, Sweden).
28 January 2009

The Reader
Film review: This thought-provoking film is about teenage passion meeting with Germany's Nazi past. It centres on Michael Berg, a successful lawyer, whose life becomes involved with a brutal SS concentration camp...
5 November 2008

Austria: Socialist players suspended from football club for anti-fascist activities
ON 27 October, CWI* members, Margarita D-ller, Lucia D-ller and Irene Müller were suspended from Hellas Kagran, the football club they played for in Vienna whose president is Martin Graf, a prominent far-right Freedom Party (FPÖ) MP, writes Laura Rafetseder, Sozialistische Linkspartei (SLP - CWI in Austria).
30 April 2008

German anti-fascist demo
ON 26 April, for the third time within a few weeks, Nazis demonstrated in Stolberg, near Aachen...
23 April 2008

How can we defeat the far right?
The far-right, racist British National Party (BNP) is hoping to gain a seat on the Greater London Assembly on 1 May, as well as more councillors round the country. The Socialist outlines Socialist answers to the far-right.
16 April 2008

Unison witch-hunt: Defend 'the four'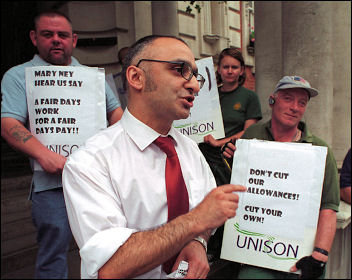 Onay Kasab, photo Paul Mattsson
Greenwich Unison branch secretary Onay Kasab is one of four Unison officers currently facing a disciplinary hearing as part of a witch hunt being carried out by the union bureaucracy, writes Susan Wilson.
30 January 2008

How Hitler came to power
Rise of evil?: Towards the end of World War One Germany was a country in ruin. Over one and a half million Germans had died. An economic blockade meant conditions for workers in the cities were deteriorating...
12 May 2005

1945 - Victory in Europe: When 'liberation' meant socialism
COMMEMORATIONS MARKING the 60th anniversary 'victory in Europe' (VE) day have concentrated on the sacrifices made by the service men and women in liberating Europe from the clutches of fascism...
5 February 2005

The Holocaust - who was to blame?
The sixtieth anniversary of the liberation of Auschwitz has produced a plethora of TV and radio documentaries, newspaper features and statements from leading politicians. All of these rightly express revulsion and condemnation of the most evil and barbaric regime in history.