Reports and Campaigns
---

About the Socialist Party

Anti-capitalism

Anti-privatisation

Anti-war

Election campaigns

Environment

Health

Socialist women

Workplace

Youth and Students
---
Asylum tags:
---
Reports and campaigns:
Stop the slaughter of Tamils (54)
Workplace and TU campaigns (5117)
Related websites
Trade Unionist and Socialist Coalition
National Shop Stewards Network
---
14 January 2009

Defend threatened Saudi Arabian trade unionist
EXILED SAUDI Arabian trade unionist, Yahya Al Faifi, has had his application for asylum for himself, his wife and children refused by the Home Secretary and they have been ordered to return to Saudi Arabia, writes Dave Reid, Cardiff.
4 June 2008

Don't deport AmDani Juna
THE CAMPAIGN to stop the deportation of AmDani Juna has won at least a temporary success...
4 June 2008

Nottingham: Student protests at arrests
OVER 500 students and staff demonstrated last week at Nottingham University over the arrest and threatened deportation of a member of staff, Hicham Yezza, writes Pete Mason.
28 May 2008

South Africa: Attacks on refugees and migrants reveal capitalism's barbaric underbelly
THE WAVE of xenophobic pogroms which have swept through the squatter camps adjoining black townships around Johannesburg, Durban and Cape Town, has so far claimed more than 50 lives and has left over 80,000 homeless. Weizmann Hamilton, of the Democratic Socialist Movement (CWI, South Africa) reports on the current crisis and the issues underlying it.
8 November 2007

Yarl's Wood camp protests
AT THE Yarl's Wood detention centre near Milton Keynes 22 female asylum seekers have signed a letter calling for an independent investigation into detainees' treatment at the centre.... By Bob Severn
1 November 2007

The socialist interview
Neil Cafferky spoke to Sadiq Abakar, an asylum seeker from Darfur, after a Save Sadiq protest against his deportation outside the UK Home Office.
1 November 2007

Countering the race to the bottom
Comment: Having been born (1958) and brought up in one of the most cosmopolitan areas of Britain, Crumpsall/Cheetham in Manchester, I have known from an early age never to judge a person by the colour of their skin, religion, spelling... By Colin Trousdale
20 September 2007

Lobby demands asylum for Sadiq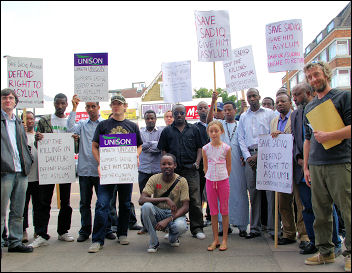 Save Sadiq: Lobby demands asylum for Sadiq, photo Jack Royston
ABOUT 30 people lobbied Keith Hill MP's surgery in Lambeth on 15 September calling for asylum for Sadiq Abakar, a refugee from the Darfur war zone. ...
9 August 2007

Exchanging socialist ideas worldwide
THE COMMITTEE for a Workers' International (CWI) held its annual summer school in Belgium. The socialist gives here some excerpts of the reports given by its sister European sections.
7 June 2007

Black and Asian group: Socialist ideas to unite all workers
The Socialist Party Black and Asian group in London met recently to discuss the work of the group and the difficulties facing black and Asian communities in Britain today...