Reports and Campaigns
---

About the Socialist Party

Anti-capitalism

Anti-privatisation

Anti-war

Election campaigns

Environment

Health

Socialist women

Workplace

Youth and Students
---
CNWP tags:
Campaign for a New Workers Party (27)
---
Reports and campaigns:
Stop the slaughter of Tamils (54)
Workplace and TU campaigns (5119)
Related websites
Trade Unionist and Socialist Coalition
National Shop Stewards Network
---
17 June 2008

conference
Campaign for a new workers' party
Conference
Sunday 29 June 11am - 5pm
South Camden Community School, Charrington Street, London NW1
Nearest stations - Kings Cross & St Pancras, Euston, Mornington Crescent
Speakers confirmed so far include:
Bob Crow, RMT general secretary
Dave Nellist, Campaign for a New Workers' Party national chair
John McInally, PCS vice president
Simeon Andrews, Labour Representation Committee secretary
Rob Hoveman, Respect co-ordinating committee
Dave Church, Walsall Democratic Labour Party
Mike Davies, Alliance for Green Socialism chair
15 June 2008

Campaign for a new workers' party
TONY BLAIR and his coterie live in a fantasy world. Blair is now one of the most hated prime ministers in history, yet his closest advisers have drawn up a plan for him to depart after May 2007, saying that "he needs to go with the crowds wanting more." Hannah Sell writes.
11 June 2008

Come to the Campaign for a New Workers' Party Conference
At the rally for the national TUC lobby of Parliament on public-sector pay on 9 June, the loudest applause was given to those general secretaries who called on unions to coordinate industrial action on pay across the public sector to increase our pressure on the New Labour government, writes Katrine Williams, PCS DWP Wales secretary, personal capacity.
11 June 2008

Usdaw needs a fighting leadership
Socialist Party member Robbie Segal is standing for general secretary of the shop and distribution workers' union USDAW. The Socialist recently interviewed her...
3 June 2008

New Labour's failures: Don't just get angry, get active
Grodon Brown meltdown. Cartoon on cover of Socialism Today, June 2008, by Suz
LABOUR ARE hated - it's official! A YouGov poll last week put them at their most unpopular since opinion polling began in 1943. Then, Labour was soon to introduce the NHS and the welfare state. That Labour Party is gone forever, writes Tom Baldwin.
28 May 2008

Build A New Workers' Party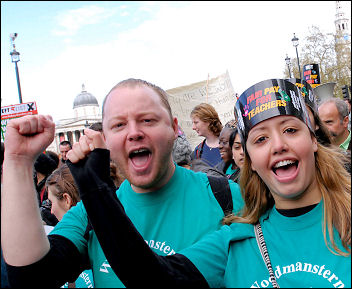 The fight for a new workers party is urgent - teachers strike on 24 April 2008, photo Paul Mattsson
Labour, Tories, LibDems ...they're all the same!
"Et tu, Crewe?" Gordon Brown might have muttered to himself as the knife of another electoral drubbing sank into his back, writes Greg Maughan, Campaign for a New Workers' Party.
28 May 2008

Crewe and Nantwich 'no-win' by-election: Why New Labour lost
New Labour sunk to a new low in the Crewe and Nantwich by-election last week, writes Jim Cessford, former Crewe socialist activist.
28 May 2008

I told my union: "We need a new workers' party"
THE TRADE union, Unite, recently wrote to its members "to determine your thoughts on how you think the country is being run". Campaign for a New Workers' Party supporter Colin Trousdale returned this response...
28 May 2008

Westminster parties are remote from life
THE START of the week and the same pressure begins. From behind a bank of screens a worker mutters: "So they want us to become bloody monarchists now?" Steve Wootton writes.
21 May 2008

International discussion on the way forward for socialists
London, Wales, Sheffield, Merseyside reports: IN AN inspiring rally, 120 people from across London were treated to a first hand account of the political movement in France in 1968 from Marie-Josť Douet.