British economy
---
Filter by importance | All results
---
20 June 2012

British economy: "black cloud overhead"
The government is desperate. Its economic policies have failed, and worse than that, it is clear they are compounding the economic malaise. Austerity is destroying demand in the economy
13 January 2009

British economy heads deeper into crisis
The Socialist Editorial: Gordon Brown promised that New Labour would end the cycle of 'boom and bust'. He claimed that his government is a "rock of stability". Yet the government is being battered by forces of economic recession which become stronger every week...
19 March 2008

Darling's 'more of the same' budget
Editorial: "The most wrenching since the end of the second world war" is how Alan Greenspan, ex-head of the US Federal Reserve, described the current crisis engulfing the US economy...
1 March 2008

Britain's economic crisis
Exactly how severe the crisis in Britain's economy will be, how long it will take to bite, and the precise political effects of it, are not yet clear...
1 March 2008

Conclusions
We are on the cusp of an end to 15 years of uninterrupted growth, albeit lopsided, in the British economy...
30 January 2008

Debt and housing slowdown threaten Britain's time bomb economy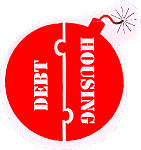 Debt and housing time bomb, photo The Socialist
THE EXTREME volatility in the world's stock markets has not yet led to London city slickers jumping off skyscrapers. But growing fears about the underlying health of the economy prompted one commentator to scream about a global 'pandemic'...
15 May 2007

Blair's departure: Curtain falls on disastrous reign
Editorial: Ten years of 'unremitting' attacks on the working class and poor for the benefit of the rich, blatant corruption – symbolised by the Ecclestone affair at the beginning of his reign and 'cash for honours' at the end – the ...
22 March 2007

Budget: Who are the real scroungers?
You can tell when Budget Day is coming because the bosses step up their wailing for tax cuts...
14 April 2005

British economy - not really that healthy
NEW LABOUR hoped its reputation for 'economic competence' would be the touchstone of the election...