Catholic
---
Filter by importance | All results
---
16 January 2013

Northern Ireland: Flag issue turmoil illustrates failure of the 'peace process'
Trade unions must offer a clear cross-community, anti-sectarian class alternative: Turmoil over the issue of the flying of the union flag has now continued across Northern Ireland for six weeks, writes Ciaran Mulholland , CWI Northern Ireland.
6 July 2011

East Belfast riots: Only united working class action can prevent further attacks
The rioting in the Catholic enclave in the predominantly Protestant east Belfast, Northern Ireland, on 20 and 21 June - the worst in recent years - did not appear from a blue sky
21 April 2010

Cameron turns back clock on women's rights
DAVID CAMERON'S comments on abortion last week underlined the danger of increased attacks on women's rights if the Tories win the general election...
12 August 2009

August 1969: Northern Ireland explodes - 'the troubles' begin
THE EVENTS of August 1969 were an historical turning point for Northern Ireland that echo down to this day. The first deaths of 'the troubles' occurred in 1969.

Ciaran Mulholland of the Socialist Party in Northern Ireland explains how the situation rapidly escalated to the brink of civil war and what lessons can be learnt from these events.
1 February 2007

Gay adoption: Christian hierarchy attacks equal rights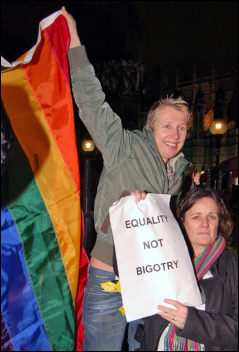 WHILE SOCIALISTS were out last week campaigning against cuts in the NHS, the leaders of Britain's main Christian de-nominations were involved in a different kind of battle.

Picture: LGBT protest. Photo Marc Vallee.

They want to be given an exemption from laws due to be implemented this spring that will ban discrimination against Lesbians, Gay, Bisexual and Transgendered people (LGBT) in the provision of services.
5 March 2005

Northern Ireland: Horrific murder enrages local community
THOUSANDS OF people have attended protest vigils in Catholic working-class areas of Belfast over the last two weeks...
14 September 2001

Northern Ireland: Working Class Must Unite Against Sectarianism
THE SITUATION outside the Holy Cross primary school has developed into an ugly stand-off as community leaders talk about trying to settle the conflict...
13 July 2001

Northern Ireland 'peace process': Sliding Into Sectarian Conflict
'PEACE PROCESS' is fast becoming a misnomer to describe what is happening in Northern Ireland. Trimble's resignation as First Minister has put the future of the Assembly and therefore of the Good Friday...