Church
---
Filter by importance | All results
---
22 August 2012

Draconian sentences for Pussy Riot protest will backfire on Putin
The two-year prison sentences for 'hooliganism' handed down to three members of Pussy Riot in Russia has triggered a storm of international protests and underlined the dictatorial regime of president Vladimir Putin...
18 April 2012

Pro-choice action in Worthing
Abort67 is an anti-choice group that draws its name from its opposition to the 1967 Abortion Act. They claim to be 'providing information' to women outside family planning clinics where abortions take place
4 April 2012

Tory MPs and church attack gay marriage
The Con-Dem government recently rolled out a consultation about same-sex marriage. Lesbian, gay, and bisexual people can enter civil partnerships that offer the same legal rights as marriage
23 March 2011

Want to fight the cuts? Join the socialists!
The relentless pursuit of profit brought about the banking crisis and recession. Our world is run on that basis - the short-sighted, chaotic capitalist system that exists only to enrich the fat cats...
2 October 2008

The bishop and the 'bank robbers'
LAST WEEK the Archbishop of York, John Sentanu, attacked many business people - at the Worshipful Company of International Bankers' annual dinner...
9 July 2008

High farce from Boris Johnson
"AFTER PRIDE comes the fall" is a saying often quoted to those who would celebrate prematurely, especially in politics. London Mayor Boris Johnson, himself a Classics graduate, may well be contemplating this as he surveys the fall-out from the resignation of Ray Lewis...
13 February 2008

Comment: Opportunist blunder further splits Church of England
It would be difficult to imagine a greater blunder for Dr Rowan Williams, Archbishop of Canterbury, than his latest one, writes Roger Bannister
7 June 2007

Tony Blair "brings church into school"
NEW LABOUR'S academy schools are overwhelmingly state-funded but they are privately run - usually by millionaires or religious bodies...
1 February 2007

Gay adoption: Christian hierarchy attacks equal rights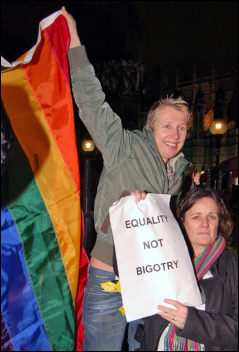 WHILE SOCIALISTS were out last week campaigning against cuts in the NHS, the leaders of Britain's main Christian de-nominations were involved in a different kind of battle.

Picture: LGBT protest. Photo Marc Vallee.

They want to be given an exemption from laws due to be implemented this spring that will ban discrimination against Lesbians, Gay, Bisexual and Transgendered people (LGBT) in the provision of services.
3 November 2005

17th Century terrorism
400 years ago, on 5 November, Parliament met briefly where it was recorded that:...
25 August 2005

Poland 1980: The rise and fall of Solidarnosc
ON 31 August this year, anti-working class capitalist leaders from across Europe were celebrating the recognition 25 years ago of the mass trade union movement called Solidarnosc (Solidarity)...
14 April 2005

Pope John Paul II
Pope John Paul II died on Saturday 2 April - the first ever Polish pope and first non-Italian since 1523...
19 July 2003

Gay Rights Aren't Only For Bishops
GAY RIGHTS campaigner Peter Tatchell, with six other members of Outrage disrupted the Church of England's General Synod on 12 July for 30 minutes over the C of E "withdrawing" the appointment of a gay bishop, writes Marc Vallee, Socialist Party LGBT Group.