Reports and Campaigns

About the Socialist Party

Anti-capitalism

Anti-privatisation

Anti-war

Election campaigns

Environment

Health

Socialist women

Workplace

Youth and Students
---
Workplace and TU campaigns keywords:
---
Reports and campaigns:
Stop the slaughter of Tamils (90)
Workplace and TU campaigns (8261)
Related websites
Trade Unionist and Socialist Coalition
National Shop Stewards Network
---
Workplace and TU campaigns / Cleaners
---
5 November 2008

Canary Wharf: Low paid workers welcome socialist campaigners
In the build up to Socialism 2008 we have leafleted workplaces, colleges, shopping centres and stations all over London, writes Paula Mitchell, London Socialist Party secretary.
17 September 2008

Swansea rail workers fighting for a living wage
SIXTEEN train cleaners, members of the RMT, have been involved in a one-day strike for better pay and conditions at Swansea's High Street railway station. Alec Thraves spoke to RMT rep Ian Fynch on the picket line.
2 July 2008

East London street cleaners fight privatised employer
Street cleaners in the London Borough of Waltham Forest are still having problems with Kier, who have taken over the contract from the council (see The Socialist 537)...
2 July 2008

Tube cleaners in pay strike
700 RMT members working for four cleaning sub-contractors on London Underground went on 24-hour strike on 26 June...
28 May 2008

Industrial news in brief
Tube cleaners ballot for action, Insult to postal workers: Cleaners working for private contractors on London Underground are balloting for strike action over pay and conditions...
1 November 2007

Targets take their toll on cleaners
A domestic team supervisor at an East Midlands hospital told the socialist what lies behind the headlines in today's NHS....
25 October 2007

Public health not private wealth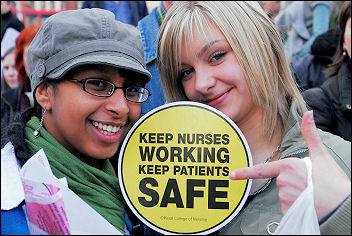 NHS demonstration March 3rd 2007, photo Paul Mattsson
THE PRESS are saying that the government is having a lousy time over the cuts-ridden national health service...
By Dave Griffiths, Coventry Socialist Party
17 November 2005

Angry Commons cleaners fight back
THEY WORK at the House of Commons, but they earn only £5.20 an hour, receive no sick pay, no pension and poor holiday entitlement...
28 April 2005

Leicester NHS phone in - socialists v. the rest
GETTING PRESS publicity in election campaigns can be very frustrating, since the Socialist Party largely gets cut out of the media...
3 April 2004

NHS: Superbugs, superdrugs and dirty hospitals
A MASSIVE rise in reported cases of the 'superbug' MRSA in children must be a cause for concern to everyone...
28 February 2004

Fighting The Bosses And The BNP
Manchester electricians: FOR NEARLY 40 weeks, electricians (members of EPIU-TGWU) in Manchester, illegally sacked by cowboy construction company DAF Electrical, have been on strike demanding reinstatement...
14 June 2003

Fighting For A Living Wage
Low paid workers at Whipps Cross hospital, east London voted for a further three days strike action at a mass meeting on 9 June...