Reports and Campaigns
---

About the Socialist Party

Anti-capitalism

Anti-privatisation

Anti-war

Election campaigns

Environment

Health

Socialist women

Workplace

Youth and Students
---
Public Services tags:
Public sector trade unions (4)
---
Reports and campaigns:
Stop the slaughter of Tamils (54)
Workplace and TU campaigns (5117)
Related websites
Trade Unionist and Socialist Coalition
National Shop Stewards Network
Public Services / Defend public services
---
19 January 2011

Wales referendum: Vote Yes on 3 March - Defend public services in Wales
Socialist Party Wales is calling for a 'yes' vote in the referendum on more powers for the Welsh Assembly on 3 March, writes Dave Reid.
26 May 2010

Unions must defend public services
THE NATIONAL Union of Teachers (NUT) National Executive met just days after Cameron was finally confirmed as prime minister, writes Martin Powell-Davies, NUT executive member.
24 February 2010

How to stop cuts and defend public services
Nationally civil servants are facing an attack by the government on their 'compensation scheme' - their redundancy rights...
27 February 2008

Neither Labour nor Tories will defend public services
Tales from the council chamber: The most significant outcome of the recent Coventry council debate on next year's budget was how little would change whichever of the two main parties ran the council., writes Dave Nellist, Socialist Party Councillor, Coventry
11 October 2007

Unity with the postal workers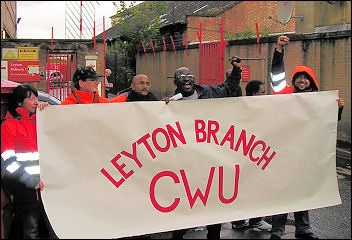 Postal workers on strike in 2007, photo Socialist Party
"They need to be exposed. This government doesn't care about the workers, they are only interested in money and power." These were the words of a striking...
By Marc Glasscoe, Branch secretary, Lincoln City Unison (Personal capacity)
13 September 2007

Fighting Unions Need a New party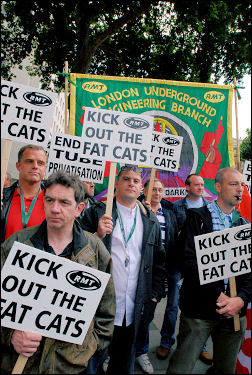 RMT protest against Tube privatisation, photo Paul Mattsson
Smash the pay freeze:
Insisting that public sector workers must accept below inflation pay rises - in reality, pay cuts - Gordon Brown showed how little difference there is between the Blair and Brown governments...
By Councillor Dave Nellist Chair, Campaign for a New Workers' Party.
25 January 2007

Striking to defend public services
Job cuts, low pay, privatisation: PUBLIC AND Commercial Services union (PCS) members have voted for national industrial action across the civil service. 61,488 (61.3%) voted for strike action.
12 May 2005

Defend public services
New Labour wastes billions on consultants: A SHOCKING report has just been published which reveals that the government spent nearly £2 billion on management consultants last year...
4 December 2004

Brighton teaching assistants fight council attacks
Defend public services: BY STRIKING on 25-26 November, teaching assistants (TAs) across Brighton and Hove showed their willingness to fight the council to receive a fair and decent salary...
24 July 2004

United Action To End Low Pay, Stop Job Cuts and Defend Public Services
THOUSANDS OF workers at the Department for Work and Pensions (DWP) are striking against low pay on 29 and 30 July. The starting salary at the DWP is a scandalously low £10,300. Many DWP staff have to claim the very benefits they are...