Depression
---
Filter by importance | All results
---
22 March 2013

Perspectives for the ex-Stalinist States
This is true not just of the economy but of perspectives for the ex-Stalinist states, the national question, perspectives for Europe, etc...
19 October 2011

Hunger marches - When the unemployed fought back
"Why all this unrest? It seems in the rebound from the anxieties from the war, we are all trying to get something for nothing. We must not ask for the impossible" - Mayoress of Southport, 1922
12 October 2011

Sovereign debt crisis, recession... No way out under capitalism
Banks continue to demand government bailouts; an ever-deepening sovereign debt crisis in Europe and the USA; mass unemployment and cuts in services on a level not seen since the 1930s; a widening gulf between rich and poor....
9 February 2011

Woody Sez
Review: Devised/directed by David M Lutken and Nick Corley, writes Reviewed by Manny Thain.
30 June 2010

From stimulus to austerity at dizzying speed
What we think: The G20 meeting in Toronto of the leaders of the main capitalist governments of the world demonstrated a complete incapacity to solve the huge problems that confront us, particularly those hardest-hit - the poor and the working class - by the economic crisis...
15 September 2009

TUC conference - reactions to Brown's speech
"Brown mentioned by way of tribute that Jack Jones's politics were shaped by the Great Depression of the 1930s, writes Kevin Parslow, a Unite delegate to the TUC.
23 June 2009

Economy - 'Green shoots' are without real roots
"ARMAGEDDON IS behind us" commented Larry Fink, the owner and chief executive of BlackRock on the prospects for the world economy, writes Ken Douglas.
12 November 2008

A political awakening propels Obama to victory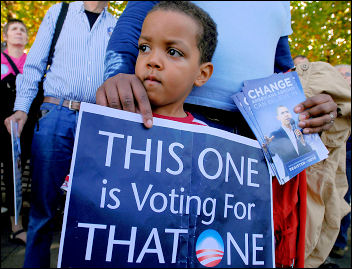 US president Barack Obama supporters, photo Paul Mattsson
THE REIGN of George W Bush, the most hated US president in modern history, is over. On top of that, the election of an African-American as president of the United States, less than 50 years since legal racial segregation ended, is being greeted with widespread euphoria. Ty Moore and Tony Wilsdon, Socialist Alternative (CWI in USA) write.