Reports and Campaigns
---

About the Socialist Party

Anti-capitalism

Anti-privatisation

Anti-war

Election campaigns

Environment

Health

Socialist women

Workplace

Youth and Students
---
The state tags:
---
Reports and campaigns:
Stop the slaughter of Tamils (54)
Workplace and TU campaigns (5117)
Related websites
Trade Unionist and Socialist Coalition
National Shop Stewards Network
The state / Detention without charge
---
17 June 2008

David Davis - sanity or carving a position?
TORY SHADOW Home Secretary David Davis has stood down to fight a by-election in opposition to the government's narrow victory on the issue of 42 days detention without charge for 'terrorist' suspects, writes Ken Douglas.
11 June 2008

Stirring rally backs Tommy Sheridan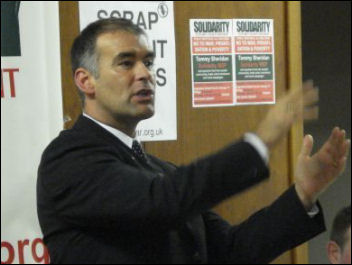 Tommy Sheridan in 2007
AT AN inspiring rally in Glasgow on 7 June, 250 people pledged their support for Tommy Sheridan, Gail Sheridan, Gus Healey, Graeme McIver, Rosemary Byrne, Jock Penman and Pat Smith, writes Jim McFarlane, CWI Scotland.
6 December 2007

The socialist review: 'Taking Liberties'
PAPER MASKS, scissors and some toy soldiers. These are the offensive items found by 100 police officers, after holding three busloads of anti-war protesters... By Michael Wrack, Hackney Socialist Party
22 November 2007

Detention without trial: Defend civil rights
THE BIZARRE and scandalous auction over how long police should be allowed to detain terrorism suspects without charge continues... By Naomi Byron