Reports and Campaigns
---

About the Socialist Party

Anti-capitalism

Anti-privatisation

Anti-war

Election campaigns

Environment

Health

Socialist women

Workplace

Youth and Students
---
Disability tags:
---
Reports and campaigns:
Stop the slaughter of Tamils (54)
Workplace and TU campaigns (5117)
Related websites
Trade Unionist and Socialist Coalition
National Shop Stewards Network
---
19 January 2010

Marching off the dole?
On the day when the TUC and others write to the government to express their concern that 620,000 people have been out of work for over a year, we hear that Gordon Brown is to expand the army cadet forces in state schools, writes Sarah Sachs-Eldridge.
29 July 2009

Milburn goes to top of class
DESPERATE LABOUR Party supporters argue that at least a New Labour government is better than the Tories...
9 August 2007

"How many more will suffer?"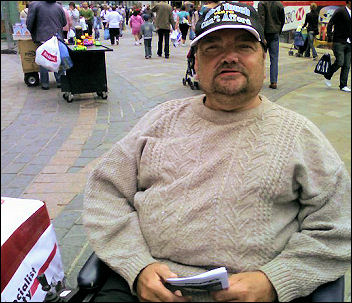 Geoff Wright, campaigning in Leicester against health cuts affecting people with mobility problems
Leicester cutbacks - :
THE UNIVERSITY Hospitals Leicester NHS Trust has ditched plans to revamp three hospitals under the ruinously expensive private finance initiative (PFI) scheme, but the cuts in jobs and services continue...
By Steve Score
21 February 2004

"Jack is walking!"... but the system is failing
ONLY AT the age of nine was Jack seen to be walking for the first time. It was with the aid of the water in the school baths but his achievement inspired the whole school and all his family...