---
Filter by importance | All results
---
3 December 2008

The Isle of Man general strike 1918: Workers' power paralysed government
On 3 July this year it was the 90th anniversary of the little-known Manx general strike, the Isle of Man's first and only general strike, writes Christian Daugherty.
23 November 2008

Former Liverpool councillor debates economic crisis at Merseyside meeting
Thurs Nov 27, Casa Club, Hope St. Liverpool, 7.30pm
19 November 2008

USA: Challenging the two parties of big business
LAST WEEK, The Socialist carried an analysis of the US presidential election and the political awakening among the American working class which propelled Barack Obama into the White House and routed the Republicans...
12 November 2008

A political awakening propels Obama to victory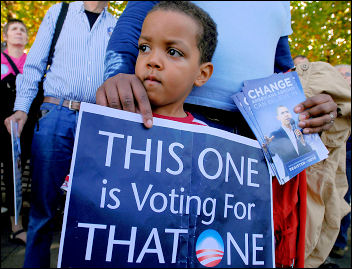 US president Barack Obama supporters, photo Paul Mattsson
THE REIGN of George W Bush, the most hated US president in modern history, is over. On top of that, the election of an African-American as president of the United States, less than 50 years since legal racial segregation ended, is being greeted with widespread euphoria. Ty Moore and Tony Wilsdon, Socialist Alternative (CWI in USA) write.
10 January 2003

Economic crisis, war, attacks on public services
IF TONY Blair has been studying the opinion polls, then he won't be expecting a happy New Year. Whether it's on the state of the economy, public services or war against Iraq - opposition to New Labour's
16 February 2001

Israeli election: A new period of insecurity
NETANYAHU WAS deposed after three years, Barak after only 18 months, and Sharon's term in office as prime minister will probably be even shorter...