---
Filter by importance | All results
---
10 December 2008

Greece in widespread revolt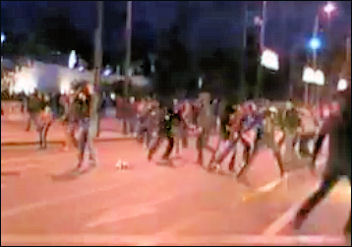 Protesters in Greece, photo Xekinima
THERE HAS been an explosion of anger across Greece following the fatal shooting of a 15 year-old in Athens by police.The killing has acted as a lightning rod for the pent-up anger among the youth and the working class at a government hit by corruption scandals and rocked by economic crisis. Andros Payiatsos of Xekinima (CWI in Greece) reports on this revolt from below.
3 December 2008

Crisis-hit capitalism fears prospect of revolution
CWI International Executive Committee 2008: THE INTERNATIONAL Executive Committee (IEC) of the Committee for a Workers' International (CWI) met in Belgium on 23-29 November. Hannah Sell gives a summary of Peter Taaffe's introduction to the session on the global economic crisis and its political consequences with highlights from the discussion.
3 December 2008

Our planet not their profit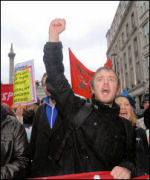 Climate change demo December 2007, photo by Paul Mattsson
Everyone on the march against climate change on Saturday 6 December agrees on one thing: the planet is in danger.
Climate scientists argue that critical processes, such as the melting of polar sea ice, are happening much faster than previously predicted.
The march will demand a 'Green New Deal', Paula Mitchell writes.
3 December 2008

The Isle of Man general strike 1918: Workers' power paralysed government
On 3 July this year it was the 90th anniversary of the little-known Manx general strike, the Isle of Man's first and only general strike, writes Christian Daugherty.
23 November 2008

Former Liverpool councillor debates economic crisis at Merseyside meeting
Thurs Nov 27, Casa Club, Hope St. Liverpool, 7.30pm
19 November 2008

USA: Challenging the two parties of big business
LAST WEEK, The Socialist carried an analysis of the US presidential election and the political awakening among the American working class which propelled Barack Obama into the White House and routed the Republicans...
12 November 2008

A political awakening propels Obama to victory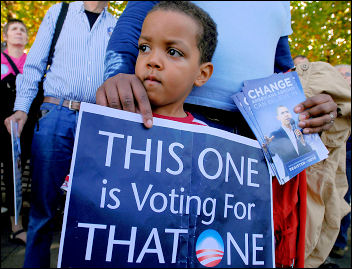 US president Barack Obama supporters, photo Paul Mattsson
THE REIGN of George W Bush, the most hated US president in modern history, is over. On top of that, the election of an African-American as president of the United States, less than 50 years since legal racial segregation ended, is being greeted with widespread euphoria. Ty Moore and Tony Wilsdon, Socialist Alternative (CWI in USA) write.
10 January 2003

Economic crisis, war, attacks on public services
IF TONY Blair has been studying the opinion polls, then he won't be expecting a happy New Year. Whether it's on the state of the economy, public services or war against Iraq - opposition to New Labour's
16 February 2001

Israeli election: A new period of insecurity
NETANYAHU WAS deposed after three years, Barak after only 18 months, and Sharon's term in office as prime minister will probably be even shorter...