John McDonnell
---
Filter by importance | All results
---
13 February 2008

Newham workers angry at councillors
AROUND 100 people met to support Michael Gavan, victimised chair of Newham Unison, at a meeting in Stratford on 11 February. ... By Manny Thain
21 June 2007

Brown stresses 'continuity' with Blair
Editorial: LONDON HAS become a tax haven for the world's billionaires. One British hedge fund manager put it clearly: "I think the super-rich want to have two homes..."
24 May 2007

PCS: Public-sector unity to defend jobs and services
PCS conference: THIS YEAR'S PCS conference came on the back of a stunning fifth victory in a row for the left in the national executive (NEC) elections....
24 May 2007

Gordon Brown crowned leader with no contest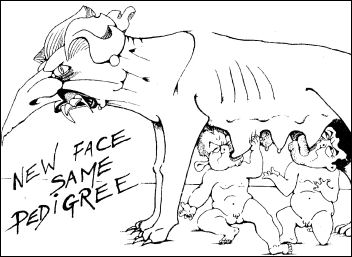 New face, same pedigree, Cartoon by Alan Hardman
WITH ALMOST the entire parliamentary Labour Party backing him, Gordon Brown was anointed as successor to Tony Blair without a contest...
24 May 2007

John McDonnell speaks to the socialist
As Mark Serwotka has talked about, there's the bringing together of the spirit of the pensions struggle in 2005. ...
15 May 2007

Blair's departure: Curtain falls on disastrous reign
Editorial: Ten years of 'unremitting' attacks on the working class and poor for the benefit of the rich, blatant corruption – symbolised by the Ecclestone affair at the beginning of his reign and 'cash for honours' at the end – the ...
10 May 2007

Wales: Labour's worst result
THE WELSH Assembly election on 3 May produced Labour's worst-ever result in Wales...
3 May 2007

Widening wealth gap needs working-class response
Editorial: What is Tony Blair's legacy? The Sunday Times has no doubts. Its latest 'Rich List' revealed that the wealth of the richest 1,000 people in Britain.

Analysis of the local election results will be posted from Friday onwards
4 April 2007

London strikers close passport office
Civil service pay: STRIKING PCS members shut down the head office of the Identity and Passport Service on 30 March in London...
22 November 2006

Can Labour be reclaimed?
Interview with John McDonnell MP: Hannah Sell, assistant secretary of the Campaign for a New Workers' Party and Ken Smith, Socialist Party Trade Union organiser, interviewed John McDonnell MP on his challenge for the leadership of the Labour Party.
14 September 2006

Time for a new workers' party
AS WE go to press Tony Blair is answering questions at his last TUC conference. As he pointed out, in an aside which revealed his abhorrence of the trade union movement, it will probably "be a relief" for both Blair and the TUC delegates that they will not meet again.
27 July 2006

Hope and desperation
Labour Representation conference: THE LABOUR Representation Committee (LRC) held its annual conference on 22 July. It was dominated by Labour MP John McDonnell's announcement that he will be standing for the leadership of the Labour Party, writes Jim Horton.
27 July 2006

John McDonnell's leadership bid
THE SOCIALIST Party welcomes John McDonnell's statement that his leadership campaign will be explicitly socialist and a serious challenge, writes Hannah Sell.
20 April 2001

Socialist Party fight right-wing smear campaign
SOCIALIST PARTY general election candidate Wally Kennedy has become the victim of a disgraceful smear campaign...