Reports and Campaigns
---

About the Socialist Party

Anti-capitalism

Anti-privatisation

Anti-war

Election campaigns

Environment

Health

Socialist women

Workplace

Youth and Students
---
LGBT Pride tags:
---
Reports and campaigns:
Stop the slaughter of Tamils (55)
Workplace and TU campaigns (5133)
Related websites
Trade Unionist and Socialist Coalition
National Shop Stewards Network
---
3 May 2007

Campaigning for LGBT rights
If you believe New Labour propaganda - which most workers saw through years ago - you would think that everything is great for the Lesbian, Gay, Bisexual and Transgender (LGBT) community....
22 February 2007

Fighting homophobia
THIS MONTH is Lesbian, Gay, Bisexual and Transgender (LGBT) History Month. Although now officially supported by the TUC, several government departments...
1 February 2007

Gay adoption: Christian hierarchy attacks equal rights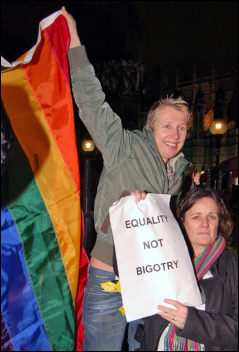 WHILE SOCIALISTS were out last week campaigning against cuts in the NHS, the leaders of Britain's main Christian de-nominations were involved in a different kind of battle.

Picture: LGBT protest. Photo Marc Vallee.

They want to be given an exemption from laws due to be implemented this spring that will ban discrimination against Lesbians, Gay, Bisexual and Transgendered people (LGBT) in the provision of services.
29 June 2006

Police and fascists attack Moscow Pride
EuroPride: THE LESBIAN, Gay, Bisexual and Transgender (LGBT) community will be marching in London on 1 July at EuroPride. Many important legal reforms have been made, such as civil partnerships, which have improved the lives of LGBT people...
29 June 2006

Fight back against homophobic bullying
THE SHIFT towards the left in social attitudes over the last ten years has meant that lesbian, gay, bisexual and transgender (LGBT) people have won important rights in Britain, writes Tom Penman, Socialist Party LGBT group.
22 June 2006

Putting the politics into Pride
Europride 2006 - 1 July: The Lesbian and Gay rights movement started in 1969 with the Stonewall riots in New York when drag queens physically fought the police who were raiding gay bars...
8 June 2006

Preparing for Europride
National LGBT meeting: The Socialist Party LGBT caucus met on the 25th anniversary of the discovery of AIDS. Members from around England and Wales, almost half of them youth or students, met to discuss Marxism, religion and LGBT rights and priorities, writes Tom Penman Leicester.
16 February 2006

Lesbian, Gay, Bisexual and Transgender History Month
FEBRUARY IS Lesbian, Gay, Bisexual and Transgender (LGBT) History Month. The idea comes from Black History Month as a way to redress the lack of acknowledgement of the history of LGBT people in society, schools, colleges...
26 January 2006

Homophobia isn't the exclusive preserve of any religion
Reviews: Gay Muslims Channel 4: THE EXPERIENCE of British gay and lesbian Muslims was the subject for the Channel 4 documentary Gay Muslims. One of the aims of the programme was to illustrate the diversity within Islam and how different Muslim communities...
7 July 2005

Pride 2005
WAS THE London LGBT Pride more political this year? An event which takes place to remember the 1969 Stonewall riots and the birth of the gay rights movement...