Lisbon Treaty
---
Filter by importance | All results
---
7 October 2009

Ireland: Lisbon Treaty vote is not an endorsement for hated government
A SIGNIFICANT two-to-one majority in the Irish republic, on a higher turnout, passed the Lisbon Treaty on 20 October, overturning the decision of the Irish electorate in June 2008, writes Kevin McLoughlin, Dublin.
22 September 2009

Socialist Party MEP denounces "campaign of fear" on Lisbon Treaty
Speaking in the European Parliament, Irish Socialist Party MEP Joe Higgins opposed the nomination of Jose Manuel Barroso for re-election as President of the EU commission and discussed the debate on the Lisbon Treaty in Ireland...
17 June 2008

Lisbon Treaty 'No' vote delivers major shock for political and big business Establishment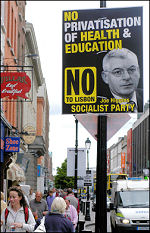 Socialist Party No vote campaign, photo Paul Mattsson
IN A higher than normal turnout for a referendum, 53.1%, the Lisbon Treaty (the renamed EU Constitution) was clearly rejected in Ireland on Thursday 12 June, by 53.4% to 46.6%.
This is a major shock for the political and business Establishment in Ireland.
Kevin McLoughlin, Socialist Party (CWI Ireland), writes from Dublin.