Reports and Campaigns
---

About the Socialist Party

Anti-capitalism

Anti-privatisation

Anti-war

Election campaigns

Environment

Health

Socialist women

Workplace

Youth and Students
---
Women tags:
---
Reports and campaigns:
Stop the slaughter of Tamils (54)
Workplace and TU campaigns (5117)
Related websites
Trade Unionist and Socialist Coalition
National Shop Stewards Network
---
3 April 2013

Sick Of Your Boss: young people in work - your stories
I'm a first-year student midwife at a Birmingham NHS trust. I was well aware of the realities of the job before I started the course, from the grave responsibility of ensuring mother and baby are alive and well, to dealing with abusive families and social services matters, to coming home drenched in all manner of bodily fluids.

18 May 2011

Battle for the NHS!
David Cameron has made clearer than ever what side he's on regarding the NHS. "It is because I love the NHS so much that I want to change it," he said. This speech spelt out that only very minor compromises,...
30 January 2008

NHS in crisis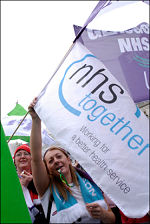 On the 3 November Save the NHS march, photo Paul Mattsson
Plans 'unfit for purpose'?:
'FIT FOR the future,' the government's plan for NHS services in North-east London, would be better entitled 'Unfit for purpose'! It will mean downsizing King George Hospital and possibly Whipps Cross Hospital, closing their Accident and Emergency (A&E) departments and moving them to a 'super-hospital' many miles away - the PFI-built Queens Hospital in Romford.
26 July 2007

NHS: no more cuts, no more privatisation
The trade unions need to unite the campaigns to defend the NHS and fight for a living wage for a health workers...
22 March 2007

Socialist Party women's day school a success
A successful Socialist Party women's day school took place last Saturday. Former health worker, Liz Cowell introduced a discussion on the maternity crisis...
1 March 2007

Fighting for women's rights
The pressures of life under capitalism, double standards which still leave women doing the vast majority of childcare and housework, and a lack of confidence are all barriers which women can face to joining the Socialist Part...