Reports and Campaigns
---

About the Socialist Party

Anti-capitalism

Anti-privatisation

Anti-war

Election campaigns

Environment

Health

Socialist women

Workplace

Youth and Students
---
Post Office tags:
---
Reports and campaigns:
Stop the slaughter of Tamils (54)
Workplace and TU campaigns (5119)
Related websites
Trade Unionist and Socialist Coalition
National Shop Stewards Network
---
19 March 2009

Rooftop protest wins apology from Royal Mail
In the early hours of Monday 2 March, Burslem postal worker, Paul Dawson, started a rooftop protest at Burslem delivery office...
3 March 2009

Hands off our post!
BUSINESS SECRETARY Peter Mandelson, like a creature from the lagoon, is pressing ahead with Labour's Postal Services Bill, claiming that only the 'expertise' of the private sector can 'modernise' Britain's postal services, writes Chris Moore, Save Our Post Offices organiser.
3 March 2009

Stop Labour's mail sell-off
Editorial: Even Thatcher opposed the privatisation of the Royal Mail, the state-owned postal service. Yet now the Labour government is determined to push through part-privatisation, selling off a third of the business...
26 November 2008

Campaigning to save post offices
AFTER THE announcement in June that 22 post offices would close in Leeds, three in the Beeston area alone, as part of the government's closure programme Beeston Communities Against Post Office Closures (CAPOC) campaign launched into action, writes Manny Dominguez.
19 November 2008

U-turn over post office card account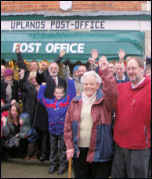 Successsful campaign stops closure of post office in Stroud, photo by Chris Moore
In a delayed and surprise announcement last week, arch-Blairite Work and Pensions secretary James Purnell announced that the government is abandoning the competitive tendering process and awarding the continuation of the Post Office Card Account contract to the post office for a further five years from 2010, writes Alistair Tice, Sheffield Communities Against Post Office Closures.
19 November 2008

Stroud post office saved!
POST OFFICE campaigners in Stroud, Gloucestershire were celebrating the reopening of Uplands post office, despite the best efforts of the government and Post Office Ltd to close it, writes Chris Moore, Gloucestershire Save Our Post Offices.
19 November 2008

Coventry fights post office closure
THE SOCIALIST Party and its councillors in Coventry have collected 5,000 signatures against the closure of Hertford Street Crown post office and the transfer of its business, by a national privatisation deal, to WH Smith...
29 October 2008

Postal workers march for their jobs
AROUND 1,000 postal workers, their families and supporters, defied the wind and rain to march through Crewe on 25 October, writes Andy Bentley, Stoke Socialist Party.
17 September 2008

No to post office closures
PLANS TO close nine sub-post offices, vital local services, across the Huddersfield/ Colne Valley area are a hammer blow to these communities, Huddersfield Socialist Party members write.
10 September 2008

No to post office closures
SHEFFIELD PEOPLE have taken to the hills to protest at threatened post office closures. On 6 September campaigners marched from two post offices to show how inaccessible Post Office Ltd's so-called 'alternative'...