CBI
---
Filter by importance | All results
---
26 January 2011

Fight the Con-Dem 'bosses' charter'
THE LATEST proposals for changes to employment legislation from the Con-Dems once again show their blatant class bias, writes Greg Maughan.
6 October 2010

News in brief
ILO predict a riot: RECESSION IN the world capitalist economy, leading to high unemployment, will trigger growing social unrest according to the United Nations International Labour Organisation (ILO)...
22 September 2010

Bosses want workers' pensions axed
THE BOSSES' organisation - the CBI - has demanded that chancellor George Osborne ends public sector workers' final salary pension schemes and scraps universal welfare entitlements such as child benefit and winter fuel allowance...
18 November 2009

Fast news
War legacy: A HUGE number of chronic infant deformities have been recorded in Falluja, Iraq. The city was flattened by US-led forces over a two month period in 2004 to suppress a Sunni-based insurgency...
17 September 2008

It's time to fight back!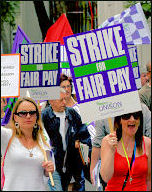 Unison Local Government strike 16-17 July in London, photo by Paul Mattsson
Recession, Banking Crisis, Inflation, Pay Freeze, Wars...
Shockwaves spread globally as two of the biggest multinational banks collapsed - Lehman Brothers and Merrill Lynch - and a third could follow, writes Dave Nellist, Socialist Party councillor, Coventry.
10 January 2008

The privateers are taking over
UNDER THE gleeful heading "Private sector role in public services explodes," the Financial Times reported that the private sector's supply of public services "now makes a bigger contribution to the economy than pharmaceut...
19 July 2007

Build a new workers' party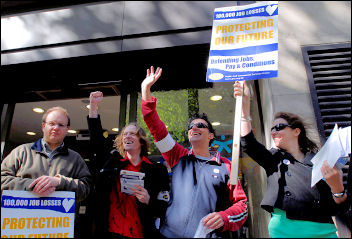 PCS workers on strike 1 May 2007. Workers need a party that will defend their interests. Photo Paul Mattsson
Trade unions - break with New Labour:
Rail workers' union (RMT) general secretary Bob Crow broadened the debate about the need for a new workers' party when he addressed the National Shop Stewards Network recently...
4 April 2007

Brown's pension robbery
THE TIMES has revealed that one of Gordon Brown's first acts as chancellor in 1997 was to give big business the green light to cut workers' occupational pension schemes....
29 November 2006

Bosses' tax moans threaten cuts
THE CONFEDERATION of British Industry (CBI) represents big business interests...
9 October 2004

Don't Let The Fat Cats Bury The Big Cat
CBI boss threatens Coventry workers: DIGBY JONES, the bosses' representative at the head of the CBI has warned Jaguar workers not to "push water uphill". The Coventry Evening Telegraph reported him as saying that: "Unions should recognise they could push Ford too...
2 October 2004

Bosses Think Minimum Wage Too High
"TONY BLAIR is hypocritical and can't be trusted. He has repeatedly refused to repeal Tory anti-trade union laws which prevent workers from protecting themselves...