Reports and Campaigns
---

About the Socialist Party

Anti-capitalism

Anti-privatisation

Anti-war

Election campaigns

Environment

Health

Socialist women

Workplace

Youth and Students
---
Anti-racism tags:
Youth Against Racism in Europe (8)
---
Reports and campaigns:
Stop the slaughter of Tamils (54)
Workplace and TU campaigns (5119)
Related websites
Trade Unionist and Socialist Coalition
National Shop Stewards Network
---
11 June 2008

Underfunding youth facilities: It makes no sense!
Fifteen teenagers have been murdered in London in 2008, twelve of them stabbed to death. The question of violence dominates the mainstream media, and all of the main political parties have been clambering to prove they're 'the toughest on crime'...
11 June 2008

Racist BNP have no solutions!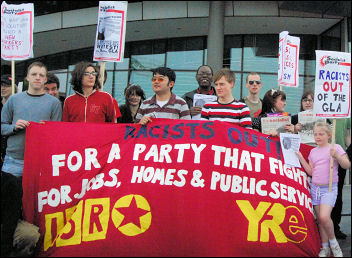 Protest against the BNP after the Greater London Assembly elections, photo Sarah Mayo
'How can such a party have won seats in local councils and one on the Greater London Assembly?' This is a common question encountered by Socialist Party members when campaigning against the racist British National Party, writes Sarah Sachs-Eldridge.
28 May 2008

Exeter bomb explosion: Workers' unity needed against terrorism, war and deprivation
Last week's failed terrorist attack in Exeter caused a wave of shock and surprise in Devon and Britain as a whole, writes Jim Thomson, Devon Socialist Party.
14 May 2008

Anti-racists protest at Unison witch hunt
Letter sent by Markhan S Bajwa, director of Greenwich Council for Racial Equality to Unison general secretary Dave Prentis to protest about the treatment of Onay Kasab, Greenwich Unison branch secretary.
14 May 2008

What will Boris Johnson mean for London?
After the 1 May elections: BORIS JOHNSON'S election as Mayor of London capped a string of successes for the Conservatives in the 1 May local elections, indicating that a Tory victory in the next general election is a serious possibility, writes Neil Cafferky.
14 May 2008

Sussex students uphold 'no platform'
Sussex University students voted 715 to 431 in a referendum to keep the 'No Platform' policy, ensuring that the British National Party (BNP) remain banned from the students union...
7 May 2008

Racist BNP have no solutions!
ISR mounts London protest Around 70 International Socialist Resistance (ISR) members and supporters joined the first protest against the BNP's newly-won seat on the London Assembly, writes Ben Robinson, ISR national organiser.
23 April 2008

How can we defeat the far right?
The far-right, racist British National Party (BNP) is hoping to gain a seat on the Greater London Assembly on 1 May, as well as more councillors round the country. The Socialist outlines Socialist answers to the far-right.
16 April 2008

Unison witch-hunt: Defend 'the four'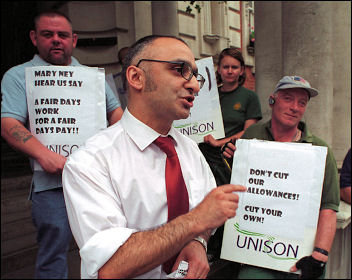 Onay Kasab, photo Paul Mattsson
Greenwich Unison branch secretary Onay Kasab is one of four Unison officers currently facing a disciplinary hearing as part of a witch hunt being carried out by the union bureaucracy, writes Susan Wilson.
14 November 2007

Review: Handsworth Revolution - Steel Pulse (1978)
Socialism 2007 will feature a session on the politics of reggae. To coincide with the event Dave Gorton reviews this important album and describes the...