Reading
---
Filter by importance | All results
---
14 January 2013

Acknowledgements
Once again, many thanks to Kevin Parslow who has researched and typed this material ready for publication...
18 May 2011

Con-Dems: Supporting Youth Enslavement
In an attempt to demonstrate the 'unity' of the coalition after the Lib Dems' disastrous results in the local elections, Cameron and Clegg attended a series of events to launch their new plan 'Supporting Youth Employment'.
29 September 2010

Fighting to save our services
Greenwich, Reading, Hackney, Bristol, Cardiff: Sixty people, mainly local government workers in the Unite union, gathered at Greenwich town hall in Woolwich on Tuesday 21 September to protest at the council's plan to make £70 million worth of cuts to jobs and services...
20 September 2010

Background Reading
Cline, W R. 'Scientific basis for the greenhouse effect' Economic Journal, No 101 (July) 1991, p 904-19...
21 October 2009

The Greatest Show on Earth: The evidence for Evolution
Reviews: This year included the 200th anniversary of Charles Darwin's birth and, in November, the 150th anniversary of the publication of Darwin's On the Origin of Species...
27 May 2009

Fiddling Tory MP Mackay resigns
ON 22 May members of Reading and Bracknell Socialist Party joined the angry constituents of disgraced Tory MP Andrew Mackay to lobby his public meeting - which he called in the hope that apologies and platitudes would keep his supporters sweet...
8 October 2008

Workplace news in brief
London bus strike: Eleven London bus garages will be affected by a strike on 10 and 22 October. 2,500 Unite members working for Metroline voted over 88% in favour of strike action. Workers at Arriva South and North and East...
25 April 2008

Reports of the 24 April strikes
Latest reports
6 September 2007

Save the 'Westie' in Aldershot
Residents, artists, music lovers, young and old, from Aldershot and surrounding areas spilled into the street outside Aldershot's West End Centre... By Nick Kirk Reading Socialist Party
5 July 2007

Postal workers' strike gets solid support across the country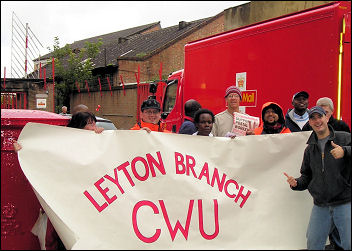 Postal workers on strike in 2007, photo Socialist Party
Postal workers strike - 29 June:
GLOUCESTERSHIRE'S POSTAL workers gave an almost unanimous reply to Royal Mail's plans to attack pay and conditions and slash 40,000 jobs, when 97% of the 1,400 Communication Workers Union (CWU) members walked out on strike ...
28 June 2007

'We're fighting back'
Gloucester: On Saturday 23 June, Gloucester postal workers showed their determination not to accept Royal Mail's plans to close the city's mail centre...
2 October 2004

Unite Against The Jobs Massacre
The Economist magazine recently carried an article on the UK car industry: The Car in Front is British. They talked about a revival and a return to the 'heyday' of the 1970s...