Reports and Campaigns
---

About the Socialist Party

Anti-capitalism

Anti-privatisation

Anti-war

Election campaigns

Environment

Health

Socialist women

Workplace

Youth and Students
---
Education tags:
---
Reports and campaigns:
Stop the slaughter of Tamils (54)
Workplace and TU campaigns (5119)
Related websites
Trade Unionist and Socialist Coalition
National Shop Stewards Network
---
18 June 2008

Stop New Labour's divisive school academy plans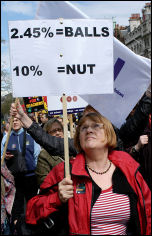 Teachers strike on 24 April 2008, photo Paul Mattsson
LABOUR'S 'IMPROVE or close' ultimatum to 638 English schools is a thinly disguised plan to accelerate the privatisation of secondary education. Under their "National Challenge Strategy", schools that have failed to meet the imposed minimum target, Martin Powell-Davies, secretary, Lewisham National Union of Teachers (NUT) writes.
4 June 2008

Students step-up struggle
School students are angry. Over the last six weeks, thousands have walked out in protest against the running down of the education system, writes Ben Robinson, ISR national co-ordinator.
4 June 2008

Berlin: 8,000 school students strike
Strikes in the public sector are currently shaking Berlin's political landscape. Thousands of striking school students have also been marching through the Berlin inner city...

21 May 2008

France: Workers and youth resist Sarkozy's attacks
SCHOOL STUDENTS have been leading the fight against education cuts in France, writes Manny Thain.
21 May 2008

Fightback saves Cardiff school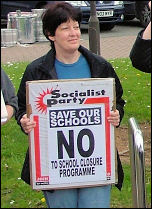 Cardiff school protest, photo Socialist Party Wales
CAMPAIGNERS FROM Lansdowne Primary School in Canton, Cardiff are celebrating, writes Ross Saunders, Cardiff West Socialist Party, Unison steward, Fitzalan High School.
14 May 2008

Don't evict Ricky Jones!
Over a hundred people marched through the streets of Stoke Newington, north London, on 10 May, writes Matthew Waterfall, branch secretary, Hackney Unison.
25 March 2008

Teachers balloting for strike action
NUT conference: STRIKE ACTION to oppose pay cuts, overwork and large class sizes. That was the main talking point at the National Union of Teachers conference over, writes Steve Score.
19 March 2008

Magic strike at Merlin school
On a windy morning in south London, teachers at Merlin school held a very friendly but determined strike, writes Chris Newby
19 March 2008

School tries to evict pupils
Residential caretaker Ricky Jones, his wife and three children face eviction from their home in William Patten School, Hackney, London...
12 March 2008

School student strikes
Iraq war - five years ago: On the fifth anniversary of the invasion of Iraq we look back at the inspiring actions of school and college students that took place in opposition to the war...