Janice Godrich
---
TUC: Build for action against cuts
The first day of the TUC opened with reports of the congress as the main item on the breakfast news, showing footage of the National Shop Stewards Network lobby as the backdrop.
Greg Maughan
The congress is taking place during the most serious attacks on the working class in Britain this side of world war two.
There is a weight of responsibility on the leadership of the trade union movement to do what their name suggests and give a lead in fighting these cuts. But also to arm our class with the political arguments against the cuts.
It was therefore disappointing when Brendan Barber stated in his opening address that cuts were "too fast and too deep". The implication here is that he would be in favour of cuts if the pace was slower.
Much better were the arguments put forward by the left trade union leaders in the debate on the composite motion on public sector cuts.
PCS general secretary Mark Serwotka explained how the cuts would affect all working class people. "The divide is not public sector versus private sector, it is the haves versus the have nots... We cannot accept one penny of cuts or one job lost."
This is the stance that the trade union movement needs to take and was backed by other speakers. Bob Crow of the RMT explained how "all of the gains that were made in society have been on the basis of the trade union movement pursuing them." Bob talked about the solid strike action that members in the RMT and the TSSA took on London Underground last week and said: "It would be madness not to coordinate action" when unions were in dispute.
Matt Wrack of the FBU condemned the government and the media for trying to "shift the blame for the economic crisis from bankers onto public sector workers."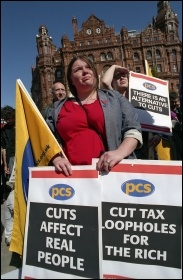 National Shop Stewards Network (NSSN) lobby of TUC conference 2010, photo Paul Mattsson (Click to enlarge)
A composite motion was passed overwhelmingly which commits the TUC to both coordinating industrial action and organising a national demonstration against the cuts.
Speaking in the afternoon session, Janice Godrich of the PCS underlined the importance of this commitment to a national demonstration and stated: "It is now up to us to build for it and build confidence amongst workers."
The commitments in the composite motion against public sector cuts are important. It is now down to activists in the ranks of the trade union movement to hold their leaders to their word and make sure that a mass national demonstration takes place as soon as possible and industrial action against the cuts is built for and coordinated.
---