Reports and Campaigns
---

About the Socialist Party

Anti-capitalism

Anti-privatisation

Anti-war

Election campaigns

Environment

Health

Socialist women

Workplace

Youth and Students
---
Human Rights tags:
Freedom of Information Act (2)
---
Reports and campaigns:
Stop the slaughter of Tamils (55)
Workplace and TU campaigns (5133)
Related websites
Trade Unionist and Socialist Coalition
National Shop Stewards Network
Human Rights / Jean Charles de Menezes
---
18 May 2011

News in brief
Losing your home: More evidence that the government's austerity measures are pushing the economy back into recession comes from the latest house repossession figures...
10 December 2008

Jean Charles de Menezes Coroner restricts inquest verdict
THE JURY in the inquest into the death of Brazilian migrant worker, Jean Charles de Menezes, in a horrifically botched police operation in July 2005 has now retired to consider its verdict...
2 October 2008

Jean Charles de Menezes
ANOTHER INQUIRY is now underway into the killing of Brazilian electrician Jean Charles de Menezes in July 2005 in south London...
28 May 2008

'Counter-terrorism' legislation threatens our democratic rights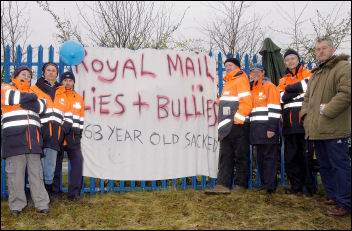 Postal workers trampled on the anti-trade union laws
Feature:
The government's proposal to extend the period the police can hold suspects without charge to 42 days, will be presented to parliament in the next few weeks. ANNA LUCAS explains that, far from being a step in the right direction, these new laws, and other 'anti-crime' measures over recent years, amount to a major and unjustified attack on our democratic rights.
8 November 2007

Jean Charles de Menezes: Unanswered questions after court case
AT LAST, the grieving family of Brazilian migrant worker, Jean Charles de Menezes, have received partial justice of a sort after the successful prosecution of the Metropolitan Police under health and safety laws... By Rob McDonald and Steve Nally
9 August 2007

Jean Charles de Menezes: Security forces not held to account
AN INVESTIGATION by the Independent Police Complaints Commission (IPCC) into the fatal shooting of Brazilian migrant worker, Jean Charles de Menezes, in Stockwell tube station by police in July 2005 has concluded that the counter-terrorism chief Andy Hayman 'misled the public'... By Dave Carr
10 August 2006

Police given licence to terrorise
NO POLICE officer will face charges for the shooting of Mohammed Abdul Kahar in an 'anti-terrorist' dawn raid at Kahar's home in Forest Gate, east London, on 2 June...
20 July 2006

Police not to face charges
THE FAMILY of Jean Charles de Menezes, the young Brazilian electrician killed by police marksmen a year ago at Stockwell station in south London, were furious when they heard that no police officers would be prosecuted over the fatal shooting...
16 March 2006

Jean Charles de Menezes: No more cover-ups!
METROPOLITAN POLICE chief Ian Blair still needs to answer questions on the police cover-up of the murder of Jean Charles de Menezes last July, writes Rob MacDonald.
22 September 2005

Socialists fight for workers' unity
West Yorkshire: SINCE THE London bombings on 7 and 21 July, Socialist Party branches have been fighting for class unity, against the war and terrorism and against racism, sometimes in situations where a racist backlash could have developed...