Tony Benn
---
Filter by importance | All results
---
29 September 2011

Labour Party conference - No way forward given by 'reclaim Labour' speakers
'Vote for us and nothing will change'! was the message of Labour's Ed Balls to the working class desperate for leadership. Two Socialist Party members report on the LRC fringe meeting and on watching the conference on TV
6 July 2011

Review: A Common Treasury
One of the false arguments against socialism and communism is that these ideas are 'foreign'. Karl Marx was a German Jew and a follower of the German philosopher Hegel. 'Revolution is something that...
5 March 2010

Michael Foot - the end of an era
Many "Old Labour" workers and socialists will be saddened at the death of Michael Foot and will see it as signifying the death of an era. However the ideas of Michael Foot - of piecemeal socialist reform of society through successive 'progressive' Labour governments - died long before he physically passed away on 3 March. Socialist Party general secretary Peter Taaffe writes.

17 January 2008

Review: More Time for Politics, Diaries 2001-2007, by Tony Benn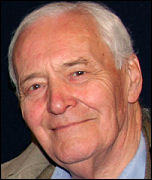 Tony Benn
In the 1970s and 1980s, Tony Benn earned the scorn and hatred of the rich, the capitalist media and their right-wing friends within the labour movement because he was seen as a champion of socialist ideas, writes Peter Taaffe...
17 October 2007

Tony Benn evades the issue
Workers' party debate: TONY BENN can still draw a crowd. Over 200 students packed into a recent Stop the War Society meeting at University College London to hear him speak. ... By Paula Mitchell