---
Filter by importance | All results
---
27 September 2017

Freshers week campaigning reports
Short reports of freshers week campaigning by Socialist Students around the country
9 August 2017

Far-right thrown out of Newcastle
On 29 July Socialist Party members found out that remnants of the north east's divided far-right organisations were planning a demonstration in Newcastle city centre
16 November 2016

Socialism 2016: Putting socialism on the agenda
Struggle, internationalism and socialism, these ideas - and how powerful they can be in action - electrified the magnificent rallies and workshops at Socialism 2016
18 May 2016

Newcastle: countering the fascist menace
On 14 May far-right groups organised a rabble of 50, from as far afield as Scotland, for a demo and rally in Byker, the east end of Newcastle, writes Norman Hall, Gateshead Socialist Party.
10 December 2010

Day X student demo against fee rises
9th December 2010: what the students said
27 October 2010

Youth Fight for Jobs and Socialist Students day of action
Goldsmiths University: The Comprehensive Spending Review on 20 October announced cuts that will be detrimental to the future of young people across the country...
22 October 2008

Campaign to Defeat Fees day of action
London: The chant of, "Stop the fees, stop the debt. Give us what the bankers get!" was heard up and down Victoria Street as Socialist Students protested outside the Department of Innovation, Universities and...
25 April 2008

Reports of the 24 April strikes
Latest reports
26 March 2008

Our year of fighting back
Socialist Students: WITH GROUPS organised at over fifty universities and colleges, Socialist Student members have been at the forefront of much campaigning and discussion over the past year, writes Toby Harris.
19 March 2008

Socialist Students
University of Sussex: A huge victory was achieved by Sussex Socialist Students last week when Lee Vernon was elected to the sabbatical position of finance officer of the University of Sussex student union, writes Sarah Wrack, Sussex Socialist Students
27 February 2008

Student feature: Fighting fees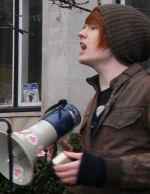 Socialist Students in Manchester on the Campaign to Defeat Fees day of action, photo Abby Taylor
On 21 February Socialist Students and supporters of the Campaign to Defeat Fees (CDF) organised protests and stunts around the country to draw attention to the need for a national campaign against university fees and for free, writes Mark Walmsley and Frankie Langeland
29 November 2007

Kick the BNP out of Northumbria
The national leader of the BNP's youth section, Joseph Finnon, is a student at Northumbria University...By Paul Phillips
27 September 2007

University freshers fairs
Northumbria University: IF YOU were a student at Northumbria University's freshers fair, and were interested in socialist ideas, our Socialist Student stall was the only stall for you!...
18 May 2006

Northumbria lecturers forced to strike
Northumbria University: "UNIVERSITY MANAGEMENT are acting like 19th century industrial capitalists using draconian strike breaking tactics" a geography lecturer at Northumbria University in Newcastle told the socialist...
17 November 2005

Northumbria socialist students rock against racism
Socialist students at Northumbria University have been campaigning against racism and prejudice through our Unite Against Racism campaign this term...