Sunderland
---
Filter by importance | All results
---
10 October 2012

Sunderland anti-fascists stand up against divisive EDL
Socialist Party members took part in a counter-demo against far-right, racist groups, including the English Defence League (EDL), that were opposing the building of a new mosque in Millfield, Sunderland
2 May 2012

Workplace news in brief
Pension privatisation: Hundreds of pension staff were forced out of the public sector on 1 May. The government agency that administers pensions of 1.5 million working and retired civil servants became the first 'mutual' ...
23 April 2012

Gateshead campaigners told to 'move house' if they don't like waste-site plans
In Wrekenton, the Campground Action Committee was set up to fight proposals being put forward by French multinational SITA
31 March 2010

PCS budget day strike: Support grows across country
PCS pickets who work on security at the Houses of Parliament were out again in force. One of the pickets who has been working there for 20 years explained that during the last strike extra police were...
14 January 2009

Job cuts announced at Nissan
Bosses at Nissan's Sunderland car plant have announced they are axing 1,200 jobs, around a quarter of the workforce...
25 March 2008

Northern Rock: Workers 'gutted' at the scale of job losses
Northern Rock's announcement of 2,000 job cuts - around one-third of its workforce - has numbed workers, writes Elaine Brunskill, Newcastle Socialist Party.
19 March 2008

Anger and strength in the DWP workplaces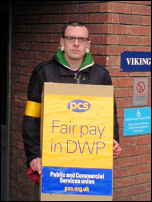 DWP members strike on 17 - 18 march 2008
ON 17 and 18 March, members of the civil service union PCS in the Department for Work and Pensions (DWP) were on strike for the second time against the imposition of a three year pay offer. Regional reports.
16 March 2006

PCS overtime ban - the issues
CIVIL SERVICE union PCS members have been fighting the government's plans to make massive staff cuts, particularly in the Department for Work and Pensions (DWP)...