Reports and Campaigns
---

About the Socialist Party

Anti-capitalism

Anti-privatisation

Anti-war

Election campaigns

Environment

Health

Socialist women

Workplace

Youth and Students
---
Workplace and TU campaigns tags:
---
Reports and campaigns:
Stop the slaughter of Tamils (54)
Workplace and TU campaigns (5117)
Related websites
Trade Unionist and Socialist Coalition
National Shop Stewards Network
Workplace and TU campaigns / Unions
---
16 May 2013

University backs down: students and workers win!
Maintenance and support staff at University of Birmingham are celebrating near-total victory as university management has abandoned restructuring plans
8 May 2013

Trade unions recommend more cuts in Neath/Port Talbot
After lengthy discussions the trade unions Unison, GMB, Unite and Ucatt in Neath/Port Talbot council have announced an agreement which they claim will protect jobs while allowing the Labour council to make cuts due to the £21 million financial gap in its funding...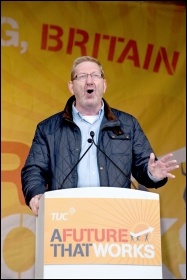 Len McCluskey of Unite speaking at the 20 October 2012 TUC demo against austerity , photo by Paul Mattsson
24 April 2013

Unite - build a fighting union
The victory of Len McCluskey in the Unite general secretary election with 64.4% of the vote against fellow left-winger Jerry Hicks will be seen by the union's membership as ratifying the general direction of Unite since Len first took the position in 2011, writes Kevin Parslow, Unite London and Eastern regional committee, personal capacity.
17 April 2013

Time to name the day for a 24-hour general strike
No ifs, no buts...: The death of Thatcher has revealed the deep class polarisation that existed under her governments and still exists in British society, writes Rob Williams, Socialist Party industrial organiser.
3 April 2013

April 2013: TORY CUTS BLITZ
We must stop them!
The axe is about to be wielded again and this time it is a huge one. 'Black April' will see a further round of savage austerity, which will alter the very fabric of life, writes Peter Taaffe
28 March 2013

24-hour general strike
45. Elections are one facet of the struggle against cuts. In the short term the most pressing issue is the campaign for a 24 hour general strike...
22 March 2013

Our role in the unions
The attempt to defend their position includes the charge levelled against the Socialist Party that, 'It has to be said that for all of the emphasis on Broad Left work, no real effort has been put into uniting the Broad Lefts in the various unions....
22 March 2013

The collapse of Stalinism
The other prop of Merseyside's case against the Socialist Party leadership is in relation to the collapse of Stalinism...
20 March 2013

Trade unions must lead anti-cuts fightback
As this copy of the Socialist hits the streets, 250,000 PCS members in the civil service will be walking out on their Budget Day strike against job losses, attacks on their terms and conditions and the continuing pay freeze - amounting to an average real pay cut of 16% since 2008...
20 March 2013

Budget continues onslaught on living standards
As expected and feared, chancellor George Osborne's budget has driven on with the austerity that is massively eroding workers' living standards, while utterly failing to improve the economy