Wakefield
---
Filter by importance | All results
---
29 February 2012

McWorkfare - "Let's campaign until it's stopped completely"
On Monday protesters were at McDonald's in Sheffield to voice disgust at the Con-Dems' forced labour schemes. Also read on for reports from Leeds, Birmingham and Wakefield
11 May 2011

TUSC shows alternative to Con-Dem and Labour cuts
Roundup: 174 candidates, standing in 50 councils, contested the English local elections under the Trade Unionist and Socialist Coalition (TUSC) umbrella, polling over 25,000 votes...
13 January 2010

Leeds City Council Future Jobs Fund is no solution
LEEDS CITY council recently announced that they had secured funding for 734 jobs through the Future Jobs Fund, writes Iain Dalton.
18 June 2008

Reopen the battle on NHS pay
Adrian O'Malley is the chair of Unison's Wakefield and Pontefract Hospitals branch and newly elected to Unison's health service group executive (SGE) for Yorkshire and Humberside...
16 April 2008

Standing up for socialism: candidate list
Where SOCIALIST PARTY members are standing in local council and Greater London Assembly elections on Thursday 1 May
6 February 2008

MPs' insult to low-paid workers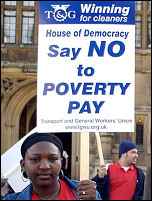 TGWU cleaners demonstrating against low pay, photo Molly Cooper
LOW-PAID public sector workers are facing three years of below-inflation pay rises. Low paid workers earn a fraction of their MP's salary, writes Adrian O'Malley, Unison branch chair, Wakefield and Pontefract Hospitals, Pinderfields Hospital.
20 July 2006

No to cuts, no to privatisation
NHS SERVICES in the Pontefract and Wakefield district face a shake-up. The council's planning committee has given the go-ahead for the £250 million hospitals development project that proposes to replace Pontefract General Infirmary, writes Mick Griffiths, secretary and Adrian O'Malley, chair, Wakefield and Pontefract Hospital UNISON (personal capacity).
27 April 2006

Where we're standing
London

Lewisham Telegraph Hill: Councillor Ian Page, Councillor Chris Flood, Jes Leech

Walthamstow High St: Claire Buddle

Southwark Cathedral: Lois Austin
North West

Baguley Wythenshawe: Lynn Worthington
Merseyside

Netherton and Orrell Bootle: Pete Glover
Northern

Newcastle Byker: Paul Owens
Southern

Southampton Bevois: Nick Chaffey
West Midlands

Coventry St Michaels: Rob Windsor

Coventry Lower Stoke: Dave Runnells

Coventry Henley: Josie Kenny

Coventry Whoberley: Ross Saunders

Coventry Sherbourne: Jason Toynbee

Nuneato and Bedworth Exhall: Eileen Hunter

Stoke Abbey Green: Councillor Paul Sutton
Yorkshire

Huddersfield Crosland Moor and Netherton: Dr Jackie Grunsell (Save Huddesfield NHS)

Sheffield Graves Park: Calvin Payne

Wakefield East: Mick Griffiths
---
The Socialist Party is also standing as part of the Socialist Green Unity Coalition, who are fielding up to 50 candidates in the local elections.
5 March 2005

UNISON leaders vote not to ballot on NHS pensions
UNISON's Health Service Group Executive (SGE) have voted against running a consultative ballot on pensions amongst its health service members...
9 October 2004

Reject Agenda For Change!
Health service: LOW PAY in the NHS is widespread - many ancillary workers get around £4.85 an hour, little more than the minimum wage. Thousands have to rely on extra payments for working unsocial hours just to scrape together a living...
7 December 2001

Private finance initiative: Why Our MP Changed His Mind
WAKEFIELD SOCIALIST Party has been campaigning for six years against PFI in the new Wakefield hospital development and in the NHS nationally, writes Mick Griffiths, Wakefield and Pontefract Hospitals UNISON and Wakefield Socialist Party.
25 May 2001

Fat Cat at Wakefield Mayor's Ball
"AT LAST, I've got someone I can vote for!" exclaimed the traffic warden as he looked over to the Socialist Party stall being set up outside Wakefield Town Hall, writes Alistair Tice.