Reports and Campaigns
---

About the Socialist Party

Anti-capitalism

Anti-privatisation

Anti-war

Election campaigns

Environment

Health

Socialist women

Workplace

Youth and Students
---
Women tags:
---
Reports and campaigns:
Stop the slaughter of Tamils (55)
Workplace and TU campaigns (5133)
Related websites
Trade Unionist and Socialist Coalition
National Shop Stewards Network
---
28 March 2012

Abortion - defend and extend the right to choose
Shona McCulloch looks at the tactics of right-wing opponents of abortion rights and of choice, and how best to safeguard women's hard-won gains...
6 July 2011

Time to defend abortion rights... again
The 1967 Abortion Act legalised abortion in Britain and went a long way in freeing working class women from dangerous and often deadly 'backstreet' abortion techniques - but not in Northern Ireland where the act has never been implemented, writes Shona McCulloch, Brighton Socialist Party.
1 June 2011

New attacks on women's sexual and reproductive rights
Women's sexual and reproductive rights have taken quite a beating in recent weeks. The latest assault comes at the hands of Tory MP and education minister Michael Gove, writes Beth Granter.
26 November 2008

Defend abortion rights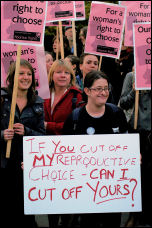 Protesting outside parliament in October 2008, photo Paul Mattsson
The 1967 Abortion Act made abortion legal and safe and available on the NHS. It was an important reform won by women demanding the right to have control over their own bodies, writes Elaine Brunskill, Socialist Party national committee.
19 November 2008

Sacked for being pregnant!
Every year 30,000 women lose their job as a result of becoming pregnant. Employers often give other reasons. The Socialist spoke to a south London worker, sacked as soon as she announced her pregnancy...
8 June 2006

Pregnancy discrimination: Bosses show their dirty tricks
THIRTY YEARS ago, the 1975 Sex Discrimination gave legal protection to pregnant women. Under current legislation it's automatically unfair to dismiss someone or for them to suffer any other detriment because they're pregnant, A Citizen's Advice Bureau worker writes from north London.