Mark Steel
---
Filter by importance | All results
---
14 January 2013

Attitude to the Labour Party and the Left
To many who experienced the past sectarian behaviour of the SWP combined with abstract propaganda - 'One solution, revolution!' - the seeming metamorphosis to a 'broad' approach in this decade was a revelation...
14 January 2013

Collapse of Stalinism and the 1990s
If they were to answer that North Vietnam was more 'progressive', then how to explain their position at the time of the collapse of the Berlin Wall, when the liquidation of the planned economy in Eastern Europe and the former Soviet Union was, for them, not a great negative historical turning point...
21 January 2009

What's going on? The meanderings of a comic mind in confusion, by Mark Steel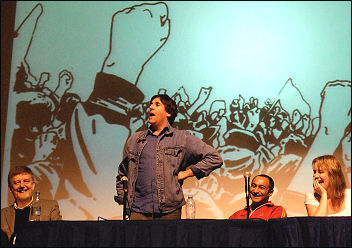 Mark Steel at Socialism 2008, photo Paul Mattsson
Mark Steel was one of the new wave of political ('alternative') comedians who emerged in the late 1970s and early 1980s, writes Ken Douglas.