MAY DAY STRIKE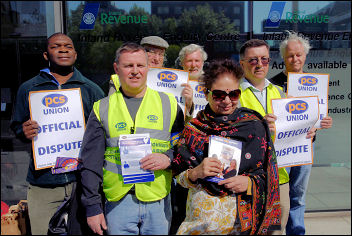 PCS on strike 1 May 2007, photo Paul Mattsson
FIGHTING FOR JOBS, PAY AND SERVICES
OVER 200,000 civil servants in the PCS took strike action on May Day, in defence of jobs, pay and services. Many workplaces were closed or had a severely reduced service, including job centres, courts and Revenue and Customs offices. Most of the London museums and galleries were closed.
Chris Newby and Hugh Caffrey
This action was part of the PCS's campaign of strike action and action 'short of a strike' for pay increases that at least meet the rate of inflation, against the 100,000 civil service job losses the government wants to make, and in defence of all the vital services to the public that civil servants provide.
"We're not ashamed to be fighting for jobs and services," angry pickets at Trinity Bridge House in Manchester told a trickle of scabs.
Their near-solid strike and solid ongoing overtime ban involving 1,800 staff has clearly rattled managers who sent one thuggish scab out to try (and fail) to intimidate pickets.
On last week's overtime ban picket line at this workplace, someone was nearly run over by a scab but when workers complained, the CCTV footage had "disappeared".
Speaking at the South East region TUC May Day rally in Trafalgar Square, general secretary of the PCS, Mark Serwotka, explained that the government will not improve public services if at the same time it cuts jobs.
He called for a national demonstration to be organised of hundreds of thousands of workers from the entire public sector, to say 'enough is enough': "Public sector workers marching together can make the government change its mind... We will carry on campaigning until the government stops these attacks... It's time for the government to change course, to stop sacking employees and to stop privatising".
The government is attacking workers across the board and PCS members are in the forefront of building a united fight-back. Many strikers agreed with the Campaign for a New Workers' Party and bought copies of the socialist, with their attitude summed up by one worker in Manchester who said: "because at this rate Gordon Brown could well be worse".
---
http://www.socialistparty.org.uk/articles/2357