Come to the NHS demo!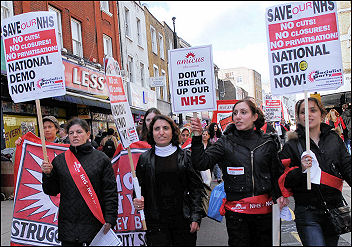 NHS demonstration March 3rd 2007, photo Paul Mattsson
WHEN LABOUR ministers show themselves only to be concerned with glad-handing private-sector bosses and potential privatisers, it is clearly time for the trade unions to start organising against their plans to decimate our public services.
The trade union led demonstration against cutbacks and privatisation in the national health service is now just four weeks away. Health workers and 'Save our NHS' campaigners around the country should make sure there is a big turnout for this important protest. The demonstration should be seen as the start of a mass campaign to defend the NHS and other vital public services.
Stop cuts, closures and privatisation. Demonstration Saturday 3 November, 2007. 11am. Assemble at Temple Place on Victoria Embankment.
---
Swansea meeting
SWANSEA TRADE Union Council public meeting.
Stop the bed closures, Stop the job cuts, Defend the NHS.
Dolphin Hotel, Swansea city centre.
Wednesday 10 October, 7.30pm.
---
http://www.socialistparty.org.uk/articles/3220