Scrap fees for all students
Fight for free education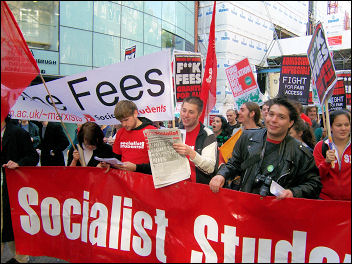 Students demonstrating in 2006, photo Dave Carr
On what basis did the Sunday Times name Manchester University 'university of the year'? Certainly it has not been getting any prizes from its students.
Abby Taylor, Manchester Socialist Students
In fact on 15 October, Socialist Students were involved in a protest against tuition fees and the privatisation of education in the University of Manchester. About one hundred students joined the protest that was timed to coincide with the conferment of honorary degrees at the university.
With two year groups now paying the top-up fees of £3,000 a year anger is mounting. Manchester University is penalising students who are having problems sorting out their loans with the Student Loans Company. Socialist Students campaigns for all fees to be scrapped. Education should be publicly funded.
Boosting its international reputation, and in particular its research standing, requires big money and Manchester is spending £620 million on a capital programme alone.
Most of the cash, much of which was acquired through long-term borrowing deals with banks, is going on gleaming new research facilities, which Professor Gilbert, the vice chancellor, says have taken aback visitors from top US universities.
Prof Gilbert, is apparently also keen to break further into the lucrative professional education and workforce development markets in the UK and abroad to help get extra funds into the university.
No doubt the appointment of Tesco boss Terry Leahy as a co-chancellor has been of use. Sir Terry has proved himself quite adept at wealth accumulation having secured £4.6 million for himself this year. All the talk of education markets makes you wonder why they bother allowing students on campus at all!
In fact the students had to protest outside the building, unable to enter because of high security measures. Having marched round to the back door, around thirty students entered the ceremony and demanded that the university's vice-chancellor came out to be held accountable for his stance against free education.
After making demands that the protest be called off and that students make their point with minimal fuss, the vice-chancellor was eventually forced to come out and speak, the students having conceded nothing.
The eventual agreement was that the vice chancellor would come to the union's general meeting to answer questions from students and supposedly give students a higher level of involvement in key decisions made in the university.
The protest itself was called by the University of Manchester Student Union. There is definitely a need for unity between the unions, linking up with workers to fight for a free education. This also shows that where a lead is given on opposing fees students will respond.
A number joined Socialist Students, who have been building the Campaign to Defeat Fees in Manchester and across the country. See www.socialiststudents.org.uk/cdf for more information about the campaign and to join Socialist Students.
---
http://www.socialistparty.org.uk/articles/3296