London Pride -
Marching against homophobia & racism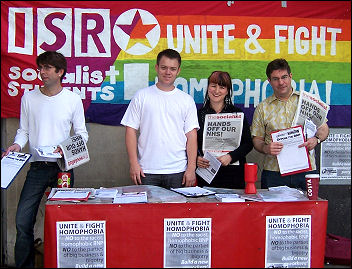 Socialist Party members campaigning at Pride, photo Chris Newby
Members of the Socialist Party lesbian, gay, bisexual and transgender (LGBT) group and London Socialist Party had a fantastic response when campaigning against homophobia on Saturday 5 July.
Greg Randall, Convenor, Socialist Party LGBT group
We were virtually the only people trying to put some politics into the day, campaigning against the racist and homophobic British National Party and the bigoted mayor of London, Boris Johnson. Helped by our well-presented stall and teamwork, we made a big impact. Our leaflet calling for a united fight against homophobia was well received.
We had the best response from younger people on the march, many of whom were at their first Pride event, and did not just want to celebrate but also fight for LGBT rights. 100 copies of The Socialist were sold and over £160 was raised towards the party's fighting fund.
This response shows the growing mood of anger in society with the economy slowing down and the rights and living conditions of working-class people under attack. A layer of people are looking towards radical ideas and want to fight back against the effects of the capitalist system.
Boris jeered
Johnson had the cheek to lead the march, despite his record of comparing gay civil marriage to marrying a dog, and has supported the homophobic Section 28. Johnson was booed on some parts of the march.
Also booed was Labour Party deputy leader and equalities minister Harriet Harman, due to the government's record of deporting gay asylum seekers, when she spoke from the Pride stage.
Pride was established as part of the LGBT community's calendar after the Stonewall riot in New York in 1969, when drag queens fought police raiding a gay bar.
The movement for gay rights took off after this, and Pride used to be political event, fighting for equality and liberation. In the past ten years it has been depoliticised, the march now being described as a 'parade' and with big businesses such as the anti-union British Airways sponsoring it.
The LGBT group will be meeting this September to discuss the ideas and action needed to build support for socialism in the LGBT community, aiming to make our work at next year's Pride bigger and better.
---
http://www.socialistparty.org.uk/articles/6268