Jobs not dole
Youth Fight for Jobs fortnight of action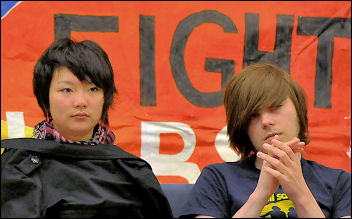 Youth Fight For Jobs Conference 2009, photo Paul Mattsson
"We are determined to prevent a new generation becoming a lost generation". That's what chancellor Alistair Darling said in April.
Sarah Sachs-Eldridge
But so far these words have not been followed up with serious measures. In fact, the whole of Westminster has been so busy scrambling for receipts and reading the Telegraph to see if they've been caught out over expenses, they seem to have forgotten about the looming youth unemployment crisis.
But young people cannot so easily ignore this problem. In March alone the jobless total increased by 115,000. And according to the Office for National Statistics young people have experienced the largest percentage point increase in unemployment rate compared with other age groups. In the year to March 2009, the unemployment rate for 18 to 24 year olds increased by almost 4% to 16.1%.
The number of unemployed young people is likely to increase further when the current academic year ends and 600,000 young people leave school, college and university. Bear in mind that job vacancy levels fell by almost a third to 466,000 between the first quarter of 2008 and the same period in 2009. But Darling and his party have no real, long-lasting solutions.
Large-scale government action should be taken to alleviate unemployment and the threat of job losses. There is an urgent need for more social workers, nurses and teachers. Just a fraction of the money used to bail out the banks could take hundreds of thousands off the dole queues and train them to carry out vital public services.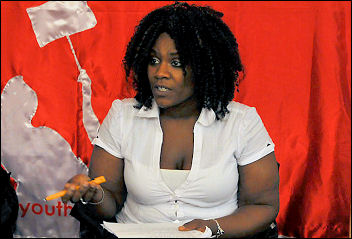 Monique at Youth Fight For Jobs Conference 2009, photo Paul Mattsson
Youth Fight for Jobs (YFJ) is calling a fortnight of action to coincide with the end of term to build the campaign for a decent future for young people. YFJ activists will be organising protests, marches, gigs, meetings, stunts and other action to build the movement against the cost of the economic crisis being put on the backs of youth.
Make sure young people in your area do not face this crisis alone, but know that there is an organisation for them to join to fight for their future. Call 020 8988 8777 or email youthfightforjobs@gmail.com for leaflets and help with organising local action.
---
http://www.socialistparty.org.uk/articles/7311