Our NHS not for sale!
Build for the demo and lobby on 1 November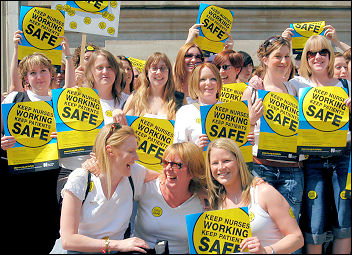 RCN and Unison members protesting outside parliament
HEALTH CUTS are happening all over the country. According to NHS chief executive David Nicholson, they "will not hurt". But they are hurting. Campaigners outside Guys and St Thomas's, the prestigious London teaching hospital, met angry staff who told them that the staff dentistry department had been closed just this Friday.
Lois Austin
Throughout the NHS it's the same story - secret ward and bed closures that the patients and community are not supposed to know about. These are cuts that not only hurt now but will mean a much worse health service in the long term.
What's behind these cuts and closures? The relentless drive towards the market. Market 'reforms' like 'payment by results' and 'choose and book' mean changes to the way that hospitals and Primary Care Trusts are funded. They will mean that hospital trusts not in deficit at the moment will be in the red by the end of the year.
New Labour want a 'leaner, fitter' NHS for the private healthcare companies circling, ready to take over profitable services.
But the campaign to resist the hammer blows of cuts and privatisation is gathering support. 140 medical secretaries and personal assistants working in the Barking and Havering and Redbridge hospital trust will strike on 5 October against the outsourcing of their work, leading to 90-plus redundancies.
Last Saturday, demonstrations took place in Banbury, Pontefract and Epsom. A national focus for these campaigns is beginning to coalesce around the TUC lobby of parliament on 1 November.
A feeder march, to demonstrate our anger and determination to fight back, will march from the Southbank, across Westminster bridge, to join the lobby of Parliament.
A growing number of local organisations and leading anti-cuts campaigners are sponsoring this march.
Leicester, Bristol and Brighton Keep Our NHS Public (KONHSP) are now sponsoring it, along with the Coventry NHS SOS campaign. A number of trade union health branches have also sponsored the march and booked transport.
Let's build a mass turnout on 1 November. Our NHS is not for sale!
New sponsors for the march: Brighton KONHSP, Coventry NHS SOS, Leicester KONHSP, Waltham Forest KONHSP, Bristol KONHSP, Jon Smith, GMB branch secretary at Sheffield's Children's Hospital, Dave Gorton, branch co-ordinater Derbyshire County UNISON, Tees and North East Yorkshire UNISON health branch, Greater London Pensioners' Association
Coming demonstrations include: Southampton, Huntingdon and Huddersfield (7 October) and Oxford (14 October).
---
NHS SOS
Marching to stop cuts and sell-offs
Epsom
"A MATTER of Life and Death", handwritten on a placard. That summed up the message of the 30 September march and rally against the panic cuts and eventual downgrading of hospital services in Epsom, Surrey.
Nick Kirk Reading Socialist Party and Surrey County UNISON branch
A lack of stewards and a belated police presence forced 1,000 campaigners to march along the pavements from the busy town centre toward the General Hospital in Epsom.
Epsom and St Helier NHS Trust has approved plans to save £20 million over two years. It claims this will "improve services" at the two hospitals in Surrey. Some changes involve shuffling appointments between hospitals whilst other measures will cut provision for mothers requiring emergency treatment mid-labour.
Epsom has been repeatedly threatened with the downgrading of its A&E service over the past three years, but strong opposition has until now delayed the bureaucrats' cull.
At the post-march rally Geoff Martin of London Health Emergency (LHE) spoke against the Trust's dangerous plan. Kevin O'Brien, branch secretary of the local UNISON Health branch, vowed to lead a fight against the cuts, which include the reduction of staff. Local Tory MP Chris Grayling will lead a letter-writing campaign!
Socialist Party members from Reading branch and Surrey sold ten papers and handed out leaflets advertising our local meeting of the Campaign for a New Workers' Party (CNWP).
lEPSOM Campaign for a New Workers' Party (CNWP) meeting. Thursday 12 October, 7.30pm, Spa Lounge of the Ebbisham Centre, Derby Square (off High Street), Epsom, Surrey. Contact: Nick 07767 023846.
KIRKLEES COUNCIL'S official policy is now to support any industrial action taken by health workers in defence of jobs and services. They also officially agreed to call on the government to cancel the deficit in the NHS.
Iain Dalton
The council agreed to this position because of the pressure that the Save Huddersfield NHS campaign has been able to mount upon local councillors. This meant they felt compelled to support the motion taken to the council meeting by Save Huddersfield NHS councillor and Socialist Party member Dr. Jackie Grunsell.
But the campaign isn't prepared to rest on its laurels yet, there's the small matter of saving the local hospital services that the local Primary Care Trust (PCT) decided to cut undemocratically after a phoney consultation, in the face of massive public opposition.
An 'Independent Reconfiguration Panel' has not yet reported on the fate of local consultant-led maternity services, but the campaign is not prepared to stop at just saving one service, we're campaigning for all the services to stay.
In addition to the transfer of consultant-led maternity services, general planned surgery, gynaecological surgery and breast surgery and the closure of St. Luke's Hospital, the trust has further proposed the closure of Princess Royal Hospital, selling off public land at Holme Valley Memorial Hospital, cuts in district nursing and health visitors staffing levels, cuts in the primary care prescribing budget and more.
Save Huddersfield NHS is calling its fourth demonstration on 7 October to oppose the endless cuts the local PCT tell us we have to endure. We call upon all workers to come and support the demonstration.
---
Action is the only answer to NHS cuts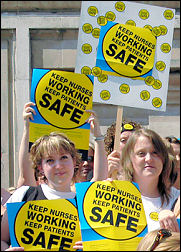 ISSUE AFTER issue of the socialist has featured the crisis in the health service under New Labour. Dozens of hospital trusts have declared cuts as a result of their "going over budget". Newly trained nurses fresh from college are being told there are no jobs for them, as the trusts declare redundancies, closures and cutbacks.
This has been going on for well over two years. It is a result of the government's policy of refusing to cover spending in the trusts in order to: "introduce fiscal discipline".
At the same time, the government continues to privatise more and more of the service, the latest being NHS Logistics.
Private capital is licking its collective lips at the thought of the huge profits to come, as they are allowed, indeed encouraged, by New Labour to cherry-pick the most profitable parts of the NHS.
One feature of NHS top management's strategy is the huge increase in management consultants they have brought in. Accountancy Age magazine boasts that the NHS now uses more consultants than the whole of manufacturing industry, an increase over last year of 26%.
Not since the poll tax days has there been such awareness amongst ordinary people that something is wrong and it should be stopped. The growing support for the TUC-organised lobby of parliament on 1 November is one indication of these developments.
The movement is not uniform yet. The more rural areas and smaller towns have been the first to move. Mass demonstrations, reminiscent of the early days of the anti-poll tax campaign, have been held. But now the bigger towns and cities are feeling the cold wind of market forces on their local health services.
Who will put themselves at the head of this movement? It has to be the trade unions, whose members not only work in the NHS but also depend on the existence of a NHS which is available "free at the point of use".
Unfortunately, the union leaders, like Dave Prentis of UNISON, seem to be the last to recognise this. Many fine speeches have been made about the crisis but what has been lacking up to now is a strategy to do something about it.
The only conclusion you can come to is that the union leaders are so tied into the Labour Party that they hope against hope Gordon Brown will change tack when he is the leader.
But the only thing that the government will listen to is action. That is why it is even more important that the initiative of a number of NHS campaigns to organise a feeder march from south London to the lobby of parliament on 1 November is supported by the unions and their NHS members.
A national day of action should be organised soon after the lobby to pull together the workers in the hospitals and the people in the communities. A day of action that included industrial action - with trade union-controlled emergency cover - for those services under direct threat of cuts would be a tremendous beacon to the whole of the working class. The unions could demonstrate that they are the real defenders of a publicly owned and publicly run NHS.
Just as important, the same union leaders have to break themselves away from the clapped-out idea that things can be changed through the Labour Party and the trade unions' link with it. The battle to save the NHS is a political struggle as well as an industrial one. That requires a new political voice for working people. In other words, a new trade union-based mass workers' party.
---
NHS Logistics:
Fighting the privateers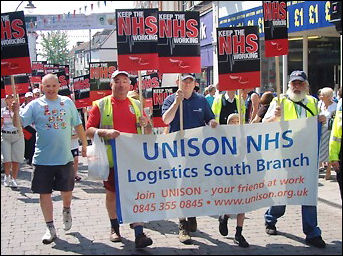 ON 26 and 27 SEPTEMBER, UNISON members working for NHS Logistics (NHSL) were on strike again. We are fighting the government's hiving off of our vital, award-winning stores and distribution service to DHL/Novation.
Brian Loader, UNISON NHSL Alfreton, personal capacity
Senior Management at Runcorn had a big shock at 11pm on Tuesday night, when 100 well-wishers, including UNISON general secretary Dave Prentis, turned up at the picket line from the Labour Party Conference. They joined a solid show of strength from Runcorn NHSL UNISON members.
In Normanton, Chris Kowalcyck the branch secretary, reported 98% of UNISON members supported the action. "We are sending a message to DHL to say, we know what sort of company you are, don't come to us three weeks down the line threatening our terms and condition, because we will stand up and fight."
At Alfreton we had a solid picket line, starting at 10pm. It continued until the following morning when a dozen of us went to Manchester to lobby the Labour Party conference. We left a visible and determined picket line at Alfreton, who turned away four vehicles.
We were outside the conference, with members from the Runcorn depot and a BBC crew, when health secretary Patricia Hewitt came walking down the road.
She couldn't walk past us with the BBC there so she had to stop. We tackled her about the privatisation of NHSL.
She said health minister Andy Burnham had replied to a letter from Dave Prentis. He had demanded assurances about our pensions, pay and terms and conditions as well as for new workers. But we didn't get any assurances from Hewitt.
We asked why an in-house bid wasn't allowed to flourish. We also made it clear we were worried about US company Novation being involved in the contract, because they are being investigated by the federal government at the moment.
She replied that although the market-testing process had taken two years and gone through five health ministers, the money which DHL claimed they could save was too good to refuse.
We asked why the depots were only guaranteed to stay open for five years, yet DHL/Novation's contract was for 10 years. But she wouldn't agree to extend the guarantee.
I asked about the savings DHL say they will make over 10 years and the £35 million the Department of Health (DOH) will get from the sale of the NHSL depots. Would this cash be going to front-line services, hospitals threatened with closure and where nursing staff are being made redundant?
Of course not. She said the DOH would be using it for capital expenditure. But we know this will mean PFI-type schemes where big business will be the main beneficiary.
We continued to leaflet the conference. But some delegates reported that the security personnel were trying to confiscate our leaflets on the basis that they hadn't been passed by the conference arrangements committee! They were further infuriated when they got back to their seats and found leaflets from Labour's national executive saying don't vote for the trade union resolution criticising Labour's health service policies.
NHSL UNISON striking members would like to thank all the UNISON branches/members who have supported our campaign and made donations from their branch funds to the national hardship fund.
For many of us, it will be an experience not to be forgotten in organising and participating in the first national NHS strike for 18 years. It is clear many other NHS workers are considering and planning similar action to fight back against NHS cuts and job losses. This needs to be co-ordinated nationally.
NHSL UNISON members across all the depots will agree with the comments from the Normanton strikers in sending a strong message to DHL/Novation who now operate the contract. Any job losses and threats to our terms and conditions will result in a call for industrial action from the depots.
---
Health workers told - no money for study
STAFF EMPLOYED by Tees Esk and Wear Valleys NHS Trust were recently told that they will not be sponsored to attend training courses that would have given them registered nurse qualifications after three years' university study.
John Malcolm, chair UNISON Tees and North East Yorkshire health branch, personal capacity
The staff members, mainly health care assistants, were promised the opportunity to study on full pay with a guarantee of a job within the trust on qualification. A number of UNISON members have protested after being told two weeks before the start of the course that funding is no longer available. This is despite having contracts from the trust detailing the terms of the sponsorship scheme.
UNISON had welcomed the scheme as it was a good way of addressing the shortage of qualified nurses as well as providing an opportunity for staff to develop their theoretical knowledge along with their valuable work experience and skills.
According to The Guardian the Royal College of Surgeons has serious concerns about these training cuts: "We are having reports coming through from the north-east, around Newcastle, from the east of England, from the West Midlands, of an average 10% being taken from funding.... In the east of England the budget for multi-professional educational training is nearly £291million and they are looking to save £25 million - an 8.6% reduction. In the north-east, where the budget is £199 million, the reduction is 10.6%."
UNISON has been informed that funding from the strategic health authority has been withheld in order to cut the NHS deficits. These cuts also affect medical training and could have a drastic affect on patient care.
The only alternative for the staff affected will be to try and obtain a student bursary. But this falls well short of a living wage and therefore excludes the majority of staff on the sponsorship scheme who have mortgages and families to support.
UNISON policy is for all students to receive a living wage rather than the meagre bursary currently on offer, which leads to many students having to do agency work to supplement their income.
---
Stroud:
"Our campaign saved our maternity hospital"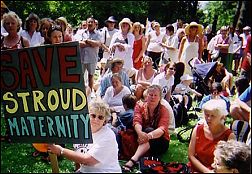 "IF WE hadn't fought it, it would have gone through", MANDY ROBOTHAM, local midwife and head of the Stroud Maternity Matters campaign, told the socialist. "They intended to close the maternity hospital, but we and the public forced them to change their minds."
Chris Moore
The campaign forced Gloucestershire's Primary Care Trusts (PCTs) to reverse their proposal to close Stroud's 53-year-old maternity hospital. Their hard work mobilised mass support against the cuts: 4,000 people marched through Stroud; a train took 600 NHS campaigners to lobby parliament; local lobbies, petitions and social events put pressure on the PCT business managers.
Mandy explained: "We got organised quickly with a clear plan which we kept reviewing and we kept fighting. Each (PCT) board member had a (campaign) 'marker', whose job it was to get to him or her. We also engaged the media locally and nationally through phone calls and emails."
The pressure paid dividends. Both cuts and campaign were rarely out of the local press, and Stroud Maternity hospital featured in the national press. Mandy feels the campaign had a national impact on the debate about midwife-led units. "If this trust concedes that it can't close a successful midwife-led unit because it goes against government policy, that sets a precedent for other threatened units."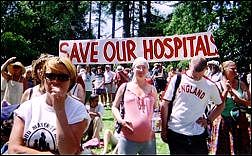 At present 15-20 units, about a third nationally, could face closure. "We offer low risk, home-like setting with good postnatal care. But NHS financiers see us as a luxury service and a soft target.
We know we're a necessity that costs the NHS less in the future. The NHS was designed to be about quality care but now it appears to be about breaking even or making a profit."
Mandy says: "We've had a success but we have to be vigilant to protect what we've won." This comes from hard experience, Mandy was involved in the first campaign to save the baby unit in 1998.
A few months ago, Gloucestershire PCTs announced £40 million of NHS cuts. Campaigns like Stroud's stopped some of these, but they still propose £24 million cuts.
Huge rallies forced a re-think but Dilke hospital in the Forest of Dean is still dependent on a business plan by local business people, politicians, health campaigners and professionals being accepted. This would be a type of 'Social Enterprise,' but it could mean the hospital coming out of the NHS and being run as a 'non-profit' business. It would make it a prime target for takeover by a private company.
Labour wants to further open up the NHS to business competition. The recent cuts were announced when PCTs were told to balance their budgets to prepare for a change in their role. They will no longer directly provide services but will tender out contracts. Press adverts indicated that up to 80% of contracts would go to the private sector.
---
Socialist Party fights for:
No cuts! No closures! No to health privatisation and 'the market.'
Abandon the Private Finance Initiative (PFI). No more profiteering by construction companies and banks. All new hospitals to be built with public funding, not for private profit and using direct labour.
Rebuild the NHS as a publicly funded and free-at-the-point-of-use service, with immediate cash to end the crisis of under-funding. Cancel all the 'debts'.
Unite the many campaigns already existing to defend the NHS. Prepare for a one-day strike of NHS workers against attacks on NHS jobs and services, with NHS staff deciding levels of emergency cover.
---
No fees, end student poverty
Fight for a socialist alternative to Blair's Britain
BLAIR'S 'LEGACY' and Brown's promises for more of the same were applauded at Labour Party conference. But new students across the country are now facing the bleak reality of trying to live and study in New Labour's Britain.
Matt Dobson Socialist Students national co-ordinator
They will be uncertain about whether they can afford to pay for their tuition, as top up fees are £3,000 a year.
Then they have to bear living costs - they will probably have to get a low-paid part-time job - and at the end of it all, huge debts from the student loan company, banks and credit card companies.
Many young people have been put off continuing education after school and college entirely. University applications are down by 3.4%. They now have the prospect of working in Gordon Brown's low-wage exploitative economy.
For 16 and 17 year-olds the minimum wage has just gone up to a measly £3.30 per hour. Compare this to Britain's boardroom bosses who took home £753 million in 2005. Their salaries have soared by 28%. Students working in supermarkets this year may be interested to find out that Tesco's chief executive gets a salary equal to 466 Tesco workers.
While the bosses are wallowing in profit, students are working an average of 16 hours a week, while studying full-time. Yet graduate debts average £20,000.
New Labour is opening up education to the market to let the fat cats make huge profits while denying the right to free, fully funded, quality education for young people. At Brunel University, students do not have enough books in the library but multinationals have brand new conference suites on campus.
Further Education colleges are being eyed up by private companies, eager to make profits out of charging rip-off prices in canteens and for other services.
Education isn't the only public service under attack. Due to ward closures and staff shedding in the NHS, 6,000 young medics and over half of newly qualified nurses cannot find secure jobs.
While public services are underfunded, billions are spent on Blair's war aims of securing oil revenues for the multinationals and stability for imperialism. But these aims have been shattered by the rise in sectarian violence in Iraq and the instability of the occupying forces in Afghanistan.
Young people everywhere want to fight back against New Labour's policies. Socialist Students is meeting students who want to campaign against New Labour's warmongering, fees and student debt, privatisation and attacks on public services.
At Manchester University 100 students marched against fees in the first week of term. Socialist Students will be organising days of action involving protests, meetings, demonstrations and rallies to build for the National NUS Demonstration on 29 October.
---
Students seek out socialist ideas
UCL and Brunel Socialist Students had a big problem with the student magazine this year - there weren't enough of them at the freshers' fairs! 70 were sold at Northumbria and Newcastle, 29 at Southampton Solent University, 23 at Birmingham, 20 at Swansea and many more around the country.
Ben Robinson
Students were coming up to our stalls, wanting to discuss our ideas and what has been going on internationally. Matt Dobson reported on Brunel Freshers fair, "Many people told us they were angry about the war in Lebanon over the summer and the fact that they now have to pay top-up tuition fees. At our meeting War, terror, poverty - what do socialists say? four students turned up with lots of questions - whether it is possible to achieve socialism through parliament, the nature of the Soviet Union and if socialists can reclaim the Labour Party.
We organised meetings like this in many areas on the same day as the freshers' fairs, for people interested in finding out more. Cardiff Socialist Students organised a meeting on the crisis in the Middle East, with 21 new students attending. In every university where we had stalls, we met students interested in our ideas and wanting to help build a socialist alternative on campus. Birmingham reported 40 interested in finding out more, despite us not having a stall in the freshers' fair. In Huddersfield there were 30 keen to get involved.
At UCL, we had around 35 saying that they want to get involved in the society, and sold 42 copies of the socialist and 33 Student Socialists. One person has already agreed to join the Socialist Party, with several more interested. Discussions on the stall and in our meetings at the end of each of the two days were wide-ranging. They covered everything from the causes of war and occupation in the Middle East to the lack of democracy and accountability of the government, what socialism is, the working class, and a lot more! From not having a presence there, we now have the beginnings of a healthy society, with plenty of ideas for discussions, campaigns and more!
For areas that have now had their freshers' fair, the focus has shifted from meeting people on the stalls, to having in-depth discussions with people who have expressed interest in finding out more. We are also planning our campaigns, political discussions and who can take on what responsibility in the societies. It is vital that all students who have expressed an interest in the Socialist Party are seen as soon as possible and discussions arranged with them about joining - Socialist Party branches are holding meetings on topics that are especially interesting to people who we meet at the freshers' fairs.
With hundreds of people interested and involved in Socialist Students, it looks set to be a good autumn of discussion about socialist ideas and campaigning against the effects of this rotten capitalist system, leading up to the weekend of socialist ideas and debates at socialism 2006, and a good year for socialist students - we'll just have to print more magazines in future!
---
Age discrimination and the minimum wage
ON 1 OCTOBER, new EU legislation banned age discrimination in the workplace for workers under 65, in what some reports are calling: "The biggest shake-up of workplace laws for 30 years".
Sean Figg
This poses a problem for British employment law. As Olly Scott of the British Chamber of Commerce points out: "The government's own minimum wage law discriminates against people on the grounds of age".
The minimum wage for workers aged 16 and 17 is only £3.30 per hour; rising to £4.45 for workers aged 18-21 and £5.35 for the over 21s. Essentially the younger you are the worse your pay can legally be.
The government tries to justify these supposed "development bands" on the grounds that they 'protect' young workers from being laid-off.
But if the government was really concerned about 'protecting' young workers, why don't they introduce legislation making it harder for employers to lay workers off whatever their age? Then all workers could receive the higher level minimum wage.
Of course the reason the government doesn't do this is to keep the profits of the Labour Party's big-business friends healthy.
The government also argues that the paltry level of the minimum wage for young workers encourages them to stay on in education! But the government's own record of ending grants and bringing in tuition fees shows the concern they have for young people in education.
At the same time as forcing students to take a job while studying, they institutionalise poverty pay!
So the current minimum wage levels for the under-21s could be open to a legal challenge. But, with the huge vested business interests involved in keeping under-21s' wages down, whoever mounts a challenge will have quite a job on their hands.
A ruling against this discrimination, bringing the pay for under-21s in line with that of older workers, would be a step forward.
However, to campaign for a living wage for all workers, an end to all forms of workplace discrimination and to ensure that any legislative changes are enforced requires workers to be organised in trade unions, otherwise legislation can turn out to be just another unread bit of paper.
---
Labour conference cheers can't hide...
Blair more hated than Thatcher
NEVER BEFORE has the gap between reality and the spinmasters' world of the party conference season been so big, writes Socialist Party deputy general secretary Hannah Sell.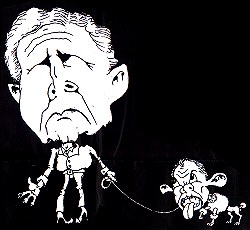 This was summed up by the reaction to Tony Blair's saccharine farewell speech at Labour Party conference. Inside the hall he was greeted with a rapturous standing ovation. Yet the content of the speech was a justification for profoundly unpopular government policies - the very policies that have made Blair more hated than Thatcher in her final days.
Blair lies on health...
WHILE CUTS and closures are taking place across the country, including the threatened closure of 60 accident and emergency units, Blair claimed that the NHS is getting better. Why then are tens of thousands having to demonstrate against hospital cuts up and down the country? This is the biggest protest movement on a domestic issue since the mass campaign against the poll tax, which finished both the poll tax and Thatcher.
In reality, New Labour is setting out to destroy the NHS. Only 11% of people support further privatisation of public services, yet Blair used his speech to justify the position of health minister, Patricia Hewitt, that there should be 'no limit' to the privatisation of the health service.
New Labour's record on the NHS is reflected in the opinion polls. For the first time since the NHS was founded by the 1945 Labour government, the Tories are now 'more trusted' to run the NHS than Labour. In a bizarre twist of history, in rural and semi-rural areas, Tory MPs are taking part in, and even initiating, protest movements against health cuts.
In fact the Tory Party, which began the current dismantling of the NHS when they were in office, would be carrying out virtually identical policies to New Labour if they were elected. In the last general election they stood for a more rapid and complete privatisation of health and education even than that being carried out by New Labour.
Now, belatedly realising that 'defending the NHS' is a vote winner, they are opportunistically pretending to be the arch-defenders of the health service. However, Cameron's chief policy strategist, Oliver Letwin, blurted out the truth to the Sunday Times, when he explained that the Tories, like New Labour, oppose any limits on private companies running parts of the NHS.
Blair lies on Iraq...
BLAIR WENT on to argue against the 72% of the population that think that the occupations of Iraq and Afghanistan have made the world a more dangerous and unstable place. He asserted:
"This terrorism isn't our fault. We didn't cause it. It's not the consequence of foreign policy. It's an attack on our way of life. It's global. It has an ideology. It killed nearly 3,000 people including over 60 British on the streets of New York before war in Afghanistan or Iraq was even thought of."
This is a facile argument which virtually no-one swallows. Imperialist oppression of the Arab peoples did not begin with the invasion of Iraq or even the brutal subjugation of the Palestinian people over decades, but goes back at least as far as the imperialist carve-up of the Middle East and its natural resources almost a century ago.
The oppression of the Palestinians over the last decades has undoubtedly angered the world's 1.3 billion Muslims, as did the first Iraq war and the sanctions against Iraq after the 1990-91 Gulf War. These sanctions resulted in the death of half a million children, described as "a price worth paying" by Madeline Albright, then US Secretary of State.
Since then, that anger has been enormously fuelled by events since 9/11. And unlike the oppression of the Palestinians, the British government has been directly and unequivocally involved in the bloody occupation of Iraq.
More than 5,000 people were killed in Baghdad during July and August alone. It is incontrovertible that, while the vast majority of Muslims in Britain and worldwide, are opposed to terrorist attacks, the number has increased who are so angry and alienated by what is taking place in the Middle East that they are prepared to take this utterly mistaken road.
This conclusion has even been drawn by both the US and British intelligence agencies. A new and damning US National Intelligence Estimate concluded that Iraq had hugely increased Bin Laden's "status as the ideological leader of a global movement".
Meanwhile at home an MI6 officer has written a report declaring: "The war on Iraq has acted as a recruiting sergeant for extremists across the Muslim world...Iraq has served to radicalise an already disillusioned youth and al-Qaeda has given them the will, intent purpose and ideology to act."
Blair lies on Israel/Palestine...
BLAIR WENT on to defend nuclear power, attacks on civil liberties, and privatisation of education. However, it was the final moments of his speech that demonstrated how utterly he has lost touch with reality. He declared that he would spend his final time in office working towards bringing peace to Israel and Palestine!
Following Blair's complete support for Israel's recent onslaught on Lebanon this will have been greeted with outrage by millions in Britain and the Middle East. When Blair recently visited the occupied territories he got a taste of how he is viewed by the masses of the Middle East. One group of hundreds of Palestinians took out a full page advert in a Palestinian newspaper:
"[Blair] is coming here to wash his hands, hands that are dripping with Lebanese blood, with Palestinian water. We the signatories...notables, intellectuals and politicians declare that Tony Blair is persona non grata."
Persona non grata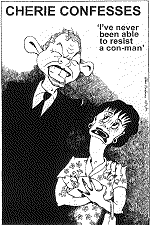 TONY BLAIR is also 'persona non grata' - diplomatic language for unacceptable and unwelcome - in Britain. Labour MPS and councillors met his speech with rapturous applause, but they know that Tony has to go if they are to stand a chance of saving their own careers. Blair clearly hopes to stay until next summer on the back of his conference speech.
This is possible, but it is more likely that his MPs will rebel again with the next dip in the opinion polls. However, the New Labour politicians are making a mistake if they imagine that getting rid of Blair will solve their problems. Fundamentally, it is Blairism, rather than Blair himself, which is unpopular.
More people are opposed to the occupations of Iraq and Afghanistan at any time since the war on Iraq began - 53% now believe the war was a mistake. Demands for withdrawal of the troops are growing. ITV news declares that conditions for British troops in Afghanistan are comparable to the First World War!
British soldiers in Afghanistan are being killed at six times the rate they are in Iraq. It is now revealed that the tops of the military told John Reid eighteen months ago that the army couldn't cope with Iraq and Afghanistan and that one front would have to be abandoned.
New Labour, in its desperation to do the Bush administration's bidding, ignored this and went ahead. However, such is the unpopularity of the war, and the strain on the British army, it is possible that the government, whether under Blair or his successor, will be forced to withdraw troops from Iraq.
Even if this does take place, however, it will not alter the general direction of the government - of supporting US imperialism's brutal foreign policy abroad, and attacking workers' living conditions at home.
Big business government
THIS GOVERNMENT'S anti-working class, pro-big business attitude is summed up by its desperate attempts to try and keep Britain's position as the only EU country to opt out of the maximum 48 hour average working week. Officially, one-fifth of workers in Britain work more than 48 hours a week.
The government justifies itself by quoting recent surveys showing that a majority of the population believes that there should be no limit on working hours, but this ignores the question of pay. Given the option of earning enough to live comfortably while working a maximum 35-hour week, the vast majority of workers would choose to do so.
But for a growing number of workers in Britain it is necessary to 'work-till-you-drop' to make ends meet. Twelve million Britons live below the poverty line. Meanwhile the pay of Britain's top company directors soared by 28% in the last year, seven times the average rate of increase.
Unlike the rich few at the top, for many working and middle-class Britons, the only way they can survive is by the use of credit or, as it is otherwise known, debt. Britain has by far the highest levels of personal debt in Europe. The level of indebtedness is so high that even the relatively small, by historical standards, increase in interest rates over the last period has led to record levels of bankruptcy.
Young people are the worst affected. There has been a rise in bankruptcy of 18-29 year olds of 288% between 2001 and 2005! No wonder that the majority of people in Britain do not credit Brown with 'good handling' of the economy.
The Organisation for Economic Cooperation and Development (OECD) hails Britain as the world's Goldilocks economy - neither too hot nor too cold - but most working-class people have a very different experience. This experience will become even worse when, at a certain stage, the enormous bubble of debt, largely based on rising house prices (which is keeping the economy afloat) deflates decisively. Already unemployment is creeping up to its highest level in six years.
Brown the Blairite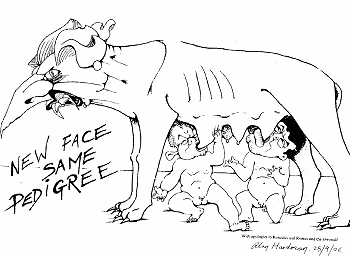 IT IS likely that Brown, having been a lucky Chancellor, will be a very unlucky prime minister, coming to office just as the underlying economic trends are played out. Even if this is not the case in the short term, Brown, who remains the most likely candidate to succeed Blair, will clearly carry on with the same neo-liberal, anti-working class policies as his predecessor.
The bitterness and divisions at the top of the Labour Party have virtually no ideological content. They are little more than a desperate scramble to save careers as the government runs into the sand.
Tony Blair is accelerating attacks on the NHS in his last period in office - but Brown is pledging to continue the onslaught. Brown has said he will "intensify" privatisation of the health service and it was Brown who intervened in the Labour Party NEC to demand that its members support the 'marketisation' of the NHS and particularly the handing of NHS Logistics to private company DHL.
Despite Brown's role behind the scenes a motion opposing further privatisation of the NHS was passed at the conference. This has been hailed, along with motions passed on council housing and the rights of agency workers, as a victory by the trade union leaders. However, the Labour Party's democratic structures the have been destroyed - and its conference no longer has any power.
This is the third year running that the trade union vote has resulted in opposition to privatisation being passed at Labour Party conference. Outside in the real world privatisation is proceeding at a rate of knots.
Role of union leaders
HOW DID the trade union leaders respond to events at the Labour Party conference? Dave Prentis, general secretary of UNISON, the union which organises the NHS logistics workers, welcomed Brown's speech because of its "emphasis on listening and learning".
Prentis added: "There was enough in his speech to give us hope that he will listen about the direction of reform." This is nothing new. Last year Prentis welcomed Brown's neo-Thatcherite speech as "Labour values at their best".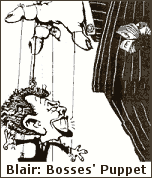 Undoubtedly, some workers are hoping against hope that Brown is only pretending to be a Blairite, and will reveal his true socialist colours once elected. Unfortunately, there is no possibility of this happening. For Prentis and other trade union leaders, who have sat and listened to Brown argue for the privatisation of their members' jobs, to make such favourable comments about Brown is a dereliction of duty.
The Socialist Party does not believe it is possible for the trade unions to 'reclaim' the Labour Party. Since 1997 the trade unions have given £100 million to the Labour Party but it has not altered the big-business nature of this government one iota.
New Labour today sings to altogether another tune. Yet again at this year's conference, big-business sponsors outnumbered delegates. A fringe meeting on "marketing food and health" was addressed by Kellogg's. A representative of Tesco spoke alongside Alan Johnson. BUPA spoke at a Fabian meeting together with Health Minister Andy Burnham. The Socialist Party argues that the trade unions should stop funding this party of big business and start to build a new party, which actually stands in their members' interests.
However, the majority of trade union leaders argue that Labour can be reclaimed. If they are serious about this they should make it clear that they will not be backing Brown. The only candidate who stands on an anti-privatisation, anti-cuts programme is John McDonnell MP.
We argue that the union leaders should call for their members to vote for him. Unfortunately, none of the leaders of the major affiliated trade union have given any indication they will do so.
Even if Prentis and others were to back McDonnell, this would not be a substitute for organising action to defend public services. The NHS logistics workers have shown their willingness to struggle against privatisation, but the two one-day strikes that the national leadership have sanctioned will not be enough. To win a victory, it will be necessary to build towards all-out action, as part of the development of a mass struggle against NHS cuts.
National NHS demo
THERE IS no doubt that the potential exists for a huge movement to defend the NHS, however, as yet the TUC has no date set for a national demonstration. The lobby of parliament on 1 November is a step forward, but far more will be needed to stop the cuts in their tracks.
The Socialist Party is backing the lobby of parliament, and the feeder march to it initiated by London pensioners. At the same time, we are campaigning for a national demonstration to be called. Such a demonstration could act as a catalyst for the enormous anger that exists not just on the NHS, but on every aspect of public services, and on low pay and working hours.
We are also stepping up our call for the building of a new mass party of the working class. 95% of people believe New Labour could do more for working people! Since 1997 four million 'working people' have stopped voting for New Labour. A few switched to the Liberal Democrats, wrongly believing they are 'left' of Labour.
A thin layer, particularly in the South, has even voted Tory. The Tories' biggest problem, however, is that they still bear the mark of Cain for the crimes they committed during their eighteen years in power. In the major cities of the North they have failed to make any breakthroughs. In Manchester they do not have a single councillor!
It will take more than a new, young 'Blair-style' party leader to dim the memory of the vicious anti-working-class policies of Thatcher. Nonetheless, on the basis of a low turnout, a Tory victory at the next election cannot be excluded.
However, many, probably a majority, of ex-Labour voters cannot bring themselves to vote for any of the big three big-business parties and are therefore not voting at all. The potential for a new mass party - that stands in the interests of the millions not the millionaires - is clear. One of the key tasks for socialists in the coming months and years is to bring such a party into being.
---
Come to Socialism 2006!

LAST WEEK'S Labour Party conference was the last that Tony Blair will attend as party leader and prime minister. Since 1997, Blair's New Labour have overseen massive cuts in the NHS, further privatisation of council housing, attacks on our public services and the brutal war and occupation in Afghanistan and Iraq.
Greg Maughan
Blair is now one of the most hated prime ministers ever. Aside from the carefully choreographed ovation that he received at conference, no one will be sorry to see the back of this rabid warmonger and privateer. It's clear that he'll soon be gone - but what's the alternative?
Sessions at the Socialist Party's weekend of debate, Socialism 2006, will discuss where Labour is going, whether it can be reclaimed or whether we need to fight for a new mass party for working people and how we go about getting this.
There'll also be sessions on how to fight back against privatisation and the decimation of the British manufacturing industry, as well as other sessions where we'll discuss New Labour's Britain and how to organise the fightback against cuts, closure and privatisation.
For workers and activists searching for an antidote to the moribund politics of New Labour, Socialism 2006 is an essential event to attend.

Visit our Socialism 2006 web pagers

Buy tickets
---
It's official -
Bush's 'war on terror' fuels terrorism!
A US government report has admitted that the Bush administration-led war and occupation of Iraq has fuelled terrorism. The report was compiled from 16 government agencies back in April but has only now seen the light of day.
The report says the Iraq occupation has become a "cause celebre" for Islamist terrorists worldwide. CIA chief General Michael Hayden concluded that: "New Jihadist networks and cells, sometimes united by little more than their anti-western agendas, are increasingly likely to emerge," and that "if this trend continues, threats to the US at home and abroad will become more diverse and that could lead to increasing attacks worldwide."
This contradicts US president George Bush's claim at the recent 9/11 anniversary that: "The world is safer because Saddam Hussein is no longer in power."
The report comes as no surprise to socialists who have long argued that the Iraq war would increase political instability in the region and fuel terrorism against the West. It also removes, along with the fabricated 'WMD threat', the other argument by US and British governments for 'regime change' in Iraq.
Moreover, it means that the tens of thousands of Iraqis killed since the 2003 war and the hundreds killed in the Madrid and 7 July London and other bombings are the victims of Bush and Blair's imperialist aims.
---
MoD hypocrisy on Taliban
THE GROWTH of a 'resurgent' Taliban in Afghanistan is bloodily proving that the occupying forces can do nothing to solve the underlying social and economic problems that the poor masses of the country face. But a leaked report from Britain's Ministry of Defence accused the ISI (Pakistan's intelligence service) of "indirectly backing terrorism by supporting religious parties in the country".
Greg Maughan
This is gross hypocrisy on two counts. Firstly, as another section of the report acknowledges, "the war in Iraq...has acted as a recruiting sergeant for extremists across the Muslim world." The biggest factor in the growth of right-wing political Islam and organisations which base themselves on the methods of individual terrorism is the brutal and bloody actions of US/UK imperialism across the Arab world.
But secondly, using the logic of 'my enemy's enemy is my friend', the American state had played a role in helping the ISI to fund the Taliban!
In the 1980s, as part of its covert war against Soviet forces in Afghanistan, the CIA printed tens of thousands of copies of the Koran. Less benignly, the US also provided arms and funds for anti-Soviet forces.
Most of the Taliban were students from the Madrasas (Islamic religious schools) in Pakistan; the Pakistani government under Benazir Bhutto's Pakistan People's Party (PPP) and the ISI effectively created the Taliban by providing money and arms. The US administration indirectly supported this through contributions to Pakistan. With Pakistani arms and logistical support, the Taliban was able to fill the post-Stalinist vacuum in Afghanistan and captured Kabul in 1996.
Journalist Ahmed Rashid claims in his book Taliban: Islam, Oil and the New Great Game in Central Asia: "The Clinton administration was positively disposed towards the Taliban because they fitted into the anti-Iranian policies of Washington and were important to the possibilities of building oil pipelines from Central Asia without passing through Iran."
As a result of US imperialism short-sightedly defending their business interests, the seeds of 9/11 were sown.
These most recent criticisms of the ISI and the Pakistani government have taken place whilst General Musharraf, Pakistan's president, is touring the US. Musharraf came to power through a military coup in 1999 and oversees a country where workers now have fewer rights than they did in 1947 when independence from British imperialism was secured!
Musharraf is a friend of capitalism and has done as many favours for US imperialism as possible, whilst leaning on different layers of Pakistani society to secure continued support.
This has brought him into conflict with elements of the Pakistan state, including at times the ISI whose regional interests have been at odds with those of US imperialism. It is unclear how long this balancing act will be able to go on.
There is probably some truth in the MoD's claims. However, complete compliance with the will of US imperialism on the part of the ISI wouldn't solve anything.
Neither sectarian religious groupings nor foreign military forces can do anything to solve the problems faced by the working class and poor masses in Pakistan, Afghanistan and across the Middle East. Only the independent organisation of the Arab masses, with the working class at its head, can offer a way out of the cycle of war, poverty and exploitation that capitalism means for the majority.
---
Big profits, big power, big problems...
BIG OIL
IN A follow-up article to his centre-page feature in the socialist 456 on the geopolitics of oil, LYNN WALSH looks at the problems caused by the power of the ruthless oil giants in the economy.
THE INTERNATIONAL oil market is dominated by a handful of giant companies: ExxonMobil, BP, Royal Dutch Shell, Chevron, ConocoPhilips and Total, collectively known as Big Oil. As oil prices soared over the last two years, peaking at around $80 a barrel recently, their revenue and profits have soared, making them even bigger.
They wield enormous economic power, and have massive political clout in Washington, London and other capitals. However, most of these companies are facing a serious long-term problem.
Their production is outpacing their discovery of new reserves. National oil companies (NOCs), partly or wholly state-owned firms through which national governments (e.g. Saudi Arabia, Venezuela) retain profits from oil production, now control an estimated 90% of the world's oil and gas reserves. At the moment, however, Big Oil still dominates the international trading, transportation and refining of oil and petroleum products.
The price of crude oil rose 40% in 2005, pushing up Big Oil's revenues and profits. Five of the world's top ten corporations are now oil majors. Four more are carmakers, some like GM and Ford making huge losses, but still producing gas-guzzling vehicles. Profits for 2006 are likely to be even higher, as oil prices continued to soar (though they are currently falling again).
On the basis of 2005 results, ExxonMobil became the world's biggest company, both in terms of revenue and profits, relegating WalMart and Citicorp (the world's most profitable bank).
Exxon Mobil had sales of $340 billion - almost $1 billion a day. Its profits were up 42% over 2004, reaching $36 billion. ExxonMobil's revenues are greater than the GDP of countries like Sweden, Taiwan and Indonesia. Its annual profits are more than the economies of 125 of the 184 top countries ranked by the World Bank.
Europe's biggest oil company (the third-biggest internationally), Anglo-Dutch Shell, reported record profits of $22.9 billion (£12.9bn) for 2005. Earlier this year, BP also reported record profits, up 25% over the previous year: $19.3 billion (£11bn). Investors in London, however, expressed their 'disappointment' that BP's profits had not matched those of ExxonMobil or Anglo-Dutch Shell!
City investors also complained about 'excessive' bonuses promised to Lord Browne, BP's chief executive. His annual salary is around £1.5 million a year, and he has been promised bonuses before he retires in three years of around 7.5 times his annual salary, that is, an astronomical £11 million!
Fuel poverty
MEANWHILE, THE number of people in Britain suffering from 'fuel poverty' as a result of higher electricity and gas prices is estimated to be around 1.8 million households. Recent research by PricewaterhouseCoopers confirms that the general inflation caused by oil price rises has mainly affected the poorest third of the population. They spend a greater proportion of their income on energy and energy-sensitive items such as transport and food.
"The tendency for the lowest income deciles to have higher CPI [consumer price index] inflation rates has become more marked, with the poorest 20% of households facing an average inflation rate of around 2.8%, compared to the national average of 2.4% and the estimated rate of 2.1% for the richest 30% of households," says the PricewaterhouseCoopers chief economist.
The Office of National Statistics has produced figures showing the higher inflation rates faced by pensioners who are mainly dependent on benefits and spend a lot on utility bills. Single pensioners are facing an inflation rate of 4.1% while a pensioner couple are experiencing a 3.3% rate. (Guardian, 7 September)
So flush with bumper profits are the big oil companies that many of them in Britain and the US have been buying back shares from their shareholders (which pushes up the value of the remaining shares).
Over the last three years BP has handed back $40 billion to its shareholders, and in the next three years plans to buy back another $65 billion (£37bn) of shares. This is a vast amount. At current stock market valuations, $65 billion would buy Scottish Power, ICI, Cadbury Schweppes, Reuters and Sainsbury's.
Tony Woodley, general secretary of the Transport and General Workers' Union, has called for some of this spare cash to be used to support the Finance Assistance Scheme, the pensions' lifeboat set up to (partially) compensate workers who have lost their pension through mismanagement of private pension schemes.
A Labour government that in any way represented working people would tax the obscene windfall profits of the oil companies to improve the pitiful rate of retirement pensions, income support, and other benefits.
It will come as no surprise to most people that Blair, Brown and company have rejected this idea. The BP bosses are hand in glove with the Blair government. The Financial Times commented that "BP's ties with the British government are still so close that rivals call it 'Blair Petroleum'... One Whitehall insider says there is a 'meeting of minds' between Tony Blair and [Lord] Browne, who is a regular visitor to Downing Street." (2 August 2002)
Perhaps Big Oil will consider spending some of its windfall profits on research and developing relating to alternative, renewal energy resources which could reduce carbon emissions and global warming?
Propaganda
It has recently been revealed, however, that ExxonMobil and other big oil companies (together with some of the big tobacco companies) hand out millions of dollars to various think-tanks and right-wing propaganda organisations devoted to discrediting evidence of global warming.
ExxonMobil alone subsidises 124 organisations that "take a consistent line of climate change: that the science is contradictory, the scientists are split, environmentalists are charlatans, liars or lunatics, and if governments took action to prevent global warming, they would be endangering the global economy for no good reason. The findings these organisations dislike are labelled 'junk science'." (George Monbiot, Guardian, 19 September)
Big Oil represents enormously concentrated economic power. They also exert a powerful influence over capitalist leaders. In the US between 1990 and 2002, oil and gas companies gave US political leaders $159 million, while the transport sector (mainly the big car and truck manufacturers) contributed even more, $256 million.
The aim of these corporations is to perpetuate the existing structure of the economy, with its overwhelming dependence on fossil fuels and vehicles powered by petrol and diesel engines.
Big Oil is closely connected with the Bush regime, originally based in the key oil state, Texas. The oil corporations are also a key element in the 'military-industrial complex'. Their profit-driven strategic objectives have played a decisive role in the Bush regime's aggressive, interventionist policy in Central Asia and the Middle East.
So long as the big oil corporations are privately owned and run there will never be planned development of natural resources, with the serious development of alternative, renewable energy sources, and planning for the future needs of a majority of the population of planet earth.
Needs of society
The giant oil companies are ruthless predators, recklessly pursuing the maximisation of profit regardless of the effects on the environment and society. Short-term profit trumps medium- and long-term consequences. They will never be curbed on the basis of the anarchic capitalist market.
They should be taken into public ownership and run under workers' control and management. Only then would natural resources be nurtured for future generations and the needs of a majority of society catered for.
Such a revolution could not be achieved on a national basis. Big Oil is already global. Solving the planet's energy problems requires economic planning on an international basis. It shows the need for socialist transformation internationally, and a global planned economy.
---
Ireland: Ahern's financial scandal puts his political survival in balance
Joe Higgins' speech "tore Taoiseach [PM] apart"
THE IRISH Taoiseach (prime minister), Bertie Ahern, is under huge pressure following revelations that he received "loans" and "gifts" from businessmen when he was a government minister in the 1990s.
Leaks from a government established tribunal inquiry revealed that Ahern was given €50,000 from "friends" in Dublin and £8,000 (sterling) from Manchester businessmen in 1994, when he was government finance minister.
Ahern claims the €50,000 was used to help pay for his marital separation in 1993. He claimed in the Dáil (Irish parliament) he always intended to repay to the loan. Over the last week, Ahern signed cheques for more than €90,000 to repay with interest the 12-strong group of "Dublin friends", including the former managing director of stockbrokers National City Brokers, Padraic O'Connor. The funds Ahern got from businessmen in Manchester were a "gift" and, therefore, liable for tax. Ahern did not pay tax on this money and claims the gift was not given to him in his capacity as minister.
The Taoiseach was quizzed for days by the media and main opposition parties about the circumstances of the loans and gifts. The pressure on Ahern was increased on 27 September when Joe Higgins, Socialist Party TD (MP), spoke in a Dáil debate on the issue.
Joe produced a "draft letter" (see box), which he said the Taoiseach could have sent with a bank draft returning the €50,000. Joe's speech, including his biting, humorous draft letter, was widely covered by the Irish media. (Joe's 27 September Dáil Éireann speech is posted on www.socialistworld.net)
The Fianna Fail (FF)/Progressive Democrats (PD) coalition government may not survive this crisis. The arch right-wing Tánaiste (Deputy Prime Minister), Michael McDowell, leader of the PD, initially backed Ahern but is now asking for more information about the Manchester money, including a full list of who gave £8,000 to Ahern. Two previous Fianna Fáil prime ministers, Albert Reynolds and Charles Haughey, were eventually forced from office by their coalition partners, in 1992 and 1994.
Authentic voice
Various scenarios now face the government. Ahern will try to ride out the crisis and maintain the coalition government. But if the crisis deepens, the PD could pull out. In that case, Ahern would probably try to continue with the support of independent TDs (MPs). This administration would be prone to instability and could collapse, triggering elections.
Alternatively, Ahern could be forced to step down and be replaced with a new Fianna Fáil leader, who continues in office with the PD. Or the coalition government could collapse, prompting an early general election (elections are due next year).
At the time of writing (2 October), it appears the PD have pulled back from a confrontation with Ahern, so they can remain in power. Opposition parties talk of a "secret deal" between Ahern and McDowell.
Whatever the result of the current scandal for the coalition government, Joe Higgins' Dáil speech has already increased the Socialist Party TD's standing in the eyes of many working people.
As the only TD who lives on an average skilled workers' wage, and who campaigns on behalf of workers, the low paid and the jobless, Joe Higgins is regarded by many workers as the authentic voice of opposition in the Dáil to the main rightwing, pro-big business parties. A Dublin current affairs magazine refers to Joe as the best orator in Ireland since Daniel O'Connell, the 19th century nationalist leader (the 'Great Liberator').
---
>
Printed in the Irish Times, 28 September:
"Did the Taoiseach ever hear of a bank draft? This morning it took me two minutes to draft the letter the Taoiseach could send with it:
'Ah Jaysus lads, you'll have me in trouble if you don't take back the Û50,000. My circumstances are improved and I'll have 50 reporters traipsing after me for the rest of my life if this comes out. Bertie'
It was as simple as that."
Joe Higgins, Socialist Party TD, addressing Ahern in the Dáil (Irish parliament)
---
>
---
Tommy Sheridan - Murdoch's new offensive
THE NEWS of the World (NoW), which suffered a sensational defeat at the hands of Tommy Sheridan in his defamation case against them in August, has unleashed a massive new offensive against him.
Philip Stott International Socialists, CWI Scotland
On 1 October, NoW claimed to have bought a video tape from a member of the SSP and the United Left faction, which is the de facto leadership of the SSP. The tape for which the NoW paid a reported £20,000, the NoW claims, shows Tommy Sheridan admitting to an SSP member and former friend, George McNeilage, that he did visit a swingers' club in Manchester. Something he denied in court.
The NoW have said that this video tape was secretly recorded by McNeilage in his house in November 2004, a few days after the SSP Executive Committee meeting that effectively sacked Tommy Sheridan as SSP convenor.
Tommy Sheridan has condemned the video as a fabrication. The NoW have handed the tape to the police. In a separate development the Scottish Procurator Fiscal has announced a police inquiry into the whole case to see whether perjury was committed by any side during the defamation trial.
Press attacks
This continued campaign by the NoW, with the backing and the resources of the Murdoch media empire, is an attack on Tommy Sheridan for having the temerity to defeat the biggest media organisation internationally.
But it is also, and is primarily so, an attack on a socialist. Someone who, despite the political differences we have with Tommy Sheridan, has been the most prominent advocate of socialist ideas in Scotland over the last decade-and-a-half. Someone who, when he was a member of the Militant and the CWI, played a leading role in the mass anti-poll tax struggle.
There is no group of workers in struggle, no fighting trade union or socialist leader who has not been attacked, targeted and vilified by the Murdoch press. There is no prominent socialist or trade unionist who will not be attacked by organisations like News International in the future. That is why the International Socialists welcomed Tommy Sheridan's victory over the NoW in August.
We described it as victory for all socialists and the left internationally over one of the most vicious anti-working class, anti-trade union and anti-women gutter rags in the world.
Conversely, if the NoW succeeds in their campaign against Tommy Sheridan it will represent a setback for socialists. The NoW campaign is being waged to intimidate, cow and bully all those prepared to put their heads above the parapet and speak out for workers' rights and socialist ideas.
If Tommy Sheridan were to be defeated by this campaign, which reportedly has the backing, if not active encouragement of Rupert Murdoch personally, it would be used to deliver a message to all those prepared to challenge the big business and capitalist class interests that News International defends.
SSP leadership
IT IS against this background that the actions of the SSP leadership, who are now acting in concert with the NoW and News International, have to be condemned. Rather than accept Tommy Sheridan's victory in August they used it as a green light to go on the offensive against him.
The pages of The Sun and the NoW have become more akin to the in-house journals of the SSP leadership since Tommy Sheridan's victory. With page after page devoted to prominent SSP members who have demanded police enquiries, perjury investigations, and now the resignations of Tommy Sheridan and fellow Solidarity MSP Rosemary Byrne from the Scottish parliament.
But it was the SSP leadership that kept detailed so-called 'minutes' of the November 2004 Executive Committee, which claimed that Tommy Sheridan admitted visiting a swingers' club in Manchester. These minutes, deliberately and consciously kept, were clearly designed to force Sheridan to drop the defamation case or face the consequences in court.
As the NoW case gradually fell to pieces during the defamation case the NoW increasingly had to rely on the SSP members to undermine Tommy Sheridan's case. Eleven SSP members, who the NoW described on Sunday as "men and women of honour" and "decent and honest", gave evidence for the NoW in court. The SSP's website and newspaper has been dedicated to their continued campaign against Tommy Sheridan - no wonder the SSP are being dubbed the Stop Sheridan Party.
Socialist ideas
And now we have the making and then selling of a "video" to the NoW, clearly in an effort to destroy Tommy Sheridan. How ironic it is that the "men and women of honour" in the SSP leadership and their supporters are now prepared to provide the NoW with the bullets and the guns to politically and personally assassinate Tommy Sheridan.
How ironic is it that the "decent and honest" SSP leaders seem to have forgotten the role of News International against the print workers and their unions during the Wapping dispute in 1986-87.
The SSP leadership are dragging the name of socialism through the mud. While discrediting themselves, they seem to have no motivation other than to assist the bitterest enemies of socialism and the working class in their campaign against Tommy Sheridan.
The International Socialists will continue to fight these attacks by Murdoch and others, which are aimed at politically destroying Tommy Sheridan, and through him, the socialist movement in Scotland.
---
New crisis hits the Palestinian Authority
Hamas clashes with striking workers
TWELVE PEOPLE have been killed and over 120 injured in gun battles between Hamas militias and striking government employees in the Gaza strip.
Amnon Cohen
The battles started on Sunday morning when the Interior Ministry militia, which consists of Hamas activists, broke up a demonstration of Palestinian policemen, some of whom have not been paid since January. The ensuing battles spread to other areas of Gaza and the West Bank. In a further escalation, the Fatah Al-Asqa brigades have threatened to assassinate Khaled Mashal (Hamas' chairman) and other Hamas leaders.
These clashes represent a serious deepening or the crisis which has gripped the Palestinian Authority (PA) since Hamas took power in January 2006.
Hamas won a crushing majority in the legislative elections because the Palestinians had had enough of the corruption of Fatah (the party which had dominated Palestinian politics since 1969), whose policy of negotiations and capitulation to the Israeli state had brought them nothing but misery.
Hamas's victory was a devastating blow to Bush's plans for a 'new Middle East'. The Israeli state responded to the Hamas victory by stepping up its military attacks, especially in the Gaza strip. The Israeli army had withdrawn from the Gaza Strip in September 2005. But since then 500 Gazans have been killed by the Israeli armed forces, far more than during any year of Israeli occupation. The bombardments, bombings and military incursions were escalated after the capture of the Israeli soldier Gilad Shalit in June.
Alongside the Israeli military campaign, EU governments halted the flow of economic aid that had until then kept the Palestinian economy afloat. This meant that the new Hamas government did not have the funds to pay its employees. Since the PA is the main employer, this has meant a crushing blow to the economy, driving living standards to the edge of starvation levels. Waves of strikes and demonstrations against non-payment of wages have spread throughout Palestine undermining Hamas' popular support.
Without a strategy to advance the Palestinian struggle, or defend itself against the combined military and economic onslaught, Hamas has attempted to form a government of 'national unity' with Fatah - the same party whose betrayals and corruption were so decisively rejected by the Palestinian electorate only nine months ago!
Fatah demanded as a condition for joining a unity government that Hamas would recognise Israel and agree to be bound by all previous peace agreements made by the PLO/Fatah/PA (agreements which have been torn to shreds by the Israeli government). By making these demands the Fatah leadership demonstrates to what extent it is serving the interests of imperialism.
The Hamas leaders were prepared to agree to a fudge of the issues, but an explicit agreement would have meant a total ideological U-turn and widened the split between the Hamas leadership and activists to breaking point.
Palestinian society is at the brink of civil war. Both nationalism and political Islam have made it clear that they have no way out. The building of a socialist alternative is necessary.
---
---
http://www.socialistparty.org.uk/articles/5497