'Them and us' economy hits the rocks
Make the fat cats pay for their crisis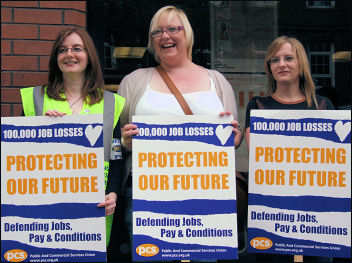 Major struggles inevitable - Trade union action can protect our future. PCS workers on struike in Belfast. Photo Peter Hadden
"The economic times we are facing are arguably the worst they've been in 60 years", blurted out chancellor Alistair Darling in an unguarded moment on his summer holiday. "And I think it's going to be more profound and long-lasting than people thought", he added.
Dave Reid
Darling's words sent a chill through millions of working people as we leave the summer that 'never was' and prepare for a long winter. It is working class people who will bear the brunt of the recession that many economists believe has already begun.
It's not just the chancellor. Bad news has spilled out from the City for over a week. The pound reflected the dire state of the British economy by tumbling to a new low. The normally cautious Nationwide building society said house prices are falling at £150 a day and the CBI, the bosses' union, reported the biggest annual decline in shopping since records began in 1983.
A member of the Bank of England monetary policy committee has predicted two million people will be unemployed by Christmas. Over a thousand workers at Northern Rock are amongst the first to lose their jobs in this wave of redundancies, because the multi-billion pound rescue of the bank by the government does not include saving their jobs.
But some people don't have to worry about a cold winter. Energy multinational Centrica's shares rose in value when it announced its latest price increase for British Gas customers. Having blighted Christmas for these customers, Christmas came early for Centrica's big shareholders a couple of days later, when it posted a profit of £992 million in six months. Meanwhile Shell oil recorded a profit of £4 billion in just three months - that's £2 million an hour!
So while the rest of us tighten our belts and count our pennies, the super wealthy are doing very well. On the day that it was announced that pay increases are falling behind the rate of inflation, it was reported that in central London in July, houses priced at over £10 million rose in price by 1%, while the average house price in the same area went down. Many working people cannot afford to buy any house, but the super wealthy are buying more expensive homes than ever before.
In his March budget speech, Darling said: "Britain is better placed than other economies to withstand the slowdown in the global economy". This is not true. First Margaret Thatcher and the Tories, and then New Labour, encouraged the decline of manufacturing industry and moved the economy onto one based on finance and services, lubricated by a flood of debt. This appeared to work for a period, but as The Socialist warned, would come a cropper in a financial crisis.
Now the mega rich who got us into this mess want working class people to get them out of it - we are expected to pay the price. But faced with this agenda, anger is growing and major struggles are inevitable. This anger and action will be accompanied by people drawing political conclusions, including the vital conclusion that a new workers' party needs to be built.
---
>
The 'Them and Us' recession
Them:
37% pay increase for FTSE 100 chief executives last year
£992 million profit for Centrica in first six months of this year
£26.9 billion pumped into Northern Rock
Us:
3.5% average annual pay increases April -June
35% increase in prices to Centrica's British Gas customers
2000 jobs to go at Northern Rock
---
Inequality - the world's deadliest disease!
A "TOXIC" combination of bad policies, politics and economics is responsible for people dying "on a grand scale" around the world, says a new World Health Organisation (WHO) report.
Roger Shrives
Low incomes, poor education, bad housing and other 'social factors' have a far greater effect on people's health and life expectancy than genetics and other 'biological' factors.
Huge health inequalities and differences in life expectancy obviously hit the world's poorest countries most. A girl born in Lesotho, southern Africa, is likely to die 42 years younger than one born in Japan.
But a boy born in the deprived Calton area in Glasgow's east end is likely to live on average 55 years, that's 28 years less than one born a few miles away in the more affluent village of Lenzie. Adult death rates were generally 2.5 times higher in Britain's most deprived areas than in the wealthiest.
WHO's devastating report calls for government policies to be assessed for their impact on health. It says governments should invest in high quality education from the earliest years.
Affordable housing, encouragement for people to use healthier modes of transport and controls on junk food and alcohol are also important, they say, as is the availability of full, fair and decent employment for all at a living wage.
Most people would agree but the working class will need to fight for such advances against the economic plans of the witch doctors of capitalism, who have totally different priorities.
---
Editorial
Russia / Georgia war exposes limits of West
LESS THAN a decade ago US imperialism believed that, like a colossus bestriding the globe, it could act as an all-powerful, lone, global super-power. The Socialist explained at the time that despite its vast military strength, US imperialism would not be able to create a unipolar world and would quickly find its power checked and its authority undermined.
The nightmare and lies of the Iraq invasion and occupation left the authority of US imperialism severely dented. Now the 'five day war' between Russia and Georgia has again demonstrated the limits of US power and the increasingly unstable nature of relations between the major world powers.
Following the collapse of the Stalinist regimes that existed in the USSR and Eastern Europe in the late 1980s/early 1990s, capitalist political leaders claimed they would create a 'new world order' of peace, democracy and prosperity.
Instead, nearly two decades of unrestrained capitalism in the former 'soviet bloc' brought an unprecedented collapse of industry (with later some recovery), an unparalleled gap between rich and poor, an unfolding economic crisis and an increasing number of military conflicts.
Stalinism was not genuine socialism but a grotesque and undemocratic caricature of it. Nonetheless, the Stalinist states were based on planned economies, albeit controlled bureaucratically, and represented a threat to capitalism as an alternative economic model. As a result the existence of Stalinism tended to be a 'glue' pulling the different capitalist powers together in opposition to 'communism'. The dissolving of that glue has not led to peace but to the tensions between the major capitalist powers coming to the fore.
It is the world's working classes and poor masses that are paying the price for the ratcheting up of nationalist tensions. The military attacks in South Ossetia and Georgia by both sides in the conflict have led to widespread destruction, including many civilians being killed and wounded.
In the jockeying between the major capitalist powers, so-called democratic principles are entirely secondary to enhancing the national interests of each of the rival powers. In the current conflict both US and Russian imperialism are attempting to claim the mantel of defending the 'weak and the just'. In both cases it is utterly hypocritical.
The Russian regime's support for the rights of nationalities to self-determination is exposed for the sham it is by the two brutal wars it has carried out in Chechnya, where many thousands have been killed and hundreds of thousands have become refugees. And for Bush to attack Russia for brutally invading Georgia after the US's vicious subjugation of Iraq, is seen by millions around the world as blatant double standards.
Historical factors
The current conflict in Georgia escalated as a result of a number of factors. A key turning point for the Russian government was the recognition of Kosovan independence in February this year. This was a blow to Russia's perceived interests in the Balkans as it saw an openly pro-US Kosovan government granted recognition against the wishes of Russia's historical ally and 'fellow Slavs' in Serbia.
This took place after a period in which US imperialism - under Clinton and then Bush - has, in an extremely short-sighted way, attempted to take advantage of capitalist Russia's weakness in the aftermath of the collapse of Stalinism, by trying to expand the US' 'sphere of influence' right up to the borders of Russia. Russian capitalism, however, while weakened industrially, has now emerged as an energy super-power (at least while oil prices remain high) and is not prepared to accept this process continuing unchecked.
Military exercises near Tbilisi (Georgia's capital city) in July this year involving over a thousand US marines, Georgia's continued attempts to join NATO and Georgia's open support for the US missile defence system based in eastern Europe, all played a role in bringing the conflict closer, prior to Georgian president, Mikhail Saakashvili, sending troops to seize South Ossetia.
The end result has been a disaster for Saakashvili. The Russian regime has now recognised both South Ossetia and Abkhazia as independent nations. Both have been recognised as autonomous regions since 1810, and are linguistically and historically distinct. Nonetheless, Russia's motive in recognising them as independent and providing Russian troops to enforce it, is not support for the national rights of the South Ossetians and Abkhazians, but a desire to cripple the Georgian regime.
There are widespread divisions between and within the US and the European powers on how to respond to the situation. Their uncertainty stems primarily from their lack of effective means to intervene and from fear of the effect on supplies of Russian oil and gas.
It was ruled out for any of the western powers to back Georgia by direct military means. To do so would have opened the door to serious military conflict between countries with unimaginable amounts of weaponry, including nuclear weapons. This would have been the case even if Georgia had joined NATO, even though membership of NATO is supposed to guarantee other NATO members coming to a country's defence.
Nor are sanctions against Russia a serious possibility in the aftermath of the conflict. Many countries of Europe, including Britain, rely on Russia for a large percentage of their oil and gas. In contrast, the Russian elite relies on Britain only for 'life's little luxuries'. This was summed up by Tory leader David Cameron, when in arguing for sanctions against Russia, he suggested that it would "stop them shopping at Selfridges"!
Of course, serious sanctions from other western countries could have a devastating effect on the Russian economy, but Russia only has to threaten to go on an oil and gas strike to create a crisis in the rest of the capitalist world.
Instead the European Union has limited itself to postponing talks on a Russia-EU partnership deal. The US has not come up with anything more effective. Nonetheless, these events mark a turning point. The coming years will see a major increase in conflict between the major capitalist powers - including the development of more frequent proxy wars. Russian capitalism will be more likely to publicly oppose US imperialism on different foreign policies, such as Iran.
Meanwhile, none of the problems of the masses in Georgia and South Ossetia have been solved. As genuine socialists, we defend the right to self-determination and fight against all forms of national discrimination and oppression, through working class and international solidarity. We support a genuine right to self-determination based on the rights of the working class and poor in society to decide where they wish to live.
When capitalist leaders talk of self-determination, they do not mean self-determination for the working class and poor, just for those who have armies and powerful friends.
As Kosovo and South Ossetia demonstrate, under capitalism there is no possibility of such nations being genuinely independent. But seeking the support of one or another imperialist power is no solution for the working people in those areas.
Developing independent working class forces capable of challenging and overthrowing capitalism - nationally and internationally - is the only way to guarantee the right to self-determination, whether it is autonomy or independence that is desired.
Socialists do not automatically and always support separation, but when we do, we still work to build solidarity between the working classes of all nationalities. And we argue for autonomous or independent areas to be part of a socialist federation or confederation, to enable socialist planning of production and resources for the benefit of all peoples.
---
Trades Union Congress: Building a real leadership against the bosses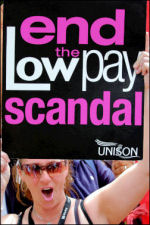 Unison Local Government strike 16-17 July in London, photo Paul Mattsson
This year's Trades Union Congress promises to be more interesting than in previous years. The main resolutions reflect issues such as the battle in the public sector over the government's pay restraint policies and job losses, which are worsening as the economy slows under the impact of the global credit crisis.
Bill Mullins
The increasing authoritarianism of the government and its attacks on civil liberties will be an important debate.
Important issues facing women workers everywhere will also be discussed, including the 'right to choose', as abortion rights for women come under renewed attack.
On the issue of the anti-union laws, Unite points out that it is getting more difficult to defend members in struggle against the bosses.
Its resolution points out that increasingly: "workers whose terms and conditions and job security are undermined following takeover by private equity firms are offered no protection under existing TUPE provisions".
Workers' rights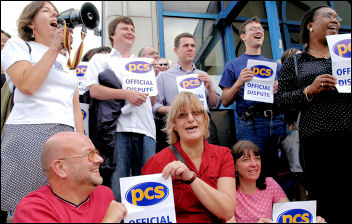 PCS is calling for public-sector trade union unity, photo Paul Mattsson
The bakers' union BFAWU, in the same section of the agenda, gives an example of diminishing workers' rights. 600 workers in Lyndale foods in Lancashire in June this year found themselves marched off the premises by security guards "without a minute's warning" when the company went into insolvency but "restarted trading with the same directors" on the same day "passing redundancies and pension losses onto the taxpayer".
Unite and the RMT both refer in their resolutions to recent judgments of the European Court of Justice which "are a fundamental attack on collective bargaining and the right to strike". The RMT refers to them as "the most serious attacks on trade unions since Taff Vale".
What they are talking about here are the decisions by the court to back the right of employers to pay lower wages to "posted workers". These are workers who are sent to work temporarily in another EU state.
The employers are increasingly using these methods to drive down wages across the EU but now the courts are backing them, by saying it is illegal for trade unions to take industrial action against this.
The RMT says that these "unelected judges are using the 'free movement' provisions (of the EU) and have disembowelled the concept of a Social Europe and undermined the ability of unions to protect workers".
It calls on the TUC to organise a day of action, demonstration and lobby of parliament on the issue and a European-wide day of action.
In the same section the CWU has put down an amendment calling for the dropping of the requirement under the union recognition laws which calls for "a minimum level of participation in a bargaining unit". This is in reference to the employers increasingly using this to prevent union recognition.
The POA, reflecting the way it has been disgracefully treated by the Labour government, which has once again outlawed prison officers' right to strike, calls on the TUC "to organise a series of one-day general strikes" to force the government to "remove the anti-union legislation from statute".
In the economic section, Unite points out the impact of rising prices in energy and their effect on living standards.
It calls for a windfall tax on the energy companies and increased regulation of financial institutions.
The RMT, in an amendment to this, calls for public ownership of "utilities and services, including water, gas, electricity, coal, oil and the transport sector and a massive extension of council housing".
It remains to be seen what will happen in the compositing process but this promises to be a very interesting debate.
The pro-capitalist wing of the unions will no doubt seek to take out all of the RMT measures. But the left side of the debate puts back on the trade union movement agenda at least the beginnings of the case for the socialist transformation of society.
The call for a new workers' party, and the central role the unions should be playing in that, if the above sort of programme has any chance of being implemented, will hopefully be heard from the rostrum during this debate.
One debate that promises to raise the temperature will be on the issue of public-sector pay.
Unison's resolution calls for the TUC to coordinate the public-sector unions on pay and supports those unions taking action.
The PCS takes this further when it calls on the TUC to "coordinate industrial action amongst those unions in dispute over pay".
This has been the position of the PCS for some time. In effect the PCS is saying, with a note of exasperation, to all the other public-sector union leaders - get your act together and let's have unity in action.
Trades councils
The RMT has a resolution calling for the TUC to give trades councils more rights, including the right for the annual trades council conference to send one resolution to the British TUC conference, as the Scottish and Wales TUC do at the moment.
The TUC conference will be an important event, enabling an alternative voice to be heard. A voice that calls for real leadership against the bosses in defence of workers' rights and living standards, instead of the bland voice of the right wing that is desperate both to not embarrass the Labour government and to continue its cosy relationship with the boss class.
---
John Mc Donnell MP protests at Unison witch-hunt
The Socialist has carried many reports of the witch-hunt against activists within Unison. At a recent meeting to oppose this witch-hunt, John McDonnell, the Labour MP for Hayes and Harlington spoke. He subsequently wrote this statement, which he has agreed for us to reproduce here.
I recently attended a meeting and heard from Unison activists who are being attacked by the leadership of their own union. As with other individuals who attended the meeting I am horrified, shocked and quite frankly outraged, especially when I heard of the detail of the allegations against the individuals concerned.
I am a Unison member myself and I therefore want to go on record as pledging my support to those activists now being witch-hunted by a section of the Union. I want to pledge my support in particular to Yunus Bakhsh, Glenn Kelly, Onay Kasab, Tony Staunton, Suzanne Muna and Brian Debus.
Unison members at present are fighting against pay cuts and having to cope with the consequences of inflation, they are fighting attacks on their jobs and terms and conditions as well as countering the threat from the BNP. While witch-hunts should never take place, how can the union justify this political attack on long standing trade unionists, anti racists and black activists, while at the same time there is so much work to do for our members?
I say a political attack, because that is what I believe this to be. As I stated at the meeting I attended it is the case that in order for free market policies to flourish, for wages to be held back, for privatisation to continue unopposed and for workers to be made to pay for the crisis in the economy then it is equally necessary for the organisations of the workers, our parties, our trade unions, to be made impotent.
One way to do that is to clear out fighters and militants. That is what this is. Unison's leadership are doing the bosses a favour.
It is a political witch-hunt. If it is successful then the losers will be ordinary Unison members. That is how important this campaign against the witch-hunt now is. That is why I support those being attacked. I ask all Unison members to do the same and I call on the Union leadership to end this witch-hunt today.
I hope that all Unison members who believe that our union should be an effective force fighting for our members and not against our activists will unite in a campaign for democracy in our union. Trade unions belong to their members. It is us ordinary members who make up the union. Our voice should be heard and our views listened to.
Closing down the right of members to have a democratic say in our union by attacking and hounding individual members and manipulating the structures and rules of the union is increasingly undermining the confidence of our members in their union. Eventually this will damage and undermine the effectiveness and the very existence of our union. I believe that all those that want to save our union should stand up now and demand a democratic union.
---
London buses: Strikers pack picket lines
I went to Westbourne Park bus garage in west London, during their strike over pay on 29 August. There are nearly 1,000 drivers at the garage and the strike there was solid. I was told that only 20 buses out of 900 were on the road. Indeed there were fleets of red double deckers lined up, parked, not going anywhere.
Holly Eaton
The strike started at 3am that morning. I arrived at 6.45pm and there were still around 40 people there.
I was told by one driver that he normally does a late shift and he had arrived at the picket line for 2pm. He estimated that there were 300 people on the picket line at that point.
They didn't have much in the way of material - no leaflets, no posters, no placards, just a couple of A3 size signs saying 'equal pay'.
However the mood was strong and it did seem that around half of all drivers at that garage had actually come to the picket line, rather than just stay off work.
Strikers were saying that they were the worst paid of all London bus drivers. Their pay was generally £1.50 an hour lower than that of other drivers.
They also said that it was the norm to get a lower rate of pay until you had passed your probationary period (6-12 months) but at Westbourne Park it was three years on the lower grade of pay. Also you have to work five years before qualifying for paid sick leave!
Workers were talking about the blow to management and profits that the strike would deal and also spoke about the next planned strike day on 12 September.
They said when the tube goes on strike, the buses take the strain. However, the tube would not be able to take the strain of all the buses going strike.
They were making clear links with RMT workers on the tube.
---
Fight threat to Ford Transit plant jobs
Ford is cutting production, making contract workers redundant and hanging the threat of closure over their Transit plant in Southampton. This is not only a concern for the 1,200 workers there but for all Ford workers in the UK.
Nick Chaffey, Southampton Socialist Party
If Ford are allowed to close Southampton, the last Ford assembly plant in the UK, all that will be left will be engine plants in Bridgend and Dagenham, a body stamping plant in Dagenham, a transmission plant in Halewood (which is a joint venture), a distribution centre in Daventry and a R&D centre in Dunton.
Nine manufacturing plants have either been closed or transferred out of Ford over the last decade. This is in what has traditionally been Ford's number one market in Europe.
Southampton workers face the prospect of joining the graveyard of the British car industry - Longbridge, Jaguar Brown's Lane, etc.
We welcome the words of the union general secretaries and the full-time officials who have warned Ford that such is the importance of the plant to the other Ford plants that any attempt to close Southampton will trigger a national dispute. However, nothing can be taken for granted.
The last decade or so has seen the strategy of 'concession bargaining' - conceding cost-cutting measures, up to and including terms and conditions, has become the mantra of the full-time officials. Therefore, the campaign to fight can't be left to the same officers.
Ford will target older workers with what will appear to be generous redundancy/early retirement packages. These workers may reluctantly accept but the younger section, often from the same families, will have nowhere to go. For them there is the dole queue, preparing for low-skilled, low-paid jobs. This could be the prospect for all other Ford workers if Southampton closes.
A national combine meeting of all Ford shop stewards should be called immediately to give Southampton workers confidence that they aren't alone.
This should be followed up with mass meetings throughout Ford, with convenors and stewards from the different plants speaking. This can even be escalated to other car plants, particularly those who were in Ford, such as Visteon, Aston Martin and Jaguar/Land Rover.
An army of around 40,000 car workers could be prepared in this way.
Ford are in crisis because of their failed strategy of concentrating on 'gas guzzlers' and luxury cars.
They put the price of this on tens of thousands of workers in the US who have faced the sack or halving of their wages and attacks on their health care benefits. This is the medicine they want to dish out in the UK, starting with Southampton.
This alone will threaten the other UK plants but the threat of a massive new plant in Romania looms as well.
Of course, it is no accident that this is pay claim year in Ford UK but fighting closures goes hand-in-hand with maintaining workers' living standards.
Ford workers should demand the full financial figures to see where the profits have gone. Like all the big car manufacturers, Ford is leaving the US and Western Europe for cheap labour in Eastern Europe and China.
But the so-called logic of the bosses can't be accepted. If Ford can't guarantee jobs on decent terms and conditions and pensions, these plants should be taken into public ownership to be used for the public good not the self-interest of the bosses.
The starting point is the defence of the Southampton plant now.
---
>
National Shop Stewards Network Southampton meeting:
Defend Ford jobs and conditions
11 September, 7.30pm.
Swaythling Neighbourhood Centre, Hampton Park Way, Southampton.
Speakers from the Ford workforce invited.
For more details, contact Nick on 07833 681910
---
Coastguards strike over bank holiday in pay protest
On 23 August, 700 PCS members in the Maritime and Coastguard Agency went on a 48-hour strike over pay. Sean Brogan, an ex-marine radio officer, from Teignmouth, Devon, reports:
The refusal of this government to negotiate with those workers who watch out for the safety of lives at sea led to closure of the Brixham station in south Devon over the busiest bank holiday of the year.
Wages are £9,000 below the equivalent in the ambulance service after six year's service. With a starting salary of £12,000, how can anyone expect to live never mind find accommodation?
Emergency workers face very strong dilemmas when choosing to go on strike. The 'right' and the 'good' sit in judgement condemning such action as immoral and unjustified.
MPs seem to need five times as much as us to live on, never mind the expenses of ten times that amount and the free meals that are thrown in.
The refusal of the Maritime and Coastguard Agency to have meaningful negotiations over pay is part of New Labour's strategy to make workers pay for the recession. The myth that wage increases cause inflation was buried by Marx 150 years ago but just like they did in the 1970s, the rich and their representatives are desperate to blame anyone but themselves for inflation.
They are prepared to allow our coastguard stations to be manned by managers with very little operational experience, putting lives at risk.
---
Building a new workers' party: Trade unionist initiative needed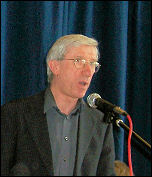 John McInally, vice-president of the Public and Commercial Services union (PCS), photo Paul Mattsson
A number of left trade union leaders have recognised that the Labour Party in councils and in government is not going to stop trying to push through privatisation, cuts and other attacks on workers' pay and conditions. Some of them have drawn the conclusion that a new workers' party is necessary, but they have not yet taken early steps towards building such a party.
John McInally, vice-president of the Public and Commercial Services union (PCS), argues here - in a personal capacity - the need for the left trade union leaders to organise a conference later this year or early next year to discuss what steps could be taken. John is a member of the Socialist Party.
"The eleven years of Labour have been absolutely fantastic for the super-rich. Having a friendly Labour government has almost been better than a Tory one". If you wanted to sum up the record of the New Labour government then this statement from Philip Beresford, author of The Rich List, needs little elaboration.
In fact there is an arguable case that says New Labour is better for the super-rich than a Tory government. More privatisation has taken place under Tony Blair and Gordon Brown than under Margaret Thatcher and John Major combined.
Inequality is greater now than when New Labour came to power, the wealth of the super-rich has trebled, the multinationals and banks have made profits hand over fist and an unprecedented assault on public services has taken place.
Plus of course there has been the imperialist war in Iraq, which, amongst other things is the costliest and bloodiest privatisation in history.
The "moral compass" Brown claims he is guided by, looks catastrophically askew - there is not just the unforgivable privatisation of education, including the encouragement of creationists to 'educate' our children, but the promotion of the 'me first' unrestrained consumerism of a society falling deeper into crisis.
Corruption and sleaze
New Labour has been a sorry tale of corruption and sleaze. No lie is too big to tell; Brown's assertion that there would be no more 'boom or bust' is one of the worst examples, especially as he was aware that the boom for which he took credit, was based on unsustainable levels of cheap credit and ruthless exploitation of cheap immigrant labour. On the latter point, Brown fuelled racism with his call for 'British jobs for British workers', a slogan of the far-right British National Party.
In pursuing its "war on terror", also a major element in stoking up racism, New Labour has driven through some of the most oppressive legislation ever, that will be ruthlessly used against the labour and trade union movement at some future stage.
The Labour Party was never a socialist party but it was formed by the trade unions and workers saw it as the best vehicle for representing their interests; they saw it as 'theirs'.
Labour governments established the National Health Service and introduced other social advances, albeit in response to pressure as a result of struggle by workers on the industrial and political front. Socialists and Marxists played a crucial role in these struggles, something that has been airbrushed from history in the interests of the ruling class and labour and trade union 'leaders'.
New Labour will not be reclaimed by the working class. Even if the diminishing band of activists who think it can be rescued toiled for decades, they could never achieve their objective, not least because the democratic structures that may at one time have made such an endeavour possible have been completely shattered. There is no credible basis upon which to argue the Labour Party is reclaimable. To do so is a distraction from, and a barrier to, the task of developing an alternative form of political representation. Investing further precious time and energy in pursuing this unobtainable goal is a waste of time and a fetter to building a genuine alternative.
The biggest obstacles to the development of such a political alternative are the leaders of the New Labour-affiliated unions and the Trades Union Congress (TUC), whose behaviour in the face of New Labour has been craven. They argue that we must concentrate on avoiding the re-election of a Tory government, ignoring the fact that New Labour is no longer capable of beating the Tories precisely because it has carried out unpopular 'Tory' policies.
Even during the long eighteen years of the Thatcher/Major regimes, the trade union leaders closest to the Labour 'modernisers' like Neil Kinnock argued we must not take strike action because it would damage the chances of the return of a Labour government.
Disgracefully, they stood to one side during the great miners' strike of 1984/5, collecting money and making fine speeches, but eschewing the type of solidarity industrial action that would have finished off Thatcher. They also tried to disrupt and sabotage the tremendous non-payment battle against the poll tax, arguing that we must 'obey the law' as otherwise no future Labour government could govern with credibility and authority.
The majority of national trade union leaders have accepted the logic of the market and can conceive of no alternative to pro-big business governments. Unfortunately, this is even true of some who were seen as part of the 'awkward squad'
Yet New Labour has given the union leaders virtually nothing in return for their support, for instance Brown has firmly declared there will be no relaxation of the anti-trade union laws. As private sector donors desert Labour and with the party virtually bankrupt financially as well as in every other respect, the unions are expected to foot the bill - currently 92% of funding comes from affiliated unions.
Instead of using this leverage to insist on even the most minimal concessions to help working people, the union leaders incredibly are content to allow the pro-market agenda to continue, hoping desperately that a few scraps might be flung in their direction.
The tremendous industrial potential of the trade union movement has been held in check and concessions left unclaimed by those leaders who argue there is no alternative to Labour.
Action gets results
The recent tanker drivers' strike demonstrated that while the industrial working class has shrunk, its impact and effectiveness can still be enormous. However, in recent times the main arena for struggle has been in the public sector, with left, campaigning leaderships like those in the PCS (Public and Commercial Services union) and RMT (Rail Maritime and Transport union) taking the lead. It is there that workers are learning the fundamental truth that if you do nothing the bosses and government will walk all over you and that campaigning works and action gets results.
The PCS's record under the leadership of general secretary Mark Serwotka, president Janice Godrich, and the Left Unity leadership, with the Socialist Party playing a key role, has demonstrated political and industrial campaigning work based on and underpinned by a willingness to take action when required.
Where action is deliverable, effective and sustainable, it can build workers' confidence and wrest concessions. There is an alternative to bending the knee.
The consistent campaigning record of unions like PCS and RMT throws into sharp relief the failure of the Labour affiliated union leaders who are incapable of even securing the easing of the anti-trade union laws. Even on the question of agency workers and on issues of basic equality, equal pay for example, New Labour has pulled up the drawbridge and told the Labour-affiliated unions: 'you have no alternative, it is us or the Tories'.
There is now a real need to move to begin to build a viable and sustainable alternative to Labour capable of starting the process of offering working people the type of political representation they need and deserve.
As a first step, a conference must be held of all those who support and are committed to building such an alternative. In doing so we cannot afford to repeat the mistakes of the last decade where a series of initiatives have failed; the Scottish Socialist Party, the Socialist Labour Party, the Socialist Alliance and Respect being the most obvious examples.
Any new configuration promising political representation to workers cannot simply be announced as an accomplished fact that demands the immediate allegiance of workers, but instead must be patiently built and tested. To be successful, some very basic, minimal, but critical conditions are needed.
Firstly the trade unions have an important role to play. This does not necessarily mean, at this stage, the complete endorsement or affiliation of any trade union.
What is required is the support and endorsement of genuine left socialist leaders and activists in the trade union movement and their engagement in building such a formation. We should also see this process as being predicated on a commitment to stand trade union based candidates in elections.
Secondly, the task of building such an organisation needs to begin with an alliance agreed around a minimum but extensive programme capable of attracting millions of workers to its banner. In the Socialist Party's opinion this should include a socialist clause. However, this, along with the other demands, would be decided by democratic discussion among the forces involved.
There is no contradiction in the expressions 'minimum' and 'extensive'. Minimum, in the sense that some issues almost pick themselves and around which agreement can be secured. But extensive in the sense that such a programme, if fought for and achieved, would mean tremendous steps forward for working people. The programme must address what needs to be done to defend workers' interests but also define and articulate their hopes and aspirations.
Demands
Such demands would surely include: opposition to cuts, privatisation, war, fascism, racism, nuclear weapons and destruction of the environment; for a living wage for all, a properly funded welfare state with well-paid and trained staff delivering vital services in communities where they live and work; repeal of the anti-trade union laws; and international workers' solidarity.
Thirdly, if the left is serious about building a genuine and sustainable alternative then we must say upfront and without mincing our words that the lessons of history must be learnt; in creating any such alliance there can be no place whatsoever for the destructive rule or ruin tactics that have characterised the dead ends of recent years.
An undemocratic, top-down approach will not work. The young people who are becoming active in struggle in the 21st century, correctly have a horror of bureaucracy.
Their experience of the betrayals of New Labour and the right-wing trade union leaders, combined with the effects of the collapse of the Soviet Union - which capitalism worldwide falsely equated with genuine socialism - mean that democracy is particularly vital to the new generation.
It is crucial that a new formation be open and welcoming to all those who want to work together against the neo-liberal onslaught on the working class. It must be based on a federal structure where groups and individuals have the right to democratically organise and argue for their position. Differences cannot be airbrushed away but neither can they be the most prominent feature that defines a new configuration.
Where one organisation is initially numerically dominant, we need to find ways to make sure that the views of other significant currents and trends are heard and that consensus is sought on key issues.
Trade union involvement would be vital in providing a real sense of 'discipline in action' of the type that should apply in the best examples of industrial action - concentration on priorities, and debate without the type of sectarian demoralisation that sometimes targets even the best left union leaders rather than employers and the political establishment.
This is especially important in setting out clear and disciplined campaigning work.
Union involvement
Who then should be involved in such an initiative? Given acceptance of the points outlined above then there is surely no reason why any organisation should exclude itself. It would be naïve to suggest that all would be plain sailing. But active trade union involvement would greatly increase the chance of developing an effective organisation that is intent on sharply focusing on the programme that workers see as relevant to their day-to-day lives.
What about those left Labour MPs who have tried to keep the socialist flag flying amidst the corruption of New Labour? They also should be involved in building alternative political representation for workers.
Some of these MPs argue that it is best they remain in the Labour Party for the foreseeable future because they at least provide some limited representation for workers and trade unions in parliament and to lose that platform would be a setback. However, by remaining inside Labour they give a degree of credibility and 'left cover' to a party that is antagonistic to the interests of the working class and is, to put it bluntly, an enemy.
Secondly, it is simply wrong to assume, as some do, that if such MPs stood under the banner of a trade union based organisation in the future then they would automatically lose their seats.
On the contrary some of these MPs - who have built up considerable capital with activists and workers by opposing the New Labour project - could very well, standing on a programme such as that outlined above, not only win their seats but be highly effective tribunes for building the alternative to the rotten political establishment New Labour is now a torch-bearer for.
Building an alternative to New Labour is not, and cannot be, a risk free business. But the greater risk by far, is failing to recognise that the main historical and political task currently in front of socialists is to build a political alternative. Hesitation now in firmly espousing that cause can only be a fetter, or at least an impediment, to building an alternative, no matter how unintentionally.
The debate will continue on these and other matters. But it is clearly now time to organise a conference that, while focusing on the industrial issues facing workers and the unions, is also capable of addressing the key task of beginning the process of developing effective political representation. A key aim should be standing candidates as outlined above.
To avoid this issue would be an abdication of responsibility and would disappoint and disorient the more politically conscious workers in the trade unions and working class. To pose the question of what is required, how to develop the struggle politically as well as industrially, but then dodge the only real answer - building a mass political alternative to represent the interests of our class in the way the parties of the political establishment represent the bosses and the millionaires - is no longer an option.
There should be no extended delay in organising such a conference, but it is important to get it right.
That indicates informal discussion between interested groups, but especially left leaders in unions like PCS, RMT and undoubtedly others, to set out the basis of the conference and hopefully have an aim of holding it at the end of this year or early next year.
Socialists should be clear that such an initiative will incur the wrath of New Labour and the leaders of the affiliated unions (especially when they see their own best activists expressing support for such a development) and even in unions like PCS there will be opposition.
But without political representation we cannot effectively defend the interests of union members, let alone those of workers generally, never mind achieve what we deserve and need. The case for building alternative political representation for working people is unanswerable and the task set out by history can no longer be avoided.
---
Socialist Party meeting
Building industrial militancy
Seventy five trade unionists packed into the Socialist Party's national trade union meeting on 30 August. It opened with Socialist Party general secretary Peter Taaffe introducing a discussion on the situation in Britain today.
Alison Hill
Peter underlined the seriousness of the economic recession we are beginning to experience. It is not on the scale of the 1929 depression but it will probably be more serious than in 1976.
Many workers are being forced into struggle, particularly over pay, although many of those are asking whether all trade union leaders are up to organising such a struggle. The general trend is that union leaders - usually linked to the Labour Party - try to dampen down struggles. There are, however, notable exceptions including the PCS civil service union, the RMT rail workers' union and the POA prison officers' union.
The task therefore is to build militant poles of attraction in all unions for workers that want to organise against the bosses.
Many speakers in the discussion drew on their experiences of organising strike action, including having to deal with reluctant local and national trade union officials.
But as Chris Baugh, assistant general secretary of the PCS explained, in a personal capacity, his union has shown that the decisive factor in winning a dispute is the amount of leverage the trade union can deploy. And that leverage is built from winning decisive strike ballots, carrying the support of the membership and organising effective action. He concluded by emphasising that conditions are improving now for building wider industrial militancy and a political alternative to Labour.
Organising
In the second discussion, on organising in the trade unions, many speakers explained the advantage of being a Socialist Party member when organising in the workplace.
Even inexperienced members can play a decisive role in a dispute, having the backing of their local Socialist Party branch and the assistance of other members in the same trade union or industry. Examples were given of trade union members who have recently joined or want to find out more about the Socialist Party.
The inspirational effect of the discussions were shown in the impressive collection of £1,000 for the Socialist Party's fighting fund.
All Socialist Party members should make sure they get a report of the meeting at a future branch meeting.
---
Poland: Biggest workers' demo since the 1990s
WARSAW CAME to a standstill for many hours as over 50,000 workers demonstrated in torrential rain last Friday (29 August).
Paul Newbery, GPR (CWI, Poland)
The demo was organised by Solidarity under the slogan "Decent work, decent life". It was also demanding an increase in the minimum wage and was against government plans to change the labour code and abolish the right to early retirement for many workers.
Rising food and energy costs are forcing thousands of workers into struggle for wage rises. Since unemployment has fallen in recent years, there is a new confidence and combativity among workers.
On the other hand, the Civic Platform government is planning a series of neo-liberal reforms and attacks on workers' rights, including the right for bosses to organise a lockout. These are the ingredients for a sharpening of the class struggle in Poland in the next period. The sheer size of Friday's demonstration is a reflection of this and shows that the Solidarity leadership had been forced into organising the demo by the mood from below.
Miners, steel workers and shipyard workers were well represented as usual, but there were also a lot of workers from private enterprises and younger workers, particularly women workers in their 20s and 30s, who made up 50% of some of the delegations. In the recent period Solidarity has recruited a lot of new workers in the private sector. This is a new, fresh layer which in many cases is entering into struggle for the first time.
However, some of the banners illustrate the contradictory mood among the workers. The banner of Stalowa Wola Steelworks read "Don't touch the Labour Code or Poles will touch you". Unfortunately a lot of Solidarity members identify themselves as Poles but not as workers because of the nationalist poison fed to them for many years.
On the demo the Solidarity leadership offered no lead. When the demonstrators reached the end of the route there was no rally - the delegations were just told to turn around and go home. In the Solidarity paper given out on the demo, the head of the Solidarity's Gdansk region even said they were fighting for the quicker privatisation of the three shipyards which are going bankrupt!
The Group for a Workers' Party (GPR - CWI, Poland) intervened in the demo. We were generally well received. We gave out 1,000 leaflets calling for a general strike. It wasn't enough - they disappeared within 15 minutes! We also sold 114 copies of our paper which had the headline: "Defend the Labour Code - for a one day general strike".
The same day, Jan Guz, leader of the OPZZ trade union federation spoke of the need to negotiate a compromise with the government, but warned that if a compromise solution can't be reached, the different paths of all the unions will meet up in a general strike.
The union bureaucracy is clearly feeling the pressure building up from below. With a number of strikes and demos planned for September and October, Poland faces a hot autumn.
For background, see article by Wojtek Orowiecki 'Strikes continue against rocketing food and fuel costs' on www.socialistworld.net
---
Terry Fields memorial meeting
"TERRY FIELDS was a great comrade, loved and respected by many socialists, trade unionists and political activists. Most of all he was loved by working-class people, especially in his former constituency of Liverpool Broadgreen", said Peter Taaffe at a memorial meeting for Terry Fields on 27 August.
Clara Paillard
Even after his sad death in June 2008, Terry Fields is still able to attract hundreds to a political meeting. Around 200 people attended the commemoration, organised by Merseyside Campaign for a New Workers' Party (CNWP).
The event opened with a film showing different times in Terry's life. Footage from 1988 showed him addressing a huge crowd of strikers and giving them his support during the postal workers' strike at Copperas Hill mail centre.
It was followed by extracts from his general election speech in 1992, and from Pete Naylor's Tales from the Riverbank with Terry reflecting on the last three decades, including his imprisonment for refusing to pay the Poll Tax and the role of the 49 Liverpool councillors who stood up to Thatcher. This montage reflected Terry Field's life and contribution as a great socialist, a man of principles but also a human being with a great sense of humour.
It was great to hear Terry speak for himself and remind comrades that they should carry on his struggle and great work to better the life of the working class. Paul Astbury, former deputy leader of Liverpool council during the 1980s introduced several speakers.
Matt Wrack, general secretary of the Fire Brigades Union, recalled with emotion how he was inspired by former firefighter Terry when he first joined the FBU.
Terry's son Stephen Fields gave an emotional and determined account of what his dad believed in and how, all his life, he followed his word. Peter Taaffe, former editor of Militant, gave an inspirational address to much applause, denouncing New Labour for its betrayal of working people and its adhesion to capitalism. And Dave Nellist, a Socialist Party councillor in Coventry and former Militant-supporting MP alongside Terry Fields, recalled his time with him.
There was also a video address from Tony Mulhearn, president of Liverpool District Labour Party during the 1980s battles, who could not attend the memorial meeting due to a prior commitment.
With hundreds of new CNWP supporters and £600 raised in the collection, this important event testified that many people want another society. In these times of the 'credit crunch' and rising inequality, it is so important to rebuild the labour movement. Not with New Labour and the lapdogs of capitalism, but with a real alternative, a new workers' party. As Terry said so well: "You could despair, but as a socialist, as a Marxist, you always feel then, perhaps one day..."
Next Merseyside CNWP meeting: Thursday 18 September, 7.30pm, The Casa Club, 29 Hope Street, Liverpool.
---
Arrested for selling The Socialist
TONY AITMAN, a long-time Socialist Party member was arrested on 30 August for selling copies of The Socialist on a stall in Liverpool city centre. The tradition of political stalls in Church Street and its continuation Bold Street in Liverpool city centre stretches back over 30 years. Now, with the 2008 Capital of Culture title, the city council is trying to 'clean up' the centre, and remove any signs of opposition from the streets.
Over the past few months, there has been growing harassment of stalls and sellers on Liverpool's streets, from both the police and the council's wardens. Following threats of arrests, a "mass stall" was held a few weeks ago. Around 12 different organisations, including the Socialist Party, the CNWP, the Stop the War Coalition, CND, Animal Rights, the SWP, Cuba Solidarity, a cycling group, Merseyside Anarchists and the Fight ID Cards campaign set up stalls in defiance of the threats to our free speech.
Last Saturday, at the pitch we have used for years, Socialist Party member Tony Aitman was arrested for "wilful obstruction" after refusing to stop selling papers and collecting petition signatures on a stall against food and fuel price rises.
Tony is well known to Socialist Party members throughout the country; an activist for over 45 years, he is prominent in the CNWP and is a Unison shop steward, a member of Liverpool Unison branch committee. Our stall and papers were also confiscated. What seemed to annoy them most was when one of our (female) members called one of the police "love"!
We will not take this attack on our rights lying down. We have called for a further mass picket this Saturday, 6 September, meeting in Church Street at 12 noon.
By Merseyside Socialist Party members.
---
Opposing the far right
THE BIGGEST demonstration the village of Codnor has seen in recent years marched towards the far-right BNP's Red White and Blue Festival (RWB) on 16 August. Trade union banners and flags mixed with placards as over 500 people came up the police lines at the bottom of Codnor Denby Lane, the festival site.
By a Notts anti-fascist
The day of protest was the culmination of months of activity by the local broad-based campaign, Notts Stop the BNP, and other East Midlands anti-fascist groups. The local campaign put out around 40,000 leaflets, played a key role in preventing Amber Valley council granting the BNP a music and alcohol licence, and helped to set up local groups opposed to them in the area.
The Stop the BNP campaign held a successful rolling meeting for two hours before the demo set off. Speakers from trade unions, the Socialist Party, Youth against Racism in Europe (YRE), the Stop the BNP campaign and others explained their opposition to the Red, White and Blue camp. Socialist Party members explained the reasons for the BNP's growth, which include a lack of essential services for large parts of the community and a lack of genuine political representation.
The protest and march were subjected to unprecedented control by the police. They invoked the Public Order Act which restricted meeting and activities in a five-mile radius around the RWB festival to a small area in Codnor. Many arrests were reported around the RWB site.
The police would only allow 30 protesters up to the festival site. This was agreed in meetings between the police and the organisation Unite Against Fascism (UAF) who unfortunately coordinated the demonstration without consultation with the local campaign.
Meanwhile, police lines blocked the main road between Codnor and Heanor for approaching an hour. The UAF held a rally upon the march's return to Codnor.
The day's action was a great success. However, questions still remain about how to succeed against the BNP. The SWP-led UAF refused to negotiate with the local campaign for months and only allowed a speaker from the campaign to address the demo at the last minute when under pressure.
They went to the head of the march and set off while a speaker was in mid flow. This left even the UAF secretary slightly taken aback. This 'control freakery' is not only sectarian but potentially puts people at risk.
SWP members' chanting of slogans like "fascist scum get off our streets" to local people who are not BNP supporters can only alienate people. There was irony too. The chanters and the UAF did not allow a newly formed local campaign group to have a banner at the front of the march, nor placards from the Notts campaign. Those who claimed that Codnor were "our streets" then promptly left in their buses to head away from local activity.
A conference called by a network of Stop the BNP and other East Midlands anti-fascist groups on 27 September will discuss how best to campaign effectively against the BNP, and how to build on existing links with local trade unions and activists.
---
Comment
Winners and losers at the Beijing Olympics
Many people across the world, particularly young people, will have been entertained and not a little inspired by many of the athletic performances in the 2008 Beijing Olympics.
Peter Glover
Despite the hype, sport plays an important part in many people's lives. Unlike some, such as the editor of Socialist Worker, who maintains that "sport represents a tyranny over human effort by machines, the watch and arbitrary rules" (9 August), most workers enjoy sport and see through some of the commercial excesses committed in the name of sport. The Olympic Games are symbolic of the use of sport by the rich and powerful for their own ends.
The Beijing Olympics may be over but they have left behind a dazzling array of monuments. Chinese workers have been engaged in one of the biggest building projects in human history, yet the human, ecological and financial cost is staggering.
Beijing airport's new Terminal 3, twice the size of the Pentagon, is the biggest building in the world. Designed by Norman Foster (who built the wobbly bridge across the Thames), it cost $3.8 billion and can handle more than 50 million passengers a year!
Beijing airport was completed, amazingly, in less than four years. Jeff Martin, deputy project manager for Siemens, one of the main contractors, said the reason for the prompt completion was simple: "There is so much available labour. If I say we need 500 extra workers tomorrow, then I will get them. In the US, you would have to go through unions and it would take much, much longer."
Human rights trampled
Forced relocation of residents also contributed. Managers say 10,000 people have been "resettled" for this building alone (Guardian 13 September 2007). The Geneva-based Centre on Housing Rights and Evictions claims that up to one million residents of Beijing have been displaced by the Olympic building programmes, many of them evicted against their will.
According to a 2004 report in Architectural Record, China consumes 54.7% of the concrete and 36.1% of the steel produced in the world. China's elite want to project the confident image of a new superpower, with state of the art buildings to match their massive ambition.
The Bird's Nest stadium required 50,000 tons of steel rods, costing $400 million. This was based on low pay. Labourers on the site earned just £3 a day and skilled welders earned £4.40 a day. Seven-days-a-week working was required (The Times 20 January 2008). Ding Zhenkuan, deputy chief of the Beijing Bureau of Work Safety, told a news conference: "There were two deaths in the Bird's Nest, one in 2006 and one in 2007". Believe it if you will.
The total cost of the Beijing Olympics may exceed $44 billion which equates to $100 million per gold medal! But the environmental and social cost of the Chinese elite's drive to make China a superpower is even more costly.
With the Games over, the neglect of the working people of China can be measured on a truly epic scale. A World Bank report, entitled 'Cost of pollution in China', revealed up to 760,000 people die prematurely each year in China because of air and water pollution. The athletes have gone home but the workers and farmers of China still breathe the poisonous air.
In 2007 China surpassed the US as the world's largest emitter of carbon dioxide, putting out 6,200 million tons even in comparison with America's gigantic 5,800 million. This scale of pollution cannot be sustained for long. There is a crisis in Chinese society. The Chinese working class is the only force that can rescue the country from this catastrophe.
Perhaps the most inspirational story of the Olympics was not Michael Phelps, Usain Bolt or Chris Hoy but two elderly women, Mrs Wu and Mrs Wang, both in their late 70s, in poor health and illiterate.
Their story was told by Channel 4 News. Both women were sentenced to a year of "re-education through labour" ie a labour camp, after they applied to protest against the inadequate compensation the local authority offered them when their homes were demolished seven years ago. The fearless women were filmed chasing government spies down the street, which is probably the most meaningful image of the 2008 Olympic Games and a forecast of the coming workers' movement in China.
---
Water quality threat to health
FOR THE third time in three years, an outbreak of the parasite cryptosporidium has hit water supplies in Gwynedd and Anglesey. In 2005-06 over 200 people were left ill after contracting the parasite which causes severe diarrhoea. Then, a notice to boil all water (which kills the parasite's eggs) was in place for several months.
Iain Dalton
The company (Welsh Water/ Dwr Cyrmu) agreed to compensate 37,000 customers £25 each for their inconvenience and were fined a tiny £60,000 for supplying unfit drinking water. After the incident the company spent £1 million on new treatment equipment.
Now, however, the bug is back again. A notice to boil water, issued on 30 August, will affect 45,000 people. It appears this new treatment isn't working either. A letter released by the Drinking Water Inspectorate last year pointed out that cryptosporidium experts had warned Welsh Water about possible problems in 1998.
The investigation into the 2005-06 incident said that although treatment was in line with regulatory standards, this was because it was believed the bug would be sufficiently dilute in the water not to cause harm! Welsh Water had also failed tests of water quality there twice in previous years and been under legal obligation to improve the facilities there.
Welsh Water, like other UK water companies, was privatised in 1989. These companies' debts were written off by the government, but this still led to price increases and staffing cuts. Maintenance and investment were also cut back in 'cost-cutting' exercises. Since privatisation we have seen water shortages, outbreaks of bugs like cryptosporidium and poor maintenance of sewerage which made last year's flooding much more severe.
Water provision, a vital public service, should never have been privatised. Socialists argue for the renationalisation of the water companies, under the democratic control and scrutiny of the local and national population.
---
Adding colour to The Socialist
From issue 548 of The Socialist, out on Thursday 18 September, the paper will contain some full-colour pages.
The cover price will change to 70p, with a £2 solidarity price. This is the first cover-price change for over a decade. Subscription prices will not alter.
To help fund this change, we ask all Socialist Party members and supporters to take part in extra campaigning stalls and also sell subscriptions.
For more information and subscription forms contact bobsevern@socialistparty.org.uk or phone 020 8988 8796 (Monday-Friday, 9.30am 5.30pm).
---
School and college students fighting back!
Six months before New Labour came to power in 1997, Blair famously claimed that his three main priorities for government were "education, education, education". This autumn the children born that year will be entering secondary school. What has happened during those years?
Kat Jayawant, Sussex Downs College International Socialist Resistance (ISR)
Education is now increasingly in the control of private businesses. But school students are angry. At the end of the last academic year, this spilled over into walkouts.
In Merseyside 800 students protested at St Aelred's Catholic Technology College to safeguard their education and against proposals for the school to be replaced by an academy.
In Cambridgeshire, at Neale-Wade Community College, overcrowded school dining facilities and short lunchtimes led to 250 students walking out. At Pontllanfraith school in Blackwood, Wales, more than 150 students walked out over teacher redundancies.
In Derbyshire, 60 students walked out on 23 April protesting against the victimisation of two NUT members who planned to join a national strike.
In France, faced with large numbers of education job cuts, students have united with education workers to fight back. 350,000 students, parents and education workers protested in Paris on 18 May.
In Germany, school education is being reduced from 13 to 12 years and there are overly large classes. In response, some students have become fiercely militant.
In Berlin, where a charge of €100 per child for schoolbooks has been introduced, there was a one-day school strike on 22 May, during which 8,000 took to the streets.
This was followed three weeks later by a national school strike during which 15,000 students marched in various locations. Socialist Students' sister organisation in Germany is playing an important role in this battle, being involved in the 'tear down the education blockades' campaign that has initiated the call for national walkouts on 12 November.
Issues that affect students on a day-to-day basis are things like bullying (especially homophobic and racist bullying), sexual health matters and for college students - the minimum wage of £3.40 per hour.
The Campaign to Defeat Fees (CDF) and Boost Our Pay campaigns have got a positive response from college students. One activity at my college in Lewes resulted in eight people applying to join ISR.
But it is not just day-to-day actions that school and college students are interested in. Hundreds of thousands of school students walked out in protest at the invasion of Iraq.
Unfortunately, college student union organisers tend to be apolitical, focusing on arranging social events, if they do anything at all, rather than campaigning in students' interests.
Also, people do not see politics as something relevant to them. And the three main parties all follow neo-liberal agendas, supporting cuts, privatisation and big business profits.
Socialist Students and ISR work together in schools and colleges, campaigning to defend and improve school and college students' rights and supporting struggles of workers against poor wages and conditions.
We oppose the privatisation of our education system. We present a clear socialist solution to the problems of war, racism, environmental destruction and capitalism. We'll be bringing this to schools and colleges across England and Wales throughout the year.
This is an abridged version of an article in Student Socialist.
Student Socialist
the magazine for all socialist students.
New edition out now!
£1 each.
---
thesocialistreview
Inside Egypt: the land of the Pharaohs on the brink of a revolution
By John R Bradley
Reviewed by Jon Dale
A new book describing the disintegration of Egyptian society claims it is a country on the brink of revolution. As if to prove the author's point, the government has banned its sale.
A July 2007 opinion poll found that 87% of Egyptians were dissatisfied with the performance of their government - the highest number in 37 countries surveyed. Inside Egypt is packed with examples of why this is so.
But it is not a book of dry statistics detailing the plight of the poor and the wealth of the rich. Instead, through conversations with prominent and ordinary Egyptians, John R Bradley describes the developing crisis in this key US ally. He shows the disastrous effects of successive US governments propping up the repressive dictatorship of Hosni Mubarak, now the third longest-ruling leader in Egypt's four thousand year history.
A historian tells him: "We had new regulatory laws that started to govern our everyday lives. Supposedly free education meanwhile led to no education. Free health care and social security led to no health care and no social security. In the midst of all this, creativity became a thing of the past. There's been an absolute downgrading in every aspect of all the things that could have led to the improvement of a city like Cairo. What are we left with now? Well, what floats to the top at the end? It's the shit."
Bradley himself blames many of today's problems on Colonel Nasser's seizure of power in 1952, when young army officers overthrew King Farouk. Some of the people he speaks to - writers, judges, scholars - have a "powerful wave of nostalgia" for the "liberal interlude in Egyptian politics from the 1920s through to the revolution of 1952."
Bradley clearly shares their rosy view of this period and wrongly describes Nasser's regime as "socialist". Nasser balanced between the Stalinist Soviet Union and the weak Egyptian capitalist class, nationalising some industries, particularly the Suez Canal. There was no democratic working-class control of society, without which there cannot be socialism.
That the main organised opposition movement to Mubarak today is the Muslim Brotherhood (MB) is due more to the failure of past workers' leaders than MB successes. Bradley relates how Nasser imprisoned and tortured tens of thousands of MB members. Many of those who survived fled to the Gulf States, where they became immersed in the Wahhabi ideology promoted by the Saudi royal family.
This was very different to Egypt's traditions of Sufi Islam. Nasser's successor, Sadat, invited the MB to return in the 1970s "to counter the Marxist opposition to Nasser's rule." But they brought back with them the Wahhabi intolerance of other views, especially of Egypt's sizable Christian minority.
The MB now has about 500,000 members. Bradley estimates that there are at least 12 million men and countless millions of women and children who participate in Sufi festivals, condemned by the MB as 'un-Islamic'. He argues that support for this Sufi culture has prevented the MB from growing rapidly.
Although they won a fifth of the seats in the rigged 2005 parliamentary elections, they have not made a real breakthrough since. 80% of the questions they have asked in parliament have been on culture and media, rather than the issues that Egyptian workers face daily such as poverty pay. Bradley suggests Mubarak may have deliberately engineered the 2005 election result. It suits him to point to the MB when talking to the US government, scaring it to continue propping him up. Bush has since dropped the talk of 'democracy' in the Middle East, that he briefly spoke of after invading Iraq.
Workers' alternative
Chapters describe the corruption and vile torture that keep Mubarak and his cronies in power. Corruption spreads to every part of Egyptian society, including the press and the tourist industry. Descriptions of torture in Egyptian police stations are all too familiar - the techniques are remarkably similar to those used by US troops at Abu Ghraib in Baghdad.
Only at the very end of the book does Bradley write about the 2007 "wave of industrial unrest involving tens of thousands of workers on a scale not seen in Egypt since the years leading up to the coup of 1952". It is a pity that his interviews did not include workers who took part in and led these unofficial strikes and factory occupations.
Bradley concludes by describing the dilemma for the next US government and offers it some advice. He argues that the $2 billion a year it gives in aid should be tied to progress on reform, with the threat that it will be diverted to grassroots projects that promote democracy. If repression continues, he argues, it will be the MB who picks up the pieces as the only organised opposition.
This is not the only possible outcome. There are now almost certainly more than 87% dissatisfied with their government. The workers and youth who have bravely stood up to Mubarak's thugs need to build new independent unions and join together to form a workers' party. Armed with a genuine programme of democratic socialism, this could win enormous support, challenge the regime for power and set an example for workers throughout the Middle East and North Africa.
---
>
Inside Egypt
The land of the Pharaohs on, the brink of a revolution
John R Bradley
£14.99 + £2 p+p
Available from:
Socialist Books
PO Box 24697, London E11 1YD
020 8988 8789
bookshop@socialistparty.org.uk
---
NHS: Save our casualty unit!
SWANSEA'S SINGLETON Hospital casualty unit is threatened with yet another downgrading. The Trust proposes to replace this important minor casualty service with just a single GP and nurse team!
After the successful campaign to prevent the closure of Swansea's Fairwood Hospital and Ward 1 at Hill House, the Trust is refusing to go to public consultation over their plans in case they get the same negative result.
The Trust bombards the press with articles and letters from local GPs supporting their proposals for a GP-led unit. One GP who enthusiastically backed the plans, admitted she had a vested interest because she was a director of the GP 'out of hours service', the main financial beneficiary if these proposals go through.
Swansea Socialist Party members have played a leading role in defending NHS services in Swansea and West Wales in recent years and we will be building for a 'Save Our Services' public meeting, supported by Swansea trades council, to ensure we get a public consultation and stop this casualty downgrading.
Alec Thraves, Swansea Socialist Party
---
NHS 'surplus' = cuts in care
HEALTH DEPARTMENT officials have announced that the government's spending policies will result in an expected NHS budget surplus of £1.75 billion by the end of the financial year.
Dave Carr
But patients denied life-saving drugs and treatments and NHS workers and communities facing cutbacks, (including ward and A&E closures), are fuming over this massive budget underspend.
The 'surplus' comes two years after the then health secretary, Patricia Hewitt, banned health trust chiefs from 'rolling over' any deficits to the next financial year.
(Many NHS trusts are cash-strapped, mainly because of funding financially punitive privatisation schemes.) This policy resulted in 23,000 nursing jobs being axed in England and Wales and widespread hospital ward closures.
The surplus announcement coincides with news that NICE (the quango that approves the use of drugs in the NHS) has vetoed four new drugs for treating kidney cancer (despite their use elsewhere in Europe and North America) because it deemed them to be 'not cost effective'.
Although Primary Care Trusts aren't legally obliged to accept NICE recommendations, inevitably its decisions lead to a postcode lottery of treatments for patients.
The chief executive of NICE also had to publicly apologise after NICE took two-and-a-half years to evaluate the drug Lucentis for treating an age-related eye disease. During this time thousands of patients lost their sight.
So when the government boasts of achieving an NHS budget surplus, it really means cuts to patient care.
---
Swollen profits, suffering patients
TWENTY SIX top cancer consultants wrote to the Sunday Times, attacking the government's health watchdog NICE for denying seriously ill patients with diseased kidneys, four life-extending cancer drugs on cost grounds.
To meet the £500 a week cost of these drugs, cancer sufferers are forced into "remortgaging houses, giving up pensions and selling cars to buy drugs that are freely available in countries of comparable wealth.... NICE's cost-effectiveness formulas are not suitable for this area of medicine."
In defending his agency, NICE chair Michael Rawlins attacked the pharmaceutical giants for driving up the price of life-saving new medicines to boost profits. Drug companies push up the cost, he said, to cushion themselves against the fact that many of their big earners are going off patent, allowing rivals to make cheaper versions.
"Pharmaceutical companies have enjoyed double-digit growth year on year and they are out to sustain that. Their senior management's earnings are related to the share price. It's not in their interests to take less profit, personally or from the point of view of the business. All these perverse incentives drive the price up."
All true and an amazing attack on 'Big Pharma's swollen profits from a leading health service figure - but it doesn't alter the fact that Rawlins is defending the indefensible, the rationing of health care for the sick.
'Save our NHS' campaigners should say no to rationing. The only sure way for the NHS to get cheaper drugs is by bringing the whole pharmaceutical industry into democratic public ownership and creating an integrated and fully funded, free health service as part of a socialist plan of production.
---
---
http://www.socialistparty.org.uk/articles/6364