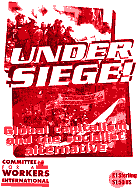 Under Siege - Global capitalism and the socialist alternative
From the Committee for a Workers' International, a pamphlet price £1 sterling plus 30p postage and packing from Socialist Books
MORE BOOKS related to globalisation are available from Socialist Books. These include:
Vital Signs 2000-2001 by Lester R Brown £12.95
Captive State, the Corporate Take-over of Britain by George Monbiot £12.99 (H/B) £7.99 (P/B)
No Logo by Naomi Klein £14.99 (H/B) £8.99 (P/B)
---
By John Reid.
ISBN 0-906582-58-x
Published by the Socialist Party, price £5.
This book challenges the way football is presently run – and also challenges the assertion that the premier league has been a success.
Ten seasons of the premier league have left 74 clubs in debt – some in a terminal state. There is a league within a league, with the big clubs, Man Utd., Liverpool, Leeds, Arsenal and Chelsea, dominating football. Football has been transformed from the people's game to big business dressed in shorts.
Ten seasons of the premier league swindle calls for the game to be reclaimed by the fans.
Please phone 020 8988 8788, or email [email protected]
Ten seasons of the premier league swindle
John Reid
75 years since the General Strike of 1926 (See The Socialist 4 May 2001):
The General Strike, Militant pamphlet, £1.

A History of Communism in Britain, Pearce and Woodhouse, £3.99.

The General Strike, Morris, £6.50.

Trotsky's writings on Britain, three volumes £4.95 each.
Please add 10% postage and packing.
Bumper Bundle
Cuba: Socialism and democracy, by Peter Taaffe. £4.99

Global Turmoil: Capitalist Crisis - a Socialist Alternative. £5.
Resolutions and conclusions of the seventh World Congress of the Committee for a Workers' International - the socialist international to which the Socialist Party is affiliated.
Global Warning: Socialism and the Environment, by Martin Cock and Bill Hopwood. £6.99.
All three were £16.94 - Now £12.75 inc. p&p
Mexico:
Villa and Zapata - A biography of the Mexican Revolution by Frank McLynn - £12.

On the Line: Life on the US-Mexican border by Augusta Dwyer - £8.99.

Shadows of Tender Fury - Letters and communiques of subcommandante Marcos - £11.95.

Cuba: Socialism and Democracy by Peter Taaffe - £4.99.
England's Turning Point
A collection of essays by Christopher Hill, the foremost left-wing historian of the 17th Century English Civil War.
His essays, written over a 60-year period, examine the class forces that shaped the English Civil War. In particular, Christopher Hill examines the plebeian movements of the Levellers and Diggers, forerunners of working-class socialist revolutionaries. (366 pages.)
Was £12.99, NOW £6. (including p&p)

The Gathering Storm - Shakespeare's English and Roman history plays. A Marxist Analysis by Paul N Siegel (200 pages).
Siegel's book unveils the living forces of a dying feudalism and emerging bourgeois society as reflected in Shakespeare's characters and writings.
Was £6.99 Now £4.50 inc p&p

The Rising of the Women by Meredith Tax (330 pages, paperback).
Meredith Tax, a Marxist activist in the trade union and socialist movement in USA, writes about the struggles of the working class between 1880-1917 and the attempts to link in the women's movement.
Was £12, NOW £8.25 inc. p&p.

Left-Wing Democracy in the English Civil War by David W Petegorsky. Foreword by Christopher Hill.
A nicely bound and covered reprint of the original historic Left Book Club edition from 1940, this book tells of Gerrard Winstanly and the Diggers' movement.
£9.90 inc. p&p.

Leon Trotsky Speaks (330 pages Paperback)
This collection covers the great issues of the 20th Century: Trotsky's 1906 defence of revolution from the dock of the Tsarist Court; his 1915 appeal for international solidarity against World War One; his leadership of the workers and peasants Bolshevik government 1917; and his defiant 1937 challenge to the Stalinist frame-up trials.
£16.95 inc. p&p.

For the following titles add 10% p&p:
The Rise of Militant by Peter Taaffe. £9.99.

Ragged Trousered Philanthropists by Robert Tressell. £9.99

People's History of England by A L Morton. £13.99.

Jack London: A Life by Alex Kershaw. £8.99.

From Columbus to Castro: The History of the Caribbean 1492-1969 by Eric Williams. £14.99.

Sylvia Pankhurst, A Life in Radical Politics by Mary Davis. £10.99.

Imagine: A socialist vision for the 21st century by Tommy Sheridan & Alan McCombes £8.99
Children's Books.
For older children
Smash! by Robert Swindells £4.99

Street of Tall People by Stan Gibbon £3.99

Double Act, by Jacqueline Wilson £3.99. The struggle of twins who lose their mother
For younger children:
The True Story of the Three Little Pigs by A Wolf £4.99.

The Queen's Knickers by Nicholas Alien £3.99

Boys Don't Knit by Janice Schoop £3.50
2002 Selection
1.The Poverty of Philosophy by Karl Marx, preface by Engels £7.00
2.Strike! By Jeremy Brecher, revised and updated version. £14.99
An excellent history of workers' struggles in the USA.
3.Lenin's Struggle for a Revolutionary International, £20.95
documents 1907-1916
4.Leon Trotsky on China £22.50
5. History of the Russian Revolution, by Leon Trotsky, one of the greatest literary works and finest historical studies of workers' revolution, by an uncomromising revolutionary leader £23.50
6.Sylvia Pankhurst by Mary Davis £10.99
Biography of the suffragette and socialist leader.
7.Women Workers and the Trade Unions by Sarah Boston £11.99
8.A History of Contemporary Italy 1943-1988 by P Ginsborg £9.99
9.Homage to Catalonia by George Orwell £6.99
Orwell's unmissable account of his experiences in the Spanish civil war.
10.Marx on Globalisation, edited by Dave Renton £13.99
Selections from Marx's writings which explain capitalism's international character.
11.The Ragged Trousered Philanthropists by Robert Tressell £9.99
The classic novel of a workers' life and experiences, the bosses and their system and his analysis and conclusions.
12.Woody Guthrie: A Life by Joe Klein £9.99
Foreword by Billy Bragg
13.Taliban. The Story of the Afghan Warlords by A.Rashid £7.99
A useful background to the war.
Children's Books
14.Farmer Duck by Waddell and Oxenbury £4.99
Large format. The animals take over the farm (watch out Countryside Alliance.)
15.Whose Side Are You On? By Alan Gibbons £4.99
A boy runs away instead of defending his friend against
school bullies but he finds himself transported back to a slave plantation.
16.The True Story of the Three Little Pigs: By a Wolf £4.99
Told by Jon Scieszka. Large format.
17.Smash! By Robert Swindells £4.99
Two friends face taking sides when town development plans bring out a current of racism.
Bargain Packs
A: Scotland's workers' history
Roots of Red Clydeside 1910-1914, eds Kenefick and McIvor
Militant Workers: Essays on Clyde 1900-1950, eds Duncan and McIvor
Revolt on the Clyde, by Gallacher
Cover price: £30, offer price £20, including £5 postage
B: Early struggles in English history
England's Turning Point by Christopher Hill
Left Wing Democracy in the English Civil War by D Petegorsky
The Chartist Legacy, book of essays
Cover price: £34, offer price £20, including £5 postage
C: The history and political ideas of the Socialist Party, in three books by Peter Taaffe
Liverpool: A City That Dared to Fight
30 Years of Militant
Cuba: Socialism and Democracy
Cover price: £22, offer price £20, including £5 postage
D: The socialist alternative to global capitalism.
Five CWI books and pamphlets.
World in Crisis
Smash the IMF and World Bank
Global Turmoil
Under Siege
The World Trade Center and Pentagon Attacks: The Political and Economic
Aftershocks
Cover price £11.50, offer price £7.75 including postage
Postage
For orders apart from special offers, please add 10% postage and packing.
Cards
Topical Alan Hardman 'privatised mail coach' cartoon on glossy card. 20p each, or £4 for 10, including postage
Gift Wrapping
We can gift wrap and include a card with your message for an extra £1.50. (Enclose your message on a separate sheet.)