Link to this page: https://www.socialistparty.org.uk/issue/639/10276
From The Socialist newspaper, 22 September 2010
23 October march against cuts: RMT calls London demo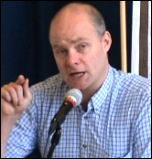 Steve Hedley, London Regional Organiser, RMT, photo by Socialist Party
The London Transport region of the RMT has called a march to support the TUC anti-cuts meeting on Tottenham Court Road.
Steve Hedley, RMT London regional organiser
We've got industrial action going on in London Underground. Now they're threatening to sack all the London firefighters. Royal Mail could be privatised.
This march is being supported by the London regions of the fire brigades union, the civil service union, the teachers' union and several others.
We're formally inviting all the London regions of the other trade unions to get involved.
This is going to be a national thing in the end but it's important that we get the ball rolling in London. We can't sit back and wait for things to develop nationally. We've got to start pushing things in London.
We're very glad that the TUC has passed a policy of coordinated strike action against these proposed cuts but in order to ensure that that policy becomes a reality we've got to organise everywhere and the London region is going to try to be to the forefront of that.
It is essential that we unite to fight the government's planned cuts in the public sector of between 25% and 40% across departments.
We can't get into a situation, which we had in the 1980s, where the Conservatives picked off the unions one by one, the steel workers, the miners. We've got to fight this on a united basis.
Please do your best to attend to fight the vicious Con-Dem cuts of between 25% and 40% to jobs and public services.
We need hundreds of trade unionists and public sector workers and young people there to show that we will not pay with our jobs for the bankers' crisis whilst the culprits reward themselves with huge bonuses.
March from Unity House, 39 Chalton Street, Euston, London NW1 1JD at 11am, Saturday 23 October
---
>
PDF Leaflet: www.socialistparty.org.uk/txt/171.pdf
Letter: Support the London demonstration against cuts on Saturday October 23
Why not click here to join the Socialist Party, or click here to donate to the Socialist Party.
---
In The Socialist 22 September 2010:

Brutal bosses? Time to fight back!

Birmingham: Solidarity with council workers
---
Socialist Party youth and students

Stop the higher education lock out!

The Student Socialist:: Issue 8 £1.50
---
International socialist news and analysis

For a 24-hour all-Europe general strike

Spain: class struggle the biggest show in town

Kashmir: An eyewitness to oppression in the valley

'Death of democracy' in Sri Lanka
---
Socialism 2010

Socialism 2010 - a weekend of discussion and debate
---
Socialist Party news and analysis

Countering the Con-Dem government's offensive

Stroud says no to BNP media centre

Bosses want workers' pensions axed

Trade unionists challenge Lib-Dems

Fast news

CNWP extended steering committee meeting
---
Socialist Party workplace news and analysis

The sorry saga of Corus steel

Ex-Jarvis workers face more attacks

Tyneside Safety Glass: Stop the decline to the minimum wage!

Workplace news in brief

Fight every Con-Dem cut

Hastings demo against attacks on union officials
---
Organising to save jobs and services

Determined, widespread union action needed

Why London firefighters oppose 'reforms'

23 October march against cuts: RMT calls London demo
---
Socialist Party feature

The beauty industry: out of control?

Diminished responsibility
---
Socialist Party campaigns

Coventry 'one-stop' protest

Building the anti-cuts fightback: Local campaign launches

Save Southampton Libraries
---
Home | The Socialist 22 September 2010 | Join the Socialist Party
---