Link to this page: https://www.socialistparty.org.uk/articles/10390
Posted on 7 October 2010 at 14:50 GMT
Trade unionists denounce Hutton's attacks on public sector workers' pensions
Former Labour minister Lord Hutton, on a comfortable MP's pension, has released an interim report on his investigation into public sector pensions.
To nobody's surprise, he has declared that workers should pay more and work longer to earn a lower pension.
He admits that pensions of public sector workers are far from "gold plated". The median public sector pension was £5,600 in 2009-10. NHS pensioners received on average just £4,087. Retired local government workers received only £3,048. But Hutton is still calling for major cuts.
But he is still calling for major cuts. Three public sector union leaders and activists give their first reactions to this report, all in a personal capacity.
---
>

These proposals are another attempt to make working people pay for the greed of the bankers and big business.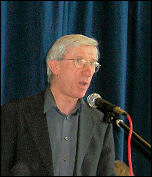 John McInally, vice-president of the Public and Commercial Services union (PCS), photo Paul Mattsson
Public sector pensions, covering overwhelmingly low paid workers, are £4.5 billion per annum, yet tax relief for the richest 1% costs us £10 billion.

The TUC must now coordinate a united response, including coordinated industrial action, to defeat this coalition of millionaires.
John McInally, Vice president, Public and Commercial Services union
---
>

The attack on public sector pensions suggested in the interim report of former New Labour minister Hutton focuses on higher contributions, increasing the retirement age and an end to final salary schemes.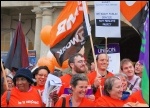 Barnet council workers protest at plans to cut services and run a 'no frills' council, photo Suzanne Beishon
It was the threat of strike action, and in the case of the local government scheme actual strike action, that protected the schemes in their current forms.

Hutton and his Con-Dem bosses must understand that further attacks on the schemes should be met with strike action across the public sector.
Roger Bannister, UNISON national executive
---
>

It's quite clear that Hutton is testing the water. He's raised all the threats that we expected but not made any definite proposals.
I think the unions have to respond very quickly and show we will react very sharply. The unions have to pull together to make absolutely clear that we are not prepared to accept any increase in the retirement age or any suggestion that teachers and other workers have to pay more for a smaller pension.
That means preparing joint activities and joint rallies to prepare the ground for joint strike action if the government goes ahead with these proposals next year.
The government want to say that public sector pensions need to be cut to pay for the problems of the economy.
We know that many private sector workers have had their pension schemes cut. But that is because of private sector corporations taking pension 'holidays' in order to chase profits.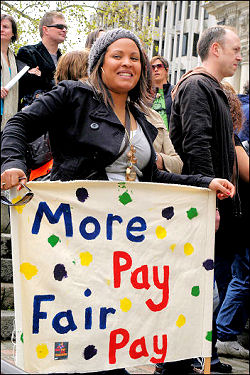 Teachers on strike on the 24th April 2008, photo Paul Mattsson
We don't want public sector workers to be hit in the same way but losing our pensions is going to do nothing to help private sector pensioners.
In fact it's the opposite - fighting for our pensions is the best way of showing to all workers that we have to oppose the cuts that are coming.
Hutton is saying that public sector workers have got to pay more for their pensions.
But the pension deal the unions came to back in 2005/6 said that contributions should only go up if the valuations of the schemes showed it was necessary.

There is no evidence from any valuations that there is a need to increase contributions. This is purely an attack to try to rip off public sector workers, not to pay for pensions but to pay for the hole in the economy caused by the bosses' crisis.
Martin Powell-Davies, National Union of Teachers national executive
Donate to the Socialist Party
Coronavirus crisis - Finance appeal
The coronavirus crisis has laid bare the class character of society in numerous ways. It is making clear to many that it is the working class that keeps society running, not the CEOs of major corporations.
The results of austerity have been graphically demonstrated as public services strain to cope with the crisis.
The government has now ripped up its 'austerity' mantra and turned to policies that not long ago were denounced as socialist. But after the corona crisis, it will try to make the working class pay for it, by trying to claw back what has been given.
The Socialist Party's material is more vital than ever, so we can continue to report from workers who are fighting for better health and safety measures, against layoffs, for adequate staffing levels, etc.
Our 'fighting coronavirus workers' charter', outlines a programme to combat the virus and protect workers' living conditions.
When the health crisis subsides, we must be ready for the stormy events ahead and the need to arm workers' movements with a socialist programme - one which puts the health and needs of humanity before the profits of a few.
Inevitably, during the crisis we have not been able to sell the Socialist and raise funds in the ways we normally would.
We therefore urgently appeal to all our viewers to donate to our special coronavirus appeal.
---