Link to this page: https://www.socialistparty.org.uk/articles/10393
Posted on 12 October 2010 at 16:17 GMT
Browne Review spells end of university access for less well off
Coalition closes 'one avenue after another' for an entire generation
---
>
Press release from Youth Fight for Jobs and Socialist Students
---
>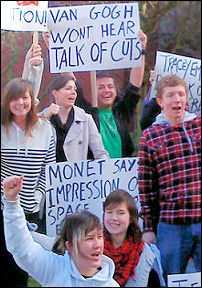 Socialist Students protest against cuts, photo by Portsmouth Socialist Students
Socialist Students and Youth Fight for Jobs condemned the plans under discussion to raise or possibly abolish the cap on university fees, saying it will rule out higher education for a generation already deprived of opportunities to work or learn through apprenticeships.
Youth Fight for Jobs is a national organisation with the support of six trade unions.
Claire Laker-Mansfield, Socialist Students national organiser, said:

If implemented, this spells the end of access to university as we know it for future generations of young people.
This will not lead to an improvement in education; fees will have to be over £7,000 just to compensate for the cuts coming in the Comprehensive Spending Review next week, on top of those already implemented.

There will be a huge anger from young people against this, and the demonstration on 10 November should only be the start.
Ben Robinson, Chair of Youth Fight for Jobs, said:

During a recession, when there is already the danger of young people becoming a lost generation, this is the government closing off yet another avenue.

What are young people finishing school and college supposed to do? There is one job for every five people unemployed, huge cuts coming in every service including to education, and now university ruled out in the eyes of many young people from working and middle class backgrounds.
---
>
Socialist Students is a national student organisation with societies in over 60 universities and colleges around the country.
Youth Fight for Jobs has the support of UCU, PCS, RMT, CWU, Bectu and Unite trade unions, and organised the most recent national demonstration against university fees.
Why not click here to join the Socialist Party, or click here to donate to the Socialist Party.
---