Link to this page: https://www.socialistparty.org.uk/issue/642/10411
From The Socialist newspaper, 14 October 2010
The battle is on over DWP pay
Public and Commercial Services union (PCS) members in the Department for Work and Pensions (DWP) have been given management's pay offer for this year's pay increase. Against the backdrop of the Con-Dem government's public sector pay freeze this year's pay negotiations would never have resulted in anything that we could have recommended to our members.
Katrine Williams, PCS DWP vice president, personal capacity
43% of members are set to get nothing as they earn over the £21,000 limit for pay increases imposed by the Con-Dem government. Shockingly 57% of staff earn less than £21,000 though - some as little as 7p above the national minimum wage.
DWP management has failed to address the issues around low pay and failed to maximise the money that was available to increase members' pay.
The bonus pay pot was larger than the amount of money that was available to pay consolidated increases to those members on less than £21,000 - the majority of PCS members. And according to the government's pay freeze rules - bonuses can be paid out as normal!
Rather than management dividing up the performance pay pot fairly and equally to all our members, who have all worked extremely hard providing essential services to the public during a recession, management decided to pay by performance and the biggest bonuses to the highest grades. Apparently the higher paid you are - the bigger the bonus you need to keep you motivated.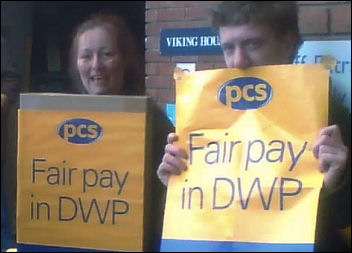 DWP members strike on 17 - 18 march 2008
This skews the money dramatically in favour of the higher paid managers who, as well as receiving higher pay, were also more likely to receive the top box marking [in performance reviews] "wholly exceptional."
It was nearly 14 times more likely for a senior manager to get the top box marking than the admin assistants. So managers have awarded themselves ten times more bonus money than the clerical grade members receiving the least amount of money - taking money away from those who are only just above minimum wage rates of pay.
Jane Aitchison, DWP group president said: "Disgracefully managers refused to put the special bonus payment pot into the general pay pot - this would have meant £65 extra for every member of staff if it was paid fairly and equally across the board.
"However local managers prefer to use the special bonus payments to reward staff as and when. Management has no data to show that these payments are made fairly or equally and certainly evidence from our members suggests the absolute opposite.
"Low paid members see nothing like £65 in bonuses a year so they can't help asking themselves 'Who is getting mine?' We will be working hard to get these bonuses paid fairly to the many who are doing all the work and who need them to improve poverty pay rates."
The Left-led PCS DWP group executive committee met and unanimously agreed to reject the government's pay freeze and this unfair offer. PCS will be holding members' meetings in every office to get members' views on the pay offer and hold an indicative ballot. We will be using the opportunity to expose the unfairness in the offer.
Why not click here to join the Socialist Party, or click here to donate to the Socialist Party.
---
In The Socialist 14 October 2010:
---
Anti-cuts campaign

Strike back at pensions robbery

Protest against the Con-Dem's comprehensive cuts on 23 October

TUC must name the date for strike action

PCS fights to defend jobs and pensions
---
Socialist Students

When they say fees will rise... we fight back and organise!

No to academy schools!

School students strike in Dover

Action against EMA cuts in Huddersfield and Mansfeild
---
Socialist Party news and analysis

Con-Dem attacks will lead to social cleansing

Labour shadows show: We need a new workers' party!

Children - a privilege for the rich?

Save Wanstead Flats
---
Anti-racism

Community organises to resist EDL thugs
---
Socialist Party workplace news

The battle is on over DWP pay

Fight Passport Office closure

Greenwich council threatens mass sackings

Workplace news in brief
---
Socialism 2010

Come to Socialism 2010
---
Socialist Party Marxist analysis

The general strike: Important tool of the working class

Will prices rocket up?
---
International socialist news

Stalinism and capitalism - a toxic brew in Hungary
---
Home | The Socialist 14 October 2010 | Join the Socialist Party
---