Link to this page: https://www.socialistparty.org.uk/articles/10461
Posted on 20 October 2010 at 14:18 GMT
Fight ALL Cuts in Jobs and Services
TUC get off your knees - organise action now!
Mass national demo before Xmas
24-hour public sector general strike
TUC delays five months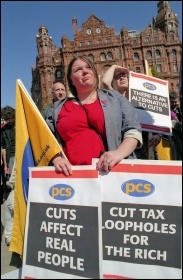 National Shop Stewards Network (NSSN) lobby of TUC conference 2010, photo Paul Mattsson (Click to enlarge)
Today the TUC general council met against the background of Osborne announcing the wholesale slaughter of our public services.
It agreed to call a national demonstration for 26 March, 2011 - five months after the axe has fallen! This is far too little, far too late.
General Council members from the left trade unions - NUT, PCS, RMT and others - argued that the date of the demo should be brought forward.
This was opposed by UNISON leaders and others.
Europe in revolt
In France seventeen million people have taken to the streets over the last month. In Greece there have been six general strikes. Here in Britain the cuts are among the most severe in Europe and yet the TUC is waiting five months before it lifts its little finger.
A national demonstration against the cuts is only a beginning. It should be combined with a 24 hour public sector general strike.
Left trade union leaders should act
The PCS has called an emergency National Executive meeting next week to discuss action against the cuts.
All unions need to do the same. As the TUC general council is standing back from the struggle the left unions should go ahead and call a national anti-cuts demonstration before Christmas.
Members of UNISON and other unions should inundate their national executives with demands that the union supports such a demo.
At the same time unions need to co-ordinate their strike ballots for action against cuts, job losses and attacks on pensions.
The next step should be for the successful ballots to result in co-ordinated strike action - a 24 hour public sector general strike - within the next two months.
Why not click here to join the Socialist Party, or click here to donate to the Socialist Party.
---