Link to this page: https://www.socialistparty.org.uk/articles/10466
Posted on 24 October 2010 at 16:40 GMT
Thousands of trade unionists march in London against cuts
This was a real workers' demonstration, a taste of the might of working class people at the beginning of what needs to be an almighty anti-cuts campaign. 4,000 workers from at least ten different trade unions, led by 100 striking firefighters, marched through central London on Saturday 23 October.
Paula Mitchell, London Socialist Party
Masses of banners from regional and local trade union branches were joined by placards and banners from community campaigns - in defence of the NHS, against academies and more.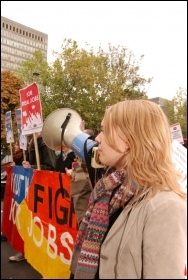 London anti-cuts demo organised by the RMT, FBU, PCS, NUT, National Shop Stewards Network and other unions, photo Suzanne Beishon (Click to enlarge)
Young people formed a noisy Youth Fight for Jobs (YFJ) contingent.
The London region of the National Shop Stewards Network played an important role in initiating this demo, with the London RMT, FBU, PCS and NUT, supported by the London regions of UCU and CWU.
It is important that the left-led unions, currently at the sharp end of fighting the cuts in London, have taken this lead in drawing together workers across the city and linking them up with community campaigns.
This is how a movement against the cuts can grow.
This point was emphasised by RMT leader Bob Crow who addressed the rally at the end, saying: "When London Underground workers take strike action it shouldn't just be about Underground workers, it should be about the three million people that use it.
When firefighters take action, it shouldn't just be about the firefighters, it should be about the people who rely on their services".
Ian Leahair, FBU executive member for London, and Matt Wrack, FBU general secretary, both spoke to great applause.
Ian and Matt expressed the absolute determination of firefighters in London to stand up to their bullying bosses.
Suzanne Beishon spoke from Youth Fight for Jobs, summing up the appalling future facing young people unless we fight - from the 40% cut in university funding and massive hike in tuition fees, to the announcement that young people will be 35 years old before they receive housing benefit for any more than a single room in a shared house.
Socialist Party and NUT executive member Martin Powell-Davies spoke of the devastating cuts facing schools.
Labour MP Jeremy Corbyn asked to address the crowd. Jeremy has a long record of opposing the New Labour leadership. Labour MPs and councillors who genuinely oppose the cuts - all cuts, not just those favoured by the Tories and Lib Dems but those that would have been implemented by Labour as well - are welcome on anti-cuts platforms.
London Shop Stewards Network chair Andy Littlechild, compering the event, introduced Jeremy by asking him if he would be prepared to campaign for Labour councils to refuse to implement the cuts.
This received great applause from the rally, but sadly Jeremy did not comment.
Socialist Party member Linda Taaffe, secretary of the NSSN, put forward the next steps, calling for a national demonstration before Christmas, linked to a one day public sector general strike.
The NSSN had organised a lobby of the TUC in September calling for a national demo as soon as possible.
The TUC has called a national demo in March 2011, but despite the carnage announced by government chancellor George Osborne on Wednesday, has refused to bring this forward.
The NSSN believes it now falls to the left-led unions to co-ordinate to call a demo and action before Christmas.
The London NSSN circulated on the demo a resolution for everyone to take back to their union branch or anti-cuts campaign.
It calls for a national demo and for co-ordinated strike action. The resolution was supported by the London demo with a show of hands.
In achieving this London demonstration, the ad-hoc organising committee of Linda Taaffe for the NSSN, Martin Powell-Davies for the NUT, Steve Hedley for RMT, Ian Leahair for FBU and Tom Taylor for PCS, have formed the basis of a London-wide anti-cuts campaign rooted in the organised working class.
---
>
MODEL MOTION FOR A ONE-DAY PUBLIC SECTOR STRIKE
(Amend as necessary for your organisation)
This (name of TU body, student union, workplace, campaign) is opposed to every cut in the £83 billion austerity package demanded by this millionaire Con-Dem government.
We will not accept
a million job cuts
doubling of student fees
drastic cuts to welfare benefits
increasing the pension age to 66 and beyond.
mass privatisation of services
We believe that these cuts will only be defeated by powerful united action led by the trade unions, and backed up together with campaigns of service users, welfare claimants, students, pensioners and others.
The TUC general council met on the day Osborne announced the slaughter of public services and agreed to call a national demo in March 2011.
This doesn't show the urgency necessary given the scale and depth of the attacks.
We therefore call on our National Executive Committee (or appropriate national body) to call an emergency meeting immediately, to contact other unions to coordinate a suitable date for joint action and a national demonstration before Xmas.
We also believe that it is necessary to prepare for a public sector 24-hour strike. In 2005 public sector unions coordinated strike ballots in defence of pensions; this is absolutely necessary now as as a first step to stronger action if the government does not retreat on their brutal measures.
Why not click here to join the Socialist Party, or click here to donate to the Socialist Party.
---