Link to this page: https://www.socialistparty.org.uk/articles/10675
Posted on 25 November 2010 at 19:01 GMT
Student walkouts on 24 November
---
>
Last updated Nov 29
---
>
Throughout this day of action, students across the country demonstrated, occupied and walked out against the government's attacks on further and higher education.
This day of protests followed on from the magnificent 50,000-strong show of student anger in London on 10 November.
Youth Fight for Jobs (YFJ) and Socialist Students initiated and participated in many of the protests nationally.
In London, YFJ organised a demonstration from Whitehall to Parliament. However, the police 'kettled' the thousands of student protesters in Whitehall for over 9 hours.

The students were prevented from exercising their democratic right to march, even though a march route had been agreed with the police beforehand. They were held in terrible conditions, without access to toilets, drinks, warmth, seating etc, and with the police not saying how long it would continue.

Members of Youth Fight for Jobs (YFJ), Socialist Students and the Socialist Party were among those held.

This action by the police appeared to be a deliberate attempt to intimidate protesters to stop them from participating in further demonstrations. But the anger against the planned increasing of tuition fees, cuts in education budgets and the ending of EMA is too great for this infringement of democratic rights and harsh treatment to have the result they want.
Below are reports from members of YFJ, Socialist Students and the Socialist Party sent in as events unfolded during the day, followed by reports sent in after the day itself.
9.30: An occupation began at Birmingham university at 7.30 this morning and a protest is taking place there at 1pm. Send messages of solidarity to 07974 493 525.
11.30: 1,000 out protesting in Winchester, 400 in Leeds, 100 in Dundee.
11.40: 200 students just walked out of Kenilworth college in Warwickshire.
11.50: 100 walked out from Great Marlow school and 6 from Borlaise grammar in Marlow, the first school student walkouts ever in Marlow!
200 out in Coventry.
800 college students in Leeds join the university protest.
12.30: 1,000 marching in Leeds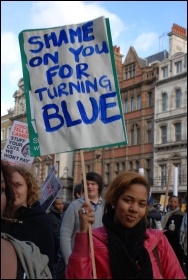 Protest in central London against higher tuition fees and education cuts , photo Suzanne Beishon (Click to enlarge)
13.00: 8,000 university, college and school students marching from Whitehall in London to Parliament have been stopped by the police, despite the police giving permission for the march and route beforehand. The Demonstrators have been 'kettled'. 2,000 school, college and university students are marching in Newcastle. 250 students are demonstrating on Warwick university campus, and 60 have occupied the arts centre on the campus.100 are protesting in Southampton. 2,000 in Sheffield. 200 in Leicester. 1,400 in Bury. 1,000 in Bristol.
14.00: 3,000 now protesting in Leeds, and a similar number in Bristol. 200 in Lincoln.
14.20: 200 are occupying Michael Sadler building at Leeds university. 80 are in occupation at Sheffield university - send solidarity messages to 07810 285 353.
500+ students demonstrating in Oxford, the Bodleian library is occupied. 100 in Nottingham. 50 in Huddersfield.
14.45: 400 in Exeter. 50 in Truro.
15.00: 500 in occupation at Leeds university against education cuts, and demanding an end to the kettling of demonstrators in London. For more information contact Ian Pattison (Leeds University Against Cuts press officer) on 07766 585 543
15.10, report received: "Over 1,400 students from Holy Cross sixth form college and Bury College walked out and marched to a huge rally outside Bury town hall. 1,000 had joined a Facebook group and in the event even more turned out. Students simply surged round the ring road bringing traffic to a halt. With homemade placards such as 'David Cameron education snatcher' and 'Nick Clegg Liar', and with deafening chants against the Tories and Lib Dems, workers and shoppers were left in no doubt about the strength of feeling. Lorry and bus drivers hooted or gave the thumbs up". Paul Gerrard.
Report received: "Over 300 have today taken over the main building of Cardiff university in protest at the coalition government's plans to impose £4.3 billion of cuts to higher education. They say that they will stay in occupation until the university senior management agree to publicly campaign against increased fees and education cuts. Students are also concerned that the Russell group of universities which includes Cardiff university has vociferously called for unlimited tuition fees. At a demonstration earlier in the day at the university, speakers slammed the vice-chancellor and university management who were described as 'unelected, unaccountable and overpaid'. The protest was called by Cardiff University Socialist Students as part of the umbrella group 'Action against Cuts - Cardiff'." Cardiff Socialist Students
15.15: 2,000 school, college and university students have protested in Liverpool and 3,000 in Manchester.
15.30: 60 walked out and marched in Teignmouth. 350 marched in Bournemouth.
15.40: Around 300 FE students walked out and protested outside the gates of Gower College's Gorseinon campus near Swansea. A contingent then marched into Gorseinon centre.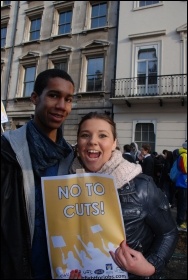 University, college and school students protest in central London against higher tuition fees and education cuts , photo Suzanne Beishon (Click to enlarge)
Report received: "Having been invited to speak as a member of the NUT Executive at the rally to be held before today's march in London to protest about tuition fees and EMA cuts, I arrived in Whitehall to find that the march was already stationary at the entrance to Parliament Square and surrounded by police cordons. It was clear that some protesters were angry - the 'kettling' tactics were only making things worse. However, most of the young people there were entirely peaceful - just frustrated at not being able to continue the march.
What was the justification for the cordons - put in place before the police van was rocked which I have just seen the BBC give as the reason for the 'kettle' - not after? A route had been agreed beforehand by the police with the march organisers - it seems that the police then decided to ignore that agreement.
Young people have every right to be angry. That anger needs to be channelled into an organised movement of trade unions, students and communities to challenge a government that is trying to steal away young people's future and the public services and benefits that have been won by the trade union movement over previous generations". Martin Powell-Davies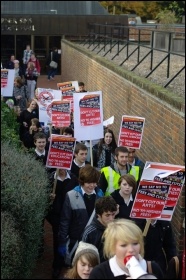 Southampton Protest against Education Cuts: school students walk out, photo Spiky Rob (Click to enlarge)
16.40: "The turnout for our protest against education cuts in Southampton was good with around 100 students from the university, local colleges and schools. Speakers included representatives from UCU, local colleges and Students Against Cuts. After the opening rally, students marched around campus, stopping outside the vice chancellor's office (who welcomed the cuts and raise in fees)."
Report received: "Portsmouth University played its part in the nationwide day of action. Around 60-70 students occupied the university offices. The demonstrators were made up of students from the university, colleges and schools. A great sense of unity was felt and there were songs throughout the sit-in. The vice chancellor eventually came out and addressed questions posed by the crowd. He promised that the university would release a list of cuts that are currently happening in the university." Padraigh Perkins-Edge, Socialist Students Portsmouth
17.31 40 Students are occupying Royal Holloway's admin building. Send messages of support to 07840 136 728.
---
>
Liverpool
No ifs, no buts, no education cuts!
Wednesday 24 November was the day the young people of Liverpool showed their resilience to the government spending cuts that will damage education at every level.
If you watched the news coverage of the protest you may think we didn't change anything. Don't believe the mainstream media, those there on the streets of Liverpool, Manchester, London, Brighton and every other major city, your voices were heard.
The 24th was the first of many, take to the streets and unite together to save education. We ruled the streets of Liverpool, traffic was stopped, police lines were broken and the city was disrupted, gaining applause from members of the public, who flooded out of shops to commend the actions of us the protesters.
The police presence in the city was over the top. Helicopters, horses, CCTV vans, and police filming and taking pictures of the protesters (90% of whom were under 25).
Why should the police be allowed to film and photograph people against their will? This protest showed the police though how mighty the reaction is against this injustice to society, we will not stand still while our future is con-demed in this way! There is a generation of people out there that are dissatisfied and angry, we should be out there showing an alternative, they have been lied to enough.
Modern society needs the political ideas of the past to sow the seeds for ideas of the future.
Tara Staunton
---
>
Manchester
Protesters started at 12pm at Manchester university, with around 3,000 people marching through the streets of the city centre.
Students had been told that we would be marching down to the town hall but were informed at the last minute that this would not be the case and were taken to a desolate part of the city.
Disgruntled students decided to relocate to the town hall where we felt our position would be more prominent and our voices given more chance of being heard, by the public, if nothing else.
The student union executive did not follow the majority's decision and so, at this point, the marchers were separated.
Later on in the day, the two groups appeared to join together and an attempt at occupying a building was made.
However, university buildings were locked and the attempt was unsuccessful. At this point the crowd opted for a peaceful 'sit-out' in the middle of Oxford Road, one of the busiest roads in Manchester.
After fifteen minutes or so, police became irritated by the blocking of the road and began to force people to the pavement, at some points using horses to do so.
This attitude continued from the police as they forced the protesters further along the road, away from the university.
Unfortunately, an anti-cuts meeting which was due at 4pm was then abandoned.
University of Manchester's Socialist Students will meet on Thursday in order to discuss the next steps for the Socialist Student society and how we can build on this momentum.
Anna Tully
---
>
Gower college, Gorseinon
At 11am students gathered in the quadrangle at the centre of the campus. Around a hundred listened to a short speech (which included a call for students to support the Daniel James march on Saturday), posed for the Evening Post photographer and some did interviews.
They then marched to the main gate. At this point I went back to work but had barely sat down when we heard an announcement on the tannoy for all available staff to go the main gate as students were blockading the entrance to the campus.
When I went to the gate there were around 300 students gathered just outside the main gate. They were chanting slogans and waving homemade placards. Cars were being allowed in and out and many were honking their horns in support. Some staff told stories of students throwing rocks and kicking cars but I didn't see any of that.
As the protest dispersed, a contingent went into the town centre. Apparently they were met by police but were eventually able to march through the town centre and some petitioned against fees and reductions in EMA in the supermarket.
There is now something of a tradition of holding campus gate meetings in Gorseinon after the campaign against cuts in 2009.
Ronnie Job
---
>
Salford
On 24 November members of the Socialist Party organised a gathering on the height near Pendleton College in Salford.
The reason was to spread the word to fellow members of Pendleton about the government's intention to remove our education maintenance allowance (EMA), a grant of up to £30 a week that college students receive.
It was a success in the sense that practically all students I approached were receptive to my points on how the EMA is there for a reason and should not simply be removed if and when the government decides.
I spoke to both students I know and some who I have never spoken to before and the opinion seems pretty unanimous in favour of keeping EMA, if not extending it to ensure all college students receive it.
Fellow student Chris Clarke spoke to me about his issues with the current elitist system: "I don't think that the bankers who caused this crisis due to their unregulated speculation should continue to receive bonuses whilst we students are having a reasonably small but useful grant taken away from us.
We have not contributed to the recession and therefore should not pay for it". We need to make it perfectly clear that we do not agree with having this grant taken away from us. This axe is falling on EMA after the EMA bonus system was removed last year, costing college students £200 during our time at college.
This could be seen as excess expenditure which could be trimmed. However, removing the grant altogether is a disaster for many young people who will inevitably miss out on further education because of this.
We must take firm action now before the damage done becomes irreversible for our whole generation, if not permanently.
When this government was elected I was extremely pessimistic about their possible performance. The reality we face less than a year down the line is much greater than I expected by this point. It is time to stand up to this government.
Jon Campbell
---
>
Newcastle
"Facebook classes warned over joining fees rally" was the headline of the local paper. However, the facebook generation took to the streets in their thousands.

University students were joined by students from the local schools and FE colleges - more than 3,000 young people joined the Newcastle demo to show their opposition to the brutal attacks proposed by this rotten Con-Dem government.
As the first noisy wave of students approached the Monument, shoppers stopped and applauded. Many of the students had homemade placards: "Nasty Nick - lying prick", "I'm so angry I made a sign, You had your education - Now let me have mine".
School and FE students had their faces painted with "EMA" on their cheeks.
Our "Youth Fight for Education" leaflets hit a chord - especially amongst school and FE students. As we handed out 1,000 leaflets we were swarmed by young people grasping for them out of our hands.
After the demo we didn't see any of our leaflets thrown away on the ground.
Elaine Brunskill
---
>
Chester
Up to 60 students at Upton High sixth form in Chester walked out as part of the national action against the government's plans to scrap EMA and raise tuition fees.
The local paper covered the story, as students marched to the town hall and then some went on to join bigger demonstrations in Liverpool and Manchester.
Youth Fight for Jobs played a role in promoting the idea of a walkout, by setting up a stall in the week preceding the action.
As we were swamped with attention, it was not surprising that the sixth formers then went on to plaster their common room with posters promoting the idea.
Unfortunately Chester University Students Union decided against organising any action. We would encourage them to change that stance in time for the next protest if they are serious about fighting on the issues affecting students.
Alec Price
---
>
London Met police's tactics
I arrived at Whitehall at 4pm and got as far as the line of police horses at the Cenotaph. We could see the main demonstration 'kettled' a couple of hundred metres ahead. The crowd was about 1,000 strong, mainly school and college students. Anti-cuts slogans and chants of 'let them out' rang out.
The mood was tense but not violent apart from the occasional placard thrown towards the police line.
This stand-off lasted for about an hour and a half and numbers began to dwindle. The police then stepped up the line, kettling groups of protesters, pulling an elderly man into one of them at one point when he was trying to walk away, and driving police horses into the crowd.
They whipped it up further, pushing riot officers up Whitehall, continually goading the students. I had to hold some students back from reacting and being arrested. We were pushed further up Whitehall towards Trafalgar Square for half an hour then suddenly the police line broke and a dozen or more mounted police charged the crowd at full pace sending everyone scattering up towards the square.
One boy next to me was trampled under the horses hooves. As we ran away from the charge the police had blocked the top of Whitehall into the square forcing the crowd down a narrow side street.
On that street were a number of traffic cones, there for no apparent reason, but were seized as missiles by some in the crowd.
The crowd poured out onto Northumberland Avenue into the traffic and there was not a police officer in sight.
Completely unchallenged there was a spontaneous march around Trafalgar Square, down the Strand and into Covent Garden.
Considering policing on the day was directed with military precision why was such a large group allowed to roam freely? Could it be that some smashed shop fronts and turned over bins in the West End may have played better for the TV cameras than an organised mass demonstration being undemocratically contained by the police?
In the end, despite the provocations of the police there was not major trouble, but the role of the police on the 24th will be noted by the thousands of young people on the demonstration.
James Kerr
---
>
Birmingham
In Birmingham on Wednesday, over 400 students and staff protested in support of the occupation taking place at the University of Birmingham, with delegations from the city's other two universities present.
Meanwhile students coming out of lectures and eating their lunch at Birmingham City university were greeted with the sight of protesters marching through campus with a coffin bearing the words "RIP education".
A protest at Matthew Boulton college also attracted attention. Nick Hart
Nick Hart
---
>
Oxford University occupation
Between 50 and 70 students and sixth-formers occupied the historic Radcliffe Camera building of the Bodliean Library on Wednesday, as part of the nationwide day of action against tuition fees and cuts, and following on from a demonstration.
This was a spontaneous protest, as the protesters quickly overcame the security on the door and were able to enter the building quickly, one scaling the walls to hang a banner against cuts and fees from the building. The following day, an estimated 30 people remained inside the building.
The occupiers organised a dance workshop and held various lectures and other discussions during the course of the occupation, and made it possible for those who were working in the library to continue working, leading one of their sympathisers to describe it as "a very 'Oxford' protest!"
On Wedesday night, around 40 police surrounded the building and were taking photographs of demonstrators.
I came across several young people who were trying to bring food and water to occupiers but were unable to get through because of police activity.
One student involved in the occupation said that while he supported the protests wholeheartedly he was concerned that the amount of media coverage given to them may eclipse the issue of other cuts taking place across the public sector. However, the occupiers were keen to state their opposition to all cuts.
It was highly encouraging and inspiring to see so many young people of a wide variety of different backgrounds and ages starting to organise their own campaigns and become part of the fightback, as well as to defy attempts at intimidation by the authorities. As one onlooker said, "this will go on for a very long time".
Rachael Horwitz
---
>
Newcastle university occupation
The Newcastle University occupation continued peacefully for its second day in the Fine Art building.
The numbers of occupants swelled to over seventy. Morale is high as occupiers enjoyed an evening of discussions, live music, juggling and pizza and other food donated by local groups.
Throughout the day occupiers encouraged other students to join them in their action, running rallies, making banners and established meaningful contact with other occupations nationwide.
This provided a strong sense of solidarity throughout the group and has drawn support nationally and internationally with blog comments and emails from Turkey, Germany and the Philippines amongst the many received.
Lectures were allowed to continue in the occupied teaching area, highlighting the occupation's goal to defend education, not disrupt it.
The group is being run entirely democratically from within, with separate chairs for every discussion and votes taken on every point of action.
The negotiation process with university management is ongoing - the group continues to request that its demands be met and has reiterated its desire to occupy until that time.
With further rallies and creative protest actions planned for the coming days, we encourage all media to join us in the Fine Art building at Newcastle University where we will be available and willing to discuss the merits of positive protest and the goals of our campaign.
---
>
Sixth-form students strike in Manchester
Today couldn't have started out any better. The atmosphere was ecstatic and brimming with excitement, but also with anger towards the impending cuts and the Con-Dem pigs who have brought them upon us.
a Xaverian College student
At 10.30 this morning at Xaverian College, a crowd of almost 200 students was already geared up and ready to march into town to express their views of fury and dissatisfaction towards the Tory and Lib Dem scum.
However to our surprise, whilst gathering outside the college, we were shocked to see the college gates locked shut by college employees to prevent students from leaving to attend the demonstration.
These actions to prevent students from having the right to protest disgusted me, that our own college, that should be supporting us in times when our education is at risk, would try and hold back our struggle to save our and others' futures.
I was shocked even further to hear that this unjust act did not only take place in our college but in other colleges too.
In Stretford Grammar sixth form, as well as shutting off the doors, students were made to line up as if they were primary school pupils and had their parents called to ask for their permission to attend the protest!
That's just not even funny. Something has to be done so that instead of preventing us, against our will, from fighting injustice, colleges and universities support and promote our struggle, especially one as important as this.
Putting aside this shameful act, which to be honest was easily overcome by hopping over a single wall, the march went forwards towards Manchester University, chanting loudly against the Tories and Lib Dems along the way.
---
>
Lively and noisy protest in Leicester
On Wednesday 24 November over 200 young people gathered at the Clock Tower in Leicester city centre in opposition to the planned massive increase in tuition fees and cuts in education.
We were equipped with homemade banners and placards with messages of: "£9,000? Cheers, Clegg!", "Education should be free" and "Save my EMA".
It was a lively and noisy protest with chants of: "No ifs, no buts, no education cuts!". There were students from over seven schools, colleges and universities in Leicester. We were joined by workers from trade unions such as UCU, NUT, Unison and PCS and also representatives from University of Leicester Students Union.
We held a rally where speakers from Youth Fight for Jobs and Socialist Students spoke on why we are protesting: that the rise in tuition fees will cut a whole layer of working class people from being able to attend university and that the scrapping of EMA will mean that college students will have to drop out.
Ian Leaver from NUT and Les Price from UCU gave messages of support to our protest and Tony Church, convenor of Leicestershire Against the Cuts explained that we need to link the fight against cuts in education with the fight against all cuts in public services.
We also asked students at the protest to speak about why they were there. Many were showing their anger at their opportunity for a decent future being taken from them. One college student said: "I don't think that just because I come from a working class background my future should be compromised because of people in a higher class; why should they get the right to an education and not me?"
The biggest cheers were given to contributions such as one by a student who said: "And are we going to fight back? Yes, we damn well are!".
We are holding a Youth Fight for Education meeting to plan what will happen next on Monday 29 November at 5pm at FABRIKA, Independent Arts Centre, Humberstone Gate.
Becci Heagney
---
>
School walkout and protest in Hornsey, London
On Wednesday 24 November along with around 30 students from my school, I participated in a walkout and attended the student demonstration in Whitehall.
For those of us who managed to escape through the school gates, whether it was down to parental consent or sheer luck, we were later faced with the challenge of escaping the police at the demonstration that day.
We arrived at the demo to find it already kettled. Disappointed, we circled to find another way in, only to find ourselves being sucked inside along with a crowd of others by the police.
Nine hours later, shivering, with freezing fingers, and wishing that I'd brought a coat with me, along with the rest of the protesters I was finally let out.
As a schoolgirl under sixteen, I had been given the option to leave a few hours earlier, but my other 'under-age' friends were told by the police that they couldn't, because "schoolboys are not being let out".
Apparently, telling a police officer that it's against the law to discriminate because of gender isn't the best way to get yourself and your friends out of a kettle.
If the police really wanted to prevent further damage to public property, as they claimed, they wouldn't detain hundreds of angry teens in one street, fuelled by anger and armed with lighters.
Maya Holmes-Hartley
---
>
Video:
---
>
Youth Fight for Jobs conference:
Saturday 4 December, 10.30am
A great opportunity to have your say on the future of the campaign and for people who want to fight the bosses' onslaught to hear from those already leading the struggle for our right to a decent future.
---
>
Socialist Students conference:
Sunday 5 December, 10.30am-1pm
Join Socialist Students to discuss how we continue to build a movement that can defeat the government and save our education!
---
>
Youth Fight for Education launch:
Sunday 5 December, 2pm
Hear students involved in organising occupations, walkouts and more.
All in the Christopher Ingold Building, University College London, Gordon Street, London WC1H 0AJ
Donate to the Socialist Party
Coronavirus crisis - Finance appeal
The coronavirus crisis has laid bare the class character of society in numerous ways. It is making clear to many that it is the working class that keeps society running, not the CEOs of major corporations.
The results of austerity have been graphically demonstrated as public services strain to cope with the crisis.
The government has now ripped up its 'austerity' mantra and turned to policies that not long ago were denounced as socialist. But after the corona crisis, it will try to make the working class pay for it, by trying to claw back what has been given.
The Socialist Party's material is more vital than ever, so we can continue to report from workers who are fighting for better health and safety measures, against layoffs, for adequate staffing levels, etc.
Our 'fighting coronavirus workers' charter', outlines a programme to combat the virus and protect workers' living conditions.
When the health crisis subsides, we must be ready for the stormy events ahead and the need to arm workers' movements with a socialist programme - one which puts the health and needs of humanity before the profits of a few.
Inevitably, during the crisis we have not been able to sell the Socialist and raise funds in the ways we normally would.
We therefore urgently appeal to all our viewers to donate to our special coronavirus appeal.
---