Link to this page: https://www.socialistparty.org.uk/articles/10692
Posted on 30 November 2010 at 16:51 GMT
Welsh further education student protests escalate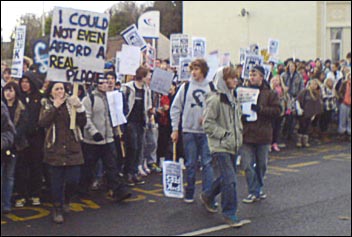 300 students from Gower Further Education College in Gorseinon, a few miles west of Swansea, joined the national day of action against tuition fee rises and the cutting of the EMA grant, photo by Rob Williams
Gorseinon was brought to a standstill today, for the second time in a week, by hundreds of protesting students.
Rob Williams, Swansea Socialist Party
Last Wednesday, November 24th, about 300 students from the newly renamed Gower (Further Education) College in Gorseinon, a few miles west of Swansea, joined the national day of action against tuition fee rises and the cutting of the EMA grant.
They invited students from other local colleges to join with them this time - notably a delegation from Swansea University.
At least 600-700 swept through the streets and got a fantastic response when they reached the high street.
Shouting "No Ifs No Buts - no education cuts" and "They say cut back - we say fightback" they gave everyone in this working-class town a huge lift.
Coming on the same day that unions in Labour-controlled Neath/Port Talbot council have recommended that their members give concessions - including a 2% pay cut after the council shamefully gave 90 day notices - these students showed that the ConDem cuts can be fought thorough militant action.
Already the Welsh Assembly Government (WAG) has been forced to backtrack on cutting EMA and bringing in big rises on tuition fees.
While we welcome this victory, students will be wary that the WAG are backtracking before next year's Welsh Assembly elections only to come back later with deep cuts.
Welsh students won't be stopping the action because of these victories. When Parliament debates the Education Bill, there should be a 'Day X' walkout and demo in all towns and cities through Britain.
Swansea Socialist Party, Socialist Students and Youth Fight for Education are raising the idea that students in every school, college and university should meet at noon in Castle Square in Swansea City Centre on Day X for a mass demo that will lift the sights of workers and students in South West Wales.
Of course, this will be at the expense of other services. Socialist Party Wales calls on all cuts to be resisted.
---
>
Thursday December 2nd - Swansea SP branch meeting - "After the student action - how can we defeat the education cuts, tuition fees rises & the EMA cuts?" - 7.30pm in Dyfatty Community Centre, Top of High St, Swansea
Why not click here to join the Socialist Party, or click here to donate to the Socialist Party.
---