Link to this page: https://www.socialistparty.org.uk/issue/654/10960
From The Socialist newspaper, 19 January 2011
MPs' expenses scam continues: for workers' MPs on a worker's wage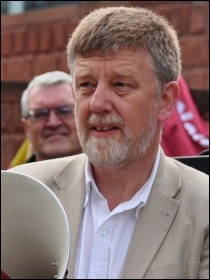 Dave Nellist (at NSSN lobby of TUC) took only a skilled worker's wage while an MP, photo Suleyman Civi (Click to enlarge)
ON 7 January 2011 the former Labour MP for Bury North, David Chaytor, was sentenced at Southwark Crown Court to 18 months' imprisonment for 'false accounting'.
Councillor Dave Nellist, Socialist Party, Coventry (former Labour MP 1983-1992)
He had pleaded guilty to using a fake tenancy agreement and then claiming just over £20,000 in Parliamentary expenses to pay rent on a house in Westminster which he in fact already owned and on which the mortgage had been paid.
Chaytor had previously failed in the Court of Appeal, together with other politicians, to claim that 'parliamentary privilege' should make him immune from prosecution for fraud.
On 11 January a second (and current) Labour MP, Eric Illsley, pleaded guilty to fraud, involving £14,000 of false claims for his 'second home'. He will be sentenced in February.
Illsley has now said he will resign as an MP, and a by-election will now follow in Barnsley in due course. The police are apparently investigating several other politicians - and two ex-MPs and two peers have already been charged with similar offences to Chaytor and Illsley. But there's more.
Recent press reports now talk about other, possibly new, cases being raised by an MP, who is said to be angry that he was 'unfairly singled out over his own claims', and has 'shopped' two ex-Cabinet ministers and four MPs; three from the Labour Party, two Conservatives and one Liberal Democrat.
The anger and disgust that people, already privileged with high salaries and positions, should then fraudulently claim thousands of pounds of expenses to which they were not entitled, is widespread.
A recent British Social Attitudes survey found that 60% of those questioned thought politicians "almost never" told the truth and only 28% trusted MPs not to fiddle their expenses.
No sympathy
The new rules set up in the wake of recent scandals in Parliament are administered by the Independent Parliamentary Scrutiny Authority; and already some MPs are complaining about it.
Those MPs will clearly have the heartfelt sympathy of tens of thousands of families who have had to challenge benefit decisions, or who now face massive cuts in essential services as part of the biggest austerity programme for generations. Or perhaps not!
MPs are already very privileged, receiving a basic wage almost three times the average. That, and the level of their generous expenses allowances, insulates and isolates them from the normal problems affecting the majority of the people they represent.
The Socialist Party requires all its members elected into public positions, such as MPs, to take the same wage as that of a skilled worker. When myself, Terry Fields and Pat Wall were MPs in the 1980s, that worked out at around 40% of an MP's wage, or the equivalent of £26,000 today.
The 'surplus' was donated to socialist and trade union campaigns and causes, and accounts were regularly published in newsletters to be transparent.
Expenses should only be allowed where clearly necessary to do the job, and again be published and accountable, particularly to the working people locally who had elected that representative.
Much of the protocols of an MP's life, and the privileges lavished on them, are designed to suck them into defence of the system, so that (whether consciously or not) they feel more in common with the rulers than the ruled.
Breaking with those traditions, living in the area that you represent, and on the same wages, facing the same bills and problems as working people in a constituency can go some way to countering those pressures, and start restoring faith that elected, socialist officials would be different.
Only the Socialist Party regularly and consistently argues for that, and has the track record to prove it is not just simply words.
Donate to the Socialist Party
Coronavirus crisis - Finance appeal
The coronavirus crisis has laid bare the class character of society in numerous ways. It is making clear to many that it is the working class that keeps society running, not the CEOs of major corporations.
The results of austerity have been graphically demonstrated as public services strain to cope with the crisis.
The government has now ripped up its 'austerity' mantra and turned to policies that not long ago were denounced as socialist. But after the corona crisis, it will try to make the working class pay for it, by trying to claw back what has been given.
The Socialist Party's material is more vital than ever, so we can continue to report from workers who are fighting for better health and safety measures, against layoffs, for adequate staffing levels, etc.
Our 'fighting coronavirus workers' charter', outlines a programme to combat the virus and protect workers' living conditions.
When the health crisis subsides, we must be ready for the stormy events ahead and the need to arm workers' movements with a socialist programme - one which puts the health and needs of humanity before the profits of a few.
Inevitably, during the crisis we have not been able to sell the Socialist and raise funds in the ways we normally would.
We therefore urgently appeal to all our viewers to donate to our special coronavirus appeal.
---
In The Socialist 19 January 2011:
---
National Shop Stewards Network

Unite against all the cuts

Discussing an NSSN anti-cuts campaign
---
Socialist Party NHS campaign

Save our NHS!
---
International socialist news and analysis

Tunisia in revolt
---
Socialist Party news and analysis

MPs' expenses scam continues: for workers' MPs on a worker's wage

Oldham East and Saddleworth by-election: A left-wing workers' alternative needed

Wales referendum: Vote Yes on 3 March - Defend public services in Wales

Trade Unionist and Socialist Coalition

Fighting cuts in Somerset
---
Socialist Party youth and students

Student receives draconian sentence

Students demand - 'save our EMA'

Education Maintenance Allowance: 11 January day of action

Urgent action needed to end youth unemployment
---
Socialist Party workplace news

PCS members vote for battle against cuts

Strike at sweatshop DWP centres

Teachers strike against redundancies

Heinz strikes force improved offer

Cameron 'thanks' postal workers by axing their jobs and pensions

Workplace news in brief
---
Home | The Socialist 19 January 2011 | Join the Socialist Party
---