Link to this page: https://www.socialistparty.org.uk/issue/655/11040
From The Socialist newspaper, 26 January 2011
Irish government collapses: United Left Alliance offers real alternative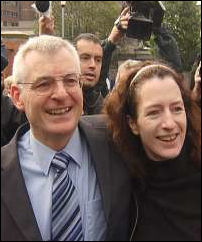 Joe Higgins MEP with Irish Socialist Party councillor Clare Daly
After the economic collapse of the so-called 'Celtic Tiger' economy, Ireland is spiralling into social and political disintegration. The coalition government of Fianna Fáil and the Greens imploded and the Greens left the coalition on 23 January. Prime minister Brian Cowen had to resign as chair of Fianna Fáil (the main pro-capitalist party), which was in government for 20 of the last 23 years.
Fianna Fáil won 41% of the national vote at the 2007 general election, but has fallen to 8% in the latest opinion polls. It is an open question as to whether the Greens will be able to return to the parliament.
Negotiations with the so-called opposition parties have resulted in an acceptance by Fine Gael and Labour to implement a crucial finance bill implementing the savage austerity measures announced by the government in its budget last December.
Election
The bill is expected to be passed by parliament on 29 January and gives legal effect to the reductions in Ireland's minimum wage, tax rises and public spending cuts. In return, the government promised to bring forward general elections, initially called for 11 March. They are now expected to be held on 25 February.
The Socialist Party (CWI Ireland) will stand candidates in the coming elections as a key part of the United Left Alliance (ULA). The ULA may stand in up to half of the 43 Irish constituencies with the potential to get up to nine elected. As Joe Higgins said, the ULA is: "offering an entirely different alternative to the other political parties who are imprisoned within the financial markets system."
Opening a press conference on Monday 24 January, Socialist Party Councillor Clare Daly, a ULA candidate for Dublin North, said:
"Fine Gael and the Labour Party correctly say that the Fianna Fáil minority government: a) doesn't have the confidence of the Dáil [national parliament]; b) has a Taoiseach [prime minister] who doesn't have the confidence of his own party; c) is so utterly discredited that the general election must be brought forward.
"It is therefore a massive contradiction that they are falling over themselves to help a discredited, disintegrating government with no mandate or moral authority to pass a finance bill that savages the living standards and public services of working people and the unemployed so that European speculators and financial institutions recover the billions they disastrously gambled in the Irish property market.
"What Labour and Fine Gael are at, is to ensure that the infamous and unjust IMF/EU programme is passed by Fianna Fáil so that they can pretend to avoid direct responsibility for its passage but then claim that they have no option but to implement it."
Joe Higgins, Socialist Party MEP and ULA candidate in Dublin West comments: "This must be a low point in cynicism in Irish politics which has seen many lows. We have here the ethics of corner boys pushing one of their number to mug vulnerable passers-by while the rest skulk nearby ready to pick the victims' pockets.
"The finance bill enshrines the most far-reaching attack ever on the livelihoods and living standards of ordinary people to satisfy the profit lust of the financial markets. It is a grotesque betrayal for the Labour Party in particular to cooperate in any way in its passage.
"Clearly the general election should be called immediately with the provisions of the Finance Bill and economic policy generally as the centre of debate. In this way every party will be called on to justify why working people in this state should be enslaved to the financial markets or to repudiate such a policy."
Councillor Gino Kenny, People Before Profit ULA candidate for Dublin Mid West said: "The farce in Dáil Éireann must end and a general election must be called today. We are staunchly opposed to the current budget and by extension to the finance bill. Fianna Fáil must call an immediate general election and allow the people to have their say.
"The reality for hundreds of thousands of Irish workers and their families is that their living standards are collapsing and their children are faced with no choice but to emigrate. For those who are unemployed there is little or no prospect of finding work and the little protection offered by social welfare is under concerted attack."
Donate to the Socialist Party
Finance appeal
The coronavirus crisis has laid bare the class character of society in numerous ways. It is making clear to many that it is the working class that keeps society running, not the CEOs of major corporations.
The results of austerity have been graphically demonstrated as public services strain to cope with the crisis.
The government has now ripped up its 'austerity' mantra and turned to policies that not long ago were denounced as socialist. But after the corona crisis, it will try to make the working class pay for it, by trying to claw back what has been given.
The Socialist Party's material is more vital than ever, so we can continue to report from workers who are fighting for better health and safety measures, against layoffs, for adequate staffing levels, etc.
When the health crisis subsides, we must be ready for the stormy events ahead and the need to arm workers' movements with a socialist programme - one which puts the health and needs of humanity before the profits of a few.
Inevitably, during the crisis we have not been able to sell the Socialist and raise funds in the ways we normally would.
We therefore urgently appeal to all our viewers to donate to our Fighting Fund.
---
In The Socialist 26 January 2011:
---
Socialist Party youth and students

Fight for jobs and education

Where next for the student movement?

Education Maintenance Allowance days of action 18 and 19 January

No to sky-high youth unemployment!
---
Socialist Party news and analysis

Warning: Government health 'reforms' can seriously damage your health

Phone hacking and media spin - the murky world of Andy Coulson

Food price hikes fuelling unrest

Fight the Con-Dem 'bosses' charter'

RMT leader slams anti-union laws

Marching against council cuts
---
Socialist Party workplace news

Hampshire: Battling to defend jobs

Second show of strength by Medirest workers

BA workers vote to fight on

DWP contact centre strike
---
National Shop Stewards Network

NSSN anti-cuts campaign launched

Trade Unionist and Socialist Coalition (TUSC) conference
---
International socialist news and analysis

Irish government collapses: United Left Alliance offers real alternative

Tunisia: Protesters demand real democracy and social change

50 years ago: Congo's independence leader assassinated
---
Socialist Party schools features

Tidemill school - victory for parents

Save Our Schools

Bankers' "Free school" excludes poorer pupils
---
Socialist Party review

Britain's Banks: Too Big to Save?
---
Comment

Three decades of 'reform' and 'flexibility'

Stop the mental health service cuts
---
Home | The Socialist 26 January 2011 | Join the Socialist Party
---