Link to this page: https://www.socialistparty.org.uk/articles/11054
Posted on 28 January 2011 at 9:30 GMT
Britain's biggest public sector union found guilty in court
Witch-hunt ruled illegal
---
>
---
>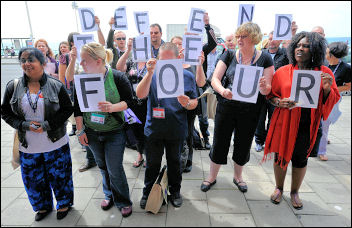 Unison conference 2009: Defend the Four protest, photo Paul Mattsson
At a time when 150,000 council workers are facing redundancy and another 100,000 have been told they will be sacked if they don't accept cuts in their pay and conditions UNISON members would rightly expect that every minute and every penny of union resources be spent on fighting the cuts.
However, UNISON's leadership has spent three years and tens of thousands of pounds witch-hunting some of its most effective fighters. Today an Employment Tribunal has ruled that campaign of bullying to be unlawful.
All of the trumped up charges against the four UNISON activists and Socialist Party members - Glenn Kelly, Brian Debus, Onay Kasab and Suzanne Muna - were thrown out.
UNISON is now required to reinstate all four to their positions in the union including Glenn Kelly being put back on the National Executive of the union.
UNISON members will be lobbying the National Executive on 8 February to demand that this is immediately carried out.
Why not click here to join the Socialist Party, or click here to donate to the Socialist Party.
---