Link to this page: https://www.socialistparty.org.uk/issue/664/11576
From The Socialist newspaper, 30 March 2011
Save Sure Start Services
Elizabeth O'Hara
Around 30 supporters of the Save Our Children's Services - Westminster campaign marched on the 26 March TUC demonstration.
Children from a local nursery used handprints to make t-shirts and placards saying 'hands off our services'. The demo will give a huge boost to hundreds of campaigns like ours everywhere.
Our campaign was set up earlier in March by parents and carers to oppose the local council's plans to cut the borough's Sure Start children's services by, on average, £50 a child next year. This is despite the prime minister's assurance that children's centres would not suffer from spending cuts.
Westminster says central government funding for Sure Start has been reduced so the council must also cut its budget, but we don't accept our services must be cut as a result.
In Westminster there is money for some things but not for others.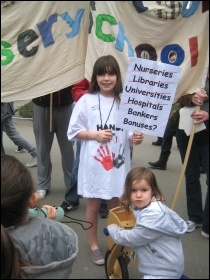 Save Sure Start services - Westminster campaign, photo Save our Childrens Services (Click to enlarge)
The council says it needs to save around £0.75 million from its Sure Start budget. Yet, it has over £11 million in reserves.
The council spends £10.5 million a year on highly paid consultants and the council admits that some top council officers earn more than the prime minister. Nonetheless, the council plans to increase charges for children's holiday play schemes from £22 a week to £120 a week - up 545%. They would also raise charges for children's after school play provision from £8.30 a week to £30 a week - a 360% increase.
Our campaign asked every councillor to vote against cutting the Sure Start budget. Yet at the March meeting, elected councillors voted through a 20% cut to children's services, while rejecting a proposal to reduce their own allowances by 10%.
We forced Westminster to publish an additional consultation document, extend the consultation period and hold additional consultation meetings with parents. But there is still everything to fight for. We demand that Westminster council uses its reserves to ensure no cuts to children's services in the borough.
Please send protest messages to Nicola Aiken, Westminster council cabinet member for Children & Young People, 64 Victoria Street, London, SW1E 6QP or to info@ westminster.gov.uk, with copies to the campaign: socswestminster@ gmail.com or SOCSW, 3A Lydford Road, London W9 3LU.
Donate to the Socialist Party
Coronavirus crisis - Finance appeal
The coronavirus crisis has laid bare the class character of society in numerous ways. It is making clear to many that it is the working class that keeps society running, not the CEOs of major corporations.
The results of austerity have been graphically demonstrated as public services strain to cope with the crisis.
The government has now ripped up its 'austerity' mantra and turned to policies that not long ago were denounced as socialist. But after the corona crisis, it will try to make the working class pay for it, by trying to claw back what has been given.
The Socialist Party's material is more vital than ever, so we can continue to report from workers who are fighting for better health and safety measures, against layoffs, for adequate staffing levels, etc.
Our 'fighting coronavirus workers' charter', outlines a programme to combat the virus and protect workers' living conditions.
When the health crisis subsides, we must be ready for the stormy events ahead and the need to arm workers' movements with a socialist programme - one which puts the health and needs of humanity before the profits of a few.
Inevitably, during the crisis we have not been able to sell the Socialist and raise funds in the ways we normally would.
We therefore urgently appeal to all our viewers to donate to our special coronavirus appeal.
---
In The Socialist 30 March 2011:
---
Anti-cuts campaign

We said: NO CUTS!

Hands off our NHS!

Save Sure Start Services

On the move in London to fight the cuts
---
Socialist Party editorial

Defend the Libyan revolution
---
Socialist Party feature

TUC demo biggest in decades

Socialists on the 26 March demo
---
Socialist Party news

Gove's EMA concession not enough

MPs back the Jarrow March for Jobs

Budget fuels determination to fight back!

Socialist receives 12% of the vote in Bellingham, Lewisham

Against cuts? Support the Trade Unionist and Socialist Coalition

Fast news
---
Socialist Party workplace news

Saltend workers stand firm

PCS wins ballot in Jobcentre Plus contact centres

Unison health conference: Time for action to defend our jobs, pensions and the NHS!

Vote for a fighting democratic Unison leadership

In brief
---
International socialist news and analysis

Portugal Government falls amidst mass protests

The consequences of the earthquake disaster in Japan
---
Socialist Party review

Review: Blue Labour
---
Home | The Socialist 30 March 2011 | Join the Socialist Party
---